Group-Friendly Restaurants in DTLA
Whether you're planning a birthday dinner, a company happy hour, or a big family celebration—Los Angeles Charter Bus Company will make sure you have the best group transportation service for your dining occasion in Downtown LA. Booking a minibus or charter bus rental to shuttle your guests to and from your restaurant of choice is one of the simplest ways to travel around Downtown.
With a professional transportation service, your corporate dinner attendees or wedding-related event guests won't have to worry about parking or waiting in long valet lines. The Los Angeles Charter Bus Company team will shuttle your group of diners to and from home, restaurants, and local bars for whatever the occasion may be. A representative will be available around the clock at 310-667-6197 to help you book the right shuttle for your event and answer questions about charter bus rental pricing in LA!
Need a few ideas of where to host a casual group meal or swanky upscale dining experience in DTLA? We've compiled a few top restaurants in the area to suit your next special dining occasion.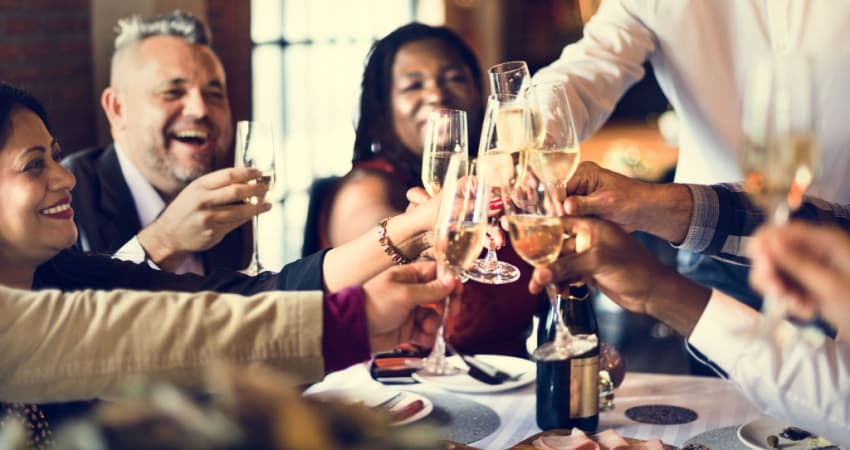 Restaurants for Causal Large Group Dining
Looking for a laidback restaurant with a tasty selection of food and drinks alongside spacious seating arrangements? Checkout these group-friendly dining spots located in DTLA:
Arts District Brewing
Address: 828 Traction Ave, Los Angeles, CA 90013
Phone: (213) 519-5887
Arts District Brewing is the place to go for a casual bite paired with brews and arcade games. The brewery usually has around a dozen house-brewed beers on tap alongside pub bites like burgers, sandwiches, and nachos. It's the perfect spot for a casual company happy hour! Grab food and drinks, and spend a few hours team-building over pinball, skeeball, and vintage games like PacMan.
The brewery has spacious booths and large tables to accommodate large casual groups but also offers spaces for private parties and events.
Charter bus rental tip: A paid public parking lot is located right next door to the brewery. Double parking is not allowed in this lot for oversized vehicles like minibuses. Additional street parking can be found on Traction Avenue and nearby streets.
DAMA Fashion District Restaurant & Bar
Address: 612 E 11th St, Los Angeles, CA 90015
Phone: (213) 741-0612
Located in DTLA's Fashion District, DAMA serves up Latin fare in a trendy atmosphere. Fan favorite dishes include oxtail tostadas, aguachile, lamb chops, and crispy pork shanks. The restaurant also has a full-service bar serving up handcrafted cocktails and a variety of international wines.
Groups with more than 8 people will need to contact the restaurant directly to make a reservation. Exceptionally large groups can book out a semi-private space with communal tables inside or on the cozy patio.
Charter bus rental tip: DAMA has a very small parking area, so most guests will have to rely on valet, metered street parking, or public lots. Groups traveling by minibus or charter bus will need to find street parking on nearby roads, which the bus driver will handle.
Bar Amá
Address: 118 4th St, Los Angeles, CA 90013
Phone: (213) 687-8002
This DTLA cantina is known as a hidden gem for its delicious Tex-Mex and hip atmosphere. Bar Amá's most popular dish is the puffy taco, complete with a crispy masa shell. The restaurant has a popular Super Nacho Hour with discounted drinks and small bites.
Parties with more than 5 people should email the restaurant in advance to make a reservation. Walk-ins are usually welcome but it's highly recommended to book a table in advance. 
Charter bus rental tip: Parking in this area is notoriously difficult and may be an issue for large groups traveling in multiple cars. If you opt to take a minibus or charter bus, your driver can drop off your group of diners before parking off-site on local streets or public lots.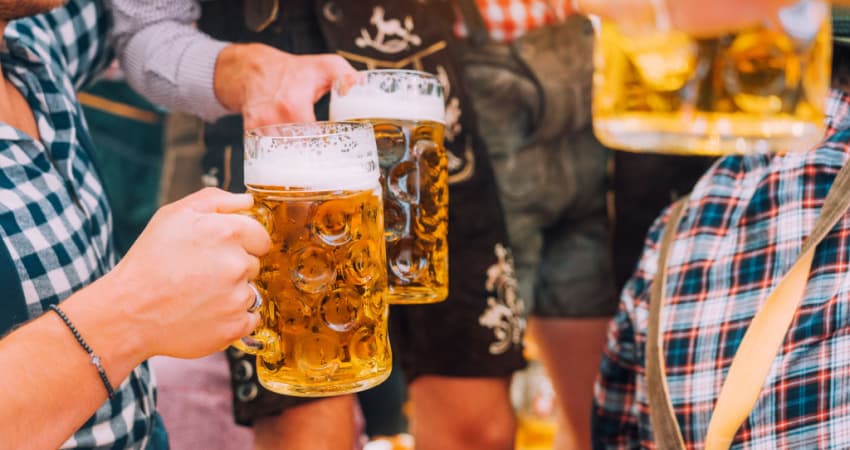 Wurstküche
Address: 800 E 3rd St, Los Angeles, CA 90013
Phone: (213) 687-4444
Big groups looking for a wide selection of brews and exotic brats will love this spacious German-style beer hall. The long communal tables and a never-ending variety of bites to try makes Wurstküche an ideal spot for big celebrations or casual company events. Grab a few pints and taste unique sausage made of rattlesnake, rabbit, pheasant, and buffalo. Wurstküche also offers a selection of vegetarian-friendly sausages.
Wurstküche doesn't typically take reservations but it's still recommended you call ahead of time to inquire about large group seating.
Charter bus rental tip: Metered street parking is available on the streets surrounding Wurstküche. Your professional bus driver will likely need to drop your group off at Wurstküche before finding street parking.
Upscale Private and Semi-Private Dining
If you're hosting a special event like a small company holiday celebration or you're planning a rehearsal dinner, you'll likely want an upscale restaurant with a private space. Here are a few popular upscale DTLA restaurants with private dining options:
Girl & the Goat
Address: 555-3 Mateo St, Los Angeles, CA 90013
Phone: (213) 799-4628
This Chicago-based restaurant opened a location in LA's Arts District in 2021 and has been an innovative dining hit ever since. Girl & the Goat serves up creative New American dishes like glazed pork shanks, duck tartare, and grilled whole branzino.
With beautiful indoor and outdoor dining spaces, Girl & the Goat is a popular spot for special dining events. Your guests can enjoy a delicious seasonal menu and a selection of craft, handmade cocktails.
Charter bus rental tip: A public parking garage is located near Girl & the Goat for diners traveling by car. Large dining groups traveling in a minibus rental will need to utilize street parking on Mateo Street, Palmetto Street, or other nearby roads.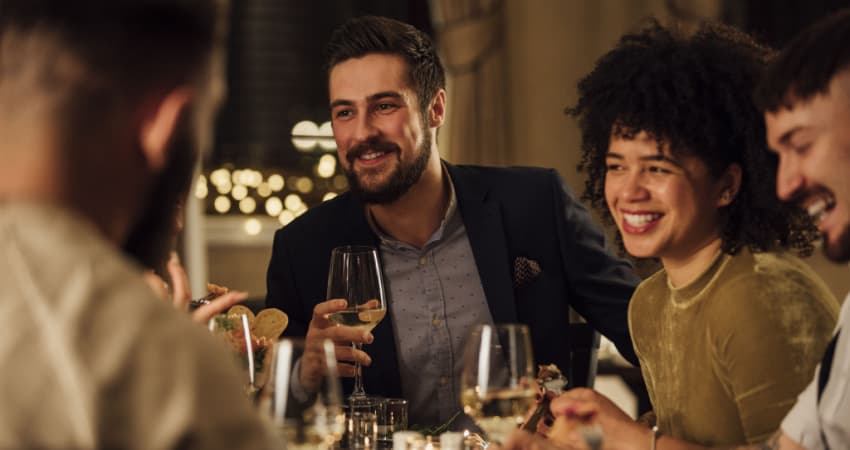 Bestia
Address: 2121 E 7th Pl, Los Angeles, CA 90021
Phone: (213) 514-5724
Bestia is one of the best spots in Downtown LA for Italian fare in a semi-private dining space. Bestia offers vibrant dishes like roasted bone marrow, cavatelli alla norcina, burrata, and squid ink chitarra.
Semi-private dining options are available on Bestia's patio for up to 25 people. The patio is cozy, covered, and heated for chilly days. Groups with more than 25 diners will need to explore partial buyout options for indoor and outdoor spaces. All special events and semi-private dining experiences will receive special attention from Bestia's owners/head chefs.
Charter bus rental tip: Bestia has valet parking available for guests traveling in personal vehicles. Diners hosting a special event and traveling in a charter bus rental will need to utilize street parking on S Santa Fe Avenue or other nearby roads.
Perch
Address: 448 S Hill St, Los Angeles, CA 90013
Phone:  (213) 802-1770
Looking for a Downtown LA restaurant with gorgeous views for a special dining experience? Perch is the place to be! As its name suggests, Perch is perched atop Pershing Square Building. The glamorous restaurant serves small french bistro bites and handcrafted cocktails. It's the best spot in DTLA for happy hour or a special event while watching the sunset.
Perch's dining spaces are spread across several floors, including private options for large groups. The 5th Street patio is a private garden-style terrace for groups of up to 28 diners. If you need a space for a large luxury reception, book the 15th-floor indoor/outdoor space or 16th-floor rooftop.
Charter bus rental tip: Perch offers convenient valet parking and additional parking garages are located around the area. Oversized vehicles like minibuses and charter buses will need to utilize parking in surface lots or street parking, which may be difficult to find in this part of the city.
Rossoblu
Address: 1124 San Julian St, Los Angeles, CA 90015
Phone: (213) 749-1099
Inspired by Chef Steve Samson's childhood summers in Bologna, Rossoblu offers northern Italian fare that'll make you feel right at home. Enjoy plates like braised pork meatballs, tagliatelle al ragù bolognese, and coal-roasted oysters.
Rossoblu has private and semi-private dining spaces for groups of all sizes dining for a variety of special occasions. A private dining room is amiable for up to 22 guests and a semi-private garden dining area for up to 75 people.
Charter bus rental tip: as with many other restaurants in DTLA, Rosssoblu doesn't have a private self-park lot. Diners will have to valet, find street parking, or pay to park in a public lot. Groups taking a minibus shuttle can be dropped off at Rossoblu before having their driver find parking on a nearby street.
Charter a Bus for a Group Dining Experience in Downtown LA
Booking a private ride for an upcoming dining experience is a quick and simple process with Los Angeles Charter Bus Company. Call 310-667-6197 to discuss your transportation needs with a representative. You'll find the right ride for whatever the special occasion may be!
Need a charter bus in Los Angeles?