Guide to Visiting Downtown Los Angeles: Lincoln Heights, Little Tokyo, and South Park
If you're planning a trip to Downtown Los Angeles soon and need some travel inspiration, LA Charter Bus Company can help you out. We're local experts when it comes to where to go and what to see in top downtown LA neighborhoods like Lincoln Heights, Little Tokyo, and South Park. From world-class cultural landmarks to professional LA sporting events, and live entertainment venues to authentic Japanese cuisine, your group visit to Los Angeles will be one for the record books.
And the best part of planning your trip with us? When you book a charter bus, you'll beat the hassle of navigating and parking in downtown L.A. traffic. Los Angeles Charter Bus Company has access to a variety of charter bus types available for rent, including full-sized motorcoaches for up to 56 passengers and compact minibuses perfect for some groups and shuttle service.  When you're ready to book, give us a call at 310-667-6197, and we'll help you get started with a charter bus rental and quote for your trip!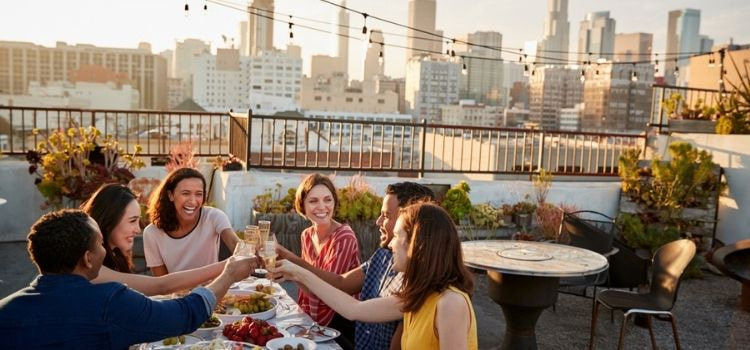 Guide to Lincoln Heights
Lincoln Heights in East Los Angeles is one of the oldest city suburbs boasting L.A. cultural highlights, like Victorian-style architecture and historically significant destinations. While it's mainly a residential neighborhood—known for grade schools, community parks, and  convenient proximity to the heart of downtown—there's still plenty for visitors and group travelers to do, see and experience here.
San Antonio Winery
This family-owned winery, est. 1917, is one of the oldest and largest wineries in L.A. and still in its original location on Lamar Street. Go here with a group to dine out at the Maddalena Restaurant, indulge in a wine tasting experience, or attend a community event like Paint & Sip, Wine & Cheese Pairing, or Comedy Night. This downtown L.A. highlight is also a great choice for a private event like a wedding reception or bachelorette party—and with chauffeured wedding shuttle bus service at your disposal, you don't need to worry about designated drivers. Guests can celebrate with you and taste test this famous wine to their heart's content!
Address: 737 Lamar Street, Los Angeles, CA 90031
Lincoln Park
Not to be confused with Lincoln Park in Burbank, this urban oasis in Lincoln Heights is a popular outdoor attraction for locals and visitors alike. Established by the city in 1881 as one of L.A.'s first parks, today it is a gathering ground for families and the community to enjoy barbecues, picnics, a skatepark, a public pool, and more. Also found in Lincoln Park, the Plaza de La Raza is a cultural center and school of performing and visual arts with a full calendar of performances and art classes available. Book private charter bus transportation and visit the center for a community festival or art sale, or rent venue space and host your own event like a fundraiser, quinceañera, or graduation party.
Address: 3540 N Mission Rd, Los Angeles, CA 90031
Heritage Square Museum
Rent a charter bus and plan a field trip or day trip to this unique, living history museum known for exploring and preserving Southern California-living from the Civil War era to the early 20th Century. Students and tourists could spend hours wandering the grounds and visiting eight historic Victorian Era buildings, including mansions, a carriage barn, church, and corner drugstore. It's well worth renting a private charter bus with friends and family and attending one of the museum's many annual events, such as the Vintage Fashion Show and Victorian Tea and Street Food Cinema Movie Nights.
Address: 3800 Homer St, Los Angeles, CA 90031
Guide to Little Tokyo
One of the city's most robust and lively neighborhoods—and home to the largest Japanese-American population in North America—Little Tokyo is where you go to experience and celebrate Japanese culture in Los Angeles. Whether you want a sushi or ramen dinner that will change your life, or you're interested in immersing yourself in a new and interesting experience, Little Tokyo has a destination for you.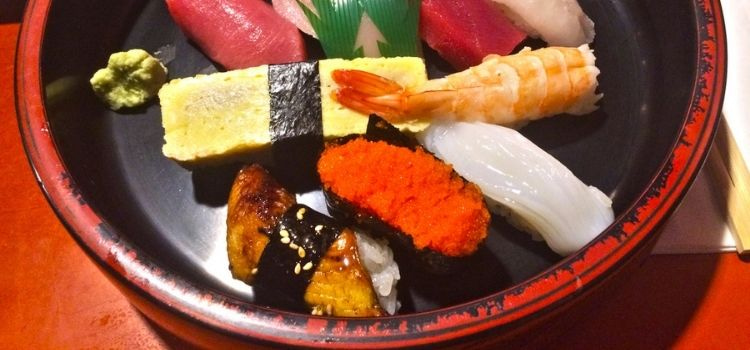 Japanese American Cultural & Community Center
As the largest Asian-American cultural center in the United States, the JACCC is home to dozens of reasons to visit. Rent a bus and go here to visit the flourishing James Irvine Japanese Garden (loved for its award-winning landscape and water features and as an intimate wedding venue), see live music, dance, and theater performances at the Aratani Theater, and art shows at the George J. Doizaki Gallery, or attend a culinary event to learn how to create Japanese flavors and dishes at the revered Toshizo Watanabe Culinary Cultural Center.
Address: 244 South San Pedro Street Los Angeles, CA 90012
Japanese Village Plaza
If you're looking to experience the best of Little Tokyo in one convenient location, then the Japanese Village Plaza is for you. Explore two stories of Japanese eateries, gift shops, markets, art galleries, and more, at your leisure. Some highlights include Hama Sushi, a small, no-frills sushi restaurant known as one of the best in the city, and Japangeles—streetwear designed by L.A.-born designer Roy Kuroyanagi. The JVP is also a great place for midday lunch before or after visiting neighborhood museums like the Japanese American National Museum or The Geffen Contemporary at MOCA, both located just across the street.
Address: 335 E 2nd St, Los Angeles, CA 90012
Higashi Honganji Buddhist Temple
If you're planning a private city bus tour of Los Angeles, then put Higashi Honganji Buddhist Temple on your route. Established in 1904, Higashi Honganji is L.A.'s first Japanese Buddhist temple and features Japanese-style architecture, including a statue of Buddha and matching altar display, and a meticulously maintained garden and grounds. Rent a bus and plan to bring a group to a Sunday service, educational class, or community event.
Address: 505 E 3rd St, Los Angeles, CA 90013
Guide to South Park
As a bustling commercial district in Los Angeles, if you're traveling in the city for a major event, then we can bet you'll be visiting South Park. From Crypto.com Arena to the Los Angeles Convention Center, this part of town attracts large crowds on the daily. If you gave us a call at 310-667-6197 needing private group transportation to a destination in South Park, we wouldn't be surprised to hear it!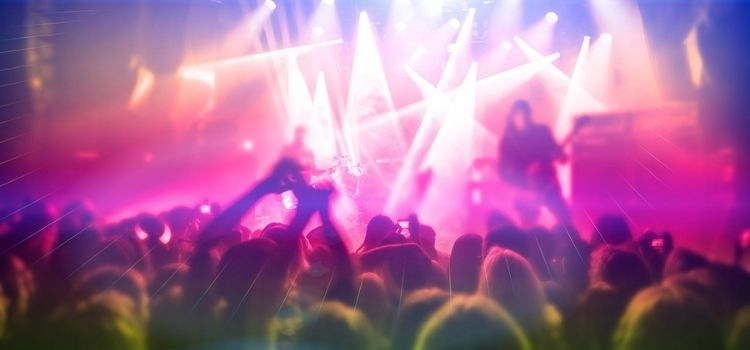 L.A. LIVE
L.A. LIVE is a highly popular sports and entertainment district home to sports and music venues, exciting nightclubs, world-class restaurants, a bowling alley, and more. Book a private charter bus rental and bring a group here for a long holiday weekend or celebratory day trip that they won't forget. Here are just some of the many things you can do at L.A. LIVE:
Visit the GRAMMY Museum to explore exhibits on award-winning music and musicians.
Attend a special event at The Conga Room or The Novo.
Enjoy cocktails and city views at the 24 Sky Lounge.
Address: 800 W Olympic Blvd, Los Angeles, CA 90015
Crypto.com Arena
Formerly the Staples Center, Crypto.com Arena is home to all the major professional sporting events in Los Angeles. If you've got tickets to a Lakers, Clippers, Kings, or Sparks game, beat busy game day traffic and hectic arena parking with a reliable charter bus rental. You can also count on us for a ride to other events like concerts and comedy shows. While you're there, enjoy the dining options and amenities that makes Crypto.com Arena a state-of-the-art facility, such as signature cocktails at The Spirited Mule, char burgers by Salt & Char, or a premium event experience at The Centurion Suite by American Express.
Address: 1111 S Figueroa St, Los Angeles, CA 90015
Los Angeles Convention Center
Whether you're attending an industry tradeshow for a corporate outing, or you're headed to L.A. to see a traveling exhibition, you're probably going to the Los Angeles Convention Center in South Park. The LACC attracts millions of visitors every year for large, popular events like RuPaul's DragCon, Bride World Expo, NFT Expo Verse, and Western Foodservice & Coffee Fest. You can also include a group dinner in your daily travel itinerary and have your charter bus rental bring you to a nearby South Park restaurant like Yard House or El Cholo.
Address: 1201 South Figueroa Street, Los Angeles, California 90015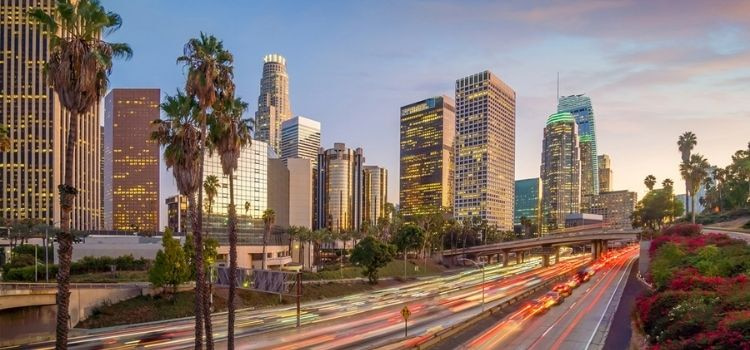 Charter a Bus to Downtown Los Angeles
If you're ready to book a charter bus in Los Angeles, give us a call at 310-667-6197 and speak with a reservation specialist. Tell them about your itinerary, group, and any special amenities you may need, and you'll receive a free, no-obligation quote for your trip. Still considering options for your next trip to Los Angeles? Check out our other two guides to Downtown L.A. neighborhoods: (1) Arts District, Bunker Hill, and City West and (2) the Fashion District, Financial District, and Historic Core.
Need a charter bus in Los Angeles?