Guide to Downtown L.A.'s Arts District, Bunker Hill, and City West
Planning a trip to Los Angeles? We are here to help! We have prepared a guide to some of the biggest districts in downtown Los Angeles. Each district has its own unique flair and offerings, including a vibrant music scene, historic landmarks from L.A.'s movie industry, group-friendly restaurants featuring cuisine from all over the world, and even ghost tours and haunted spaces for horror enthusiasts.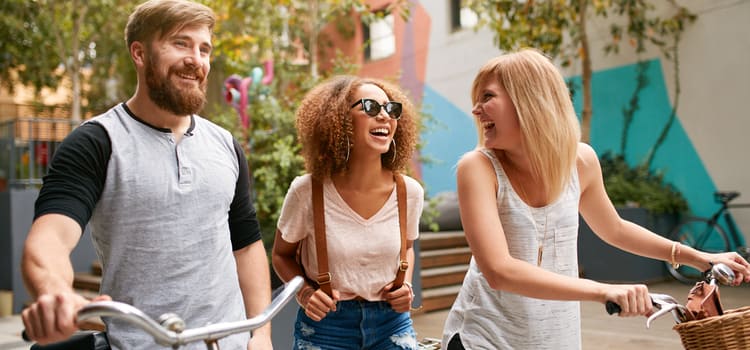 One of the few downsides to visiting a city so big and exciting with a group is transportation. Scheduling multiple Ubers, driving around trying to find parking, and dealing with traffic can be challenging. But with the Los Angeles Charter Bus Company, you can cruise through downtown Los Angeles in style with one of our modern, comfortable charter buses with your group. We offer competitive prices and will work with you to find the perfect charter bus for your group. Give us a call any time at 310-667-6197 to learn more!
Below, here is our guide to three districts in downtown Los Angeles: Arts District, Bunker Hill, and City West. You'll find a bit of info on the history of each district, plus a few highlights to see while you are there.
Guide to L.A.'s Arts District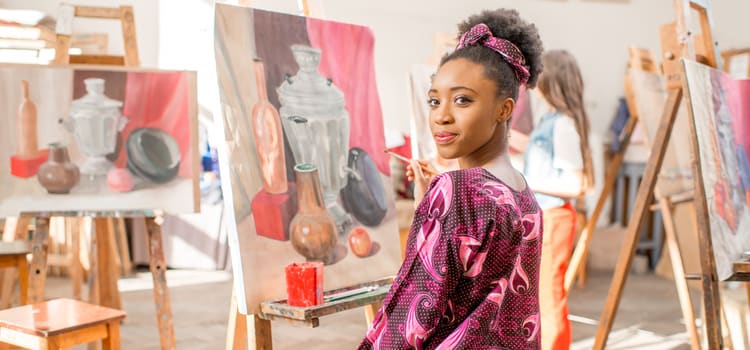 The Arts District is home to the city's most creative and brightest, and you can find tons of unique art, experiences, and businesses. In recent history, the district was saved from neglect in the 1970s by artists, who braved the dangers of the industrial area to open their own art galleries and businesses, beginning the area's descent into a flourishing artistic community. In the 1990s, the area was at risk of downturn again, before being saved by Joel Bloom and his passionate supporters, who officially renamed the area the Arts District.
Art Share L.A.
A great place to experience all things arts and culture, Art Share L.A. is a staple of the Arts District. Located inside a former factory, it showcases artists creating work live, two exhibition galleries, a theater, and classrooms for art classes.
Address: 801 E 4th Pl, Los Angeles, CA 90013
Arts District Brewing Company
There's no shortage of breweries in Los Angeles, and the Arts District Brewing Company is the best brewery in the area for fans of gastropubs. Featuring house draft beers, specialty hot dogs and burgers, and even arcade games, it's a can't-miss venue for food and beer lovers alike.
Address: 828 Traction Ave, Los Angeles, CA 90013
Two Bit Circus
Two Bit claims to be "no ordinary circus," and delivers on the promise. The indoor circus features an arcade with classic games like Pac-Man and Street Fighters, escape rooms, virtual reality games, and special "story" rooms mixing art and entertainment.
Address: 634 Mateo St, Los Angeles, CA 90021
Madcap Motel
The Madcap Motel is an immersive and unique art experience, featuring doors with a world of whimsy and artistic expression behind them. One of the most Instagrammable places in L.A., you'll get memorable photos and never look at a hotel room the same way again.
Address: 940 East 4th St, Los Angeles, CA 90013
Guide to Bunker Hill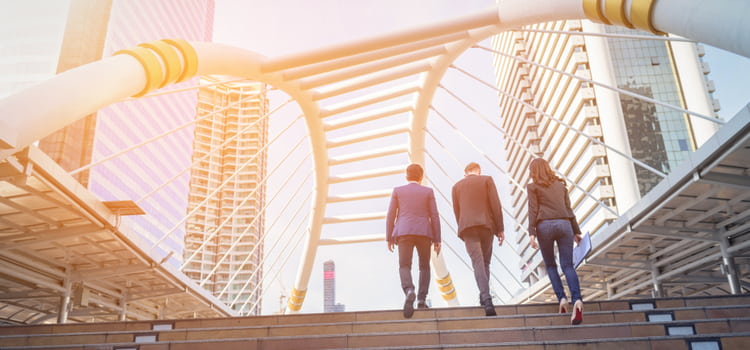 Featuring beautiful skyscrapers, and home to many well-known businesses and companies, Bunker Hill is a business and residential haven that has recently ushered in an up-and-coming arts community, making Bunker Hill the best of both worlds. The Grand Avenue Project, which began in 2007, is a $2 billion project that will bring in 2,000 new residential units, a million-square-foot office space, a Mandarin Hotel, and more than 600,000 square feet of shopping space to revitalize the district further.
The Broad
The Broad is a contemporary art museum that offers free admission to all of its permanent galleries. The museum also features its own freestanding restaurant, of New American Cuisines. Next door, you can find the Walt Disney Concert Hall a short walk away.
Address: 221 S Grand Ave, Los Angeles, CA 90012
Angels Flight Railway
Want to brush up on your history a bit in Bunker Hill? Angels Flight is a nearly 10-year-old historic landmark featuring a 2-foot 6-inch railway and two old cars, Olivet and Sinai, that you can ride between Hill Street and Grand Avenue for a blast from the past.
Address: 350 S Grand Ave, Los Angeles, CA 90071
Grand Central Market
A foodie's staple in the district since 1917, Grand Central Market is a neon-signed journey through different cuisines from around the world. Enjoy Japanese bento boxes, authentic Berlin currywurst, Mexican/seafood fusion, Thai comfort food, and more.
Address: 317 S Broadway, Los Angeles, CA 90013
The Last Bookstore
As an airy and open bookstore that also sells records, The Last Bookstore is the most unique book shopping experience you will find. The multi-level space features art and unique architecture, most notably a wall of books arranged in a spiral, twisting pattern.
Address: 453 South Spring Street Ground Floor, Los Angeles, CA 90013
Guide to City West in L.A.
Looking for the quintessential Los Angeles experience? Look no further than City West. In City West, you can see some of L.A.'s most exciting landmarks, including the famed Beverly Hills neighborhood, and the University of Los Angeles at California. The Hollywood Walk of Fame and the Hollywood Sign are also a short 2-minute drive away. You can find some of the best shopping along Figueroa Street, and some of the best eateries along 7th Street, nicknamed "Restaurant Row" and featuring modern European, Italian, street food, and more.
Santa Monica Pier
Featuring the world's only solar-powered Ferris Wheel, plus fishing, an amusement park, shopping, and food, the Santa Monica Pier is an iconic image of coastal Los Angeles, and a must-see. Parking is limited, and a charter bus is a great option to avoid overcrowded parking lots at the pier.
Address: 200 Santa Monica Pier, Santa Monica, CA 90401
Griffith Observatory
The Griffith Observatory is free to visit and is the shooting space for several iconic shows and movies, such as La La Land and Buffy the Vampire Slayer. See the stars, both literally and metaphorically, at this beautiful and group-friendly observatory.
Address: 2800 E Observatory Rd, Los Angeles, CA 90027
The Getty
The Getty features two centers, The Getty Center and Getty Villa, where you can find pre-20th century art along with outdoor sculpture displays in terraces and in gardens. It's also known for its unique architecture and views of Los Angeles, and for hosting the Irises painting by Vincent Van Gogh.
Address: 1200 Getty Center Dr, Los Angeles, CA 90049 (Getty Center)
17985 Pacific Coast Highway, Pacific Palisades, CA 90272 (Getty Villa)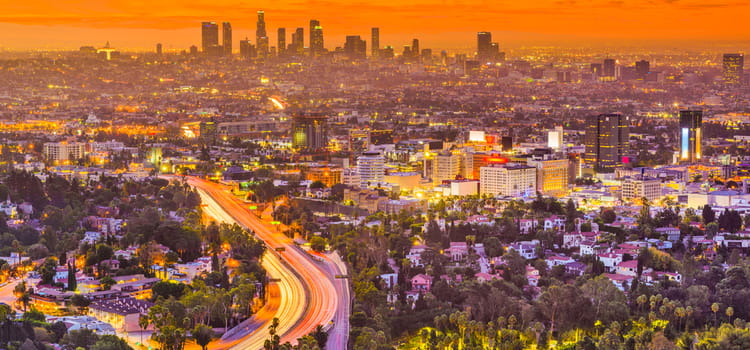 Explore Los Angeles with Los Angeles Charter Bus Company
Ready to see the City of Angels? Let's get started! Renting a charter bus for your group is the best way to get around Los Angeles hassle-free. You can enjoy modern amenities like WiFI, A/C, and even a private bathroom. Different amenities are available for different charter buses, so be sure to ask about the upgrades. You can call us any time at 310-667-6197, no-obligation required, for a free quote on our charter bus pricing. We can't wait to work with you!
Need a charter bus in Los Angeles?