A Group Guide to Visiting LA's Griffith Observatory
Did you know that Griffith Observatory has appeared in Buffy the Vampire Slayer, Transformers, and La La Land?
Even if your group has no interest in the stars, this popular filming location in Los Angeles will be sure to make a scenic, relaxing setting for a day out. Plus, you can boast that you visited one of the sets from La La Land. It's great if you like the stars, too.
If you're traveling to LA with your school group, tour group, or colleagues, Griffith Observatory is an essential addition to the group's bucket list. The one challenge about visiting is that it's difficult to find parking. While there are two parking lots, they require hourly parking fees. If you're traveling in several cars, you'll quickly rack up a bill.
Los Angeles Charter Bus Company can take care of the logistics so you only worry about sightseeing. No need to deal with the city's lackluster public transit, unmoving traffic, or expensive car rental fees. Call us at 310-667-6197 to book your private charter bus rental in LA.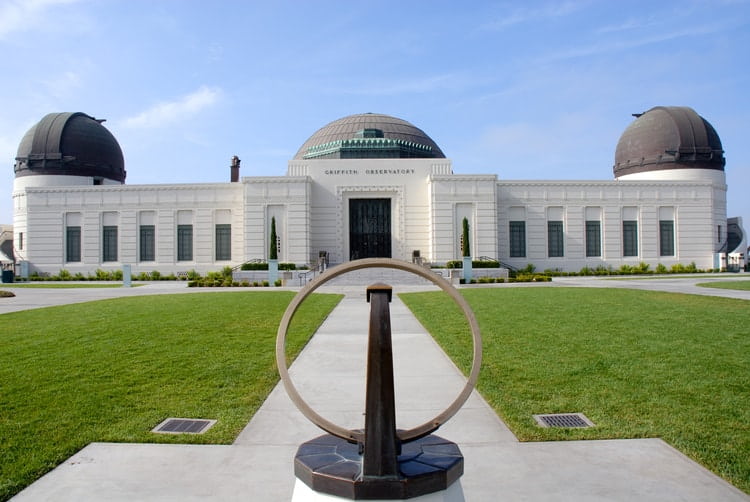 Visiting Griffith Observatory During COVID
Here, we will answer all of your questions about visiting Griffith Observatory during COVID-19. While the lockdowns will likely be lifted in the foreseeable future, Griffith Observatory is closed until further notice.
Is the Griffith Observatory free for groups?
Yes, it's completely free to access the Observatory grounds, the public telescopes, and the building when it reopens. There's no group size limit.
The only item you pay for are tickets to the planetarium shows. Tickets cost $7 for adults and $3 for children twelve years and younger. However, the planetarium shows have been temporarily suspended because of the COVID-19 pandemic.
Can groups still go to Griffith Observatory?
As of the time of this writing, the Griffith Observatory building is closed due to the pandemic. However, the grounds are still open. You can relax on the Griffith Observatory lawn and brag that you visited one of the filming locations from Back to the Future (or Yes Man or Rebel Without a Cause).
Can groups enter the Griffith Observatory planetarium?
The planetarium is currently not open to the public, and there's no reopening date yet.
While you won't be able to see the stars from inside the planetarium, you can use the public telescopes on the south side of the building.
You can also enjoy the rest of Griffith Park, where you can see the Hollywood sign from a distance, plan a picnic, and hike with your group.
Do you need masks?
Yes. Even if you're outside, masks are required and so is social distancing. If anyone in your group feels sick, suggest that they stay at the hotel until they feel well.
How to Travel to Griffith Observatory With Your Group
The easiest way to travel to Griffith Observatory is with a charter bus rental. As summer arrives, the Observatory is guaranteed to get crowded, and the park authorities sometimes close roads when overcrowding occurs. You don't want to be stuck in the LA heat while trying to find parking.
Your charter bus will drop you off near the Greek Theater. You can then enjoy a short walk up to the observatory and start your sightseeing straightaway. Alternatively, if you go on a weekend, you can take the DASH Shuttle up the hill for 50 cents per person.
Here's a handy checklist for your Griffith Observatory group trip:
Secure a charter bus rental. You can choose between 18-, 20-, 25-, and 56-passenger
Pack a few light meals and water. The Observatory's cafe, Café at the End of the Universe, is closed until further notice.
Bring hiking shoes. If you plan to hike with your group, you'll want to come prepared. You can also hike from the Greek Theater up to the Observatory. Here's how.
Bring a picnic blanket. The Griffith Observatory lawn is known for its scenic views, and you'll want to linger at the top of the hill. Make sure you're comfortable by bringing a blanket.
Bring a camera. Your phone could be enough, but the views up there are gorgeous, which might make it worth renting a camera. The Observatory also allows professional photographers (in case you're traveling for a special event, such as a wedding).
Choose an off-site restaurant. In your charter bus trip, you can include off-site excursions. Near the end of the day, your group may be hungry. Choose an offsite restaurant where your group can decompress.
Don't forget to bring coins for the public telescopes.
Now, let's get to the fun part—what you can do at the Observatory once you get there.
Things to Do at Griffith Observatory
The Observatory building may be closed, but there are plenty of ways to still enjoy this quintessential LA attraction.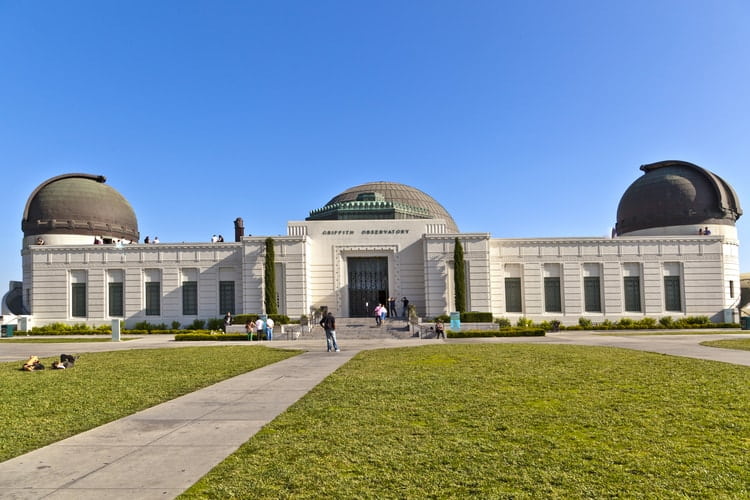 Relax on the Observatory Lawn
Bring a picnic basket and enjoy the LA sunset on the Observatory lawn. Situated on a hill, the lawn overlooks Griffith Park and offers panoramic views of the city. Lay out a blanket, bring your favorite book, and play card games with your group.
The best time to enjoy the lawn would be near sunset, when the air is cooler and the glare from the sun isn't as harsh.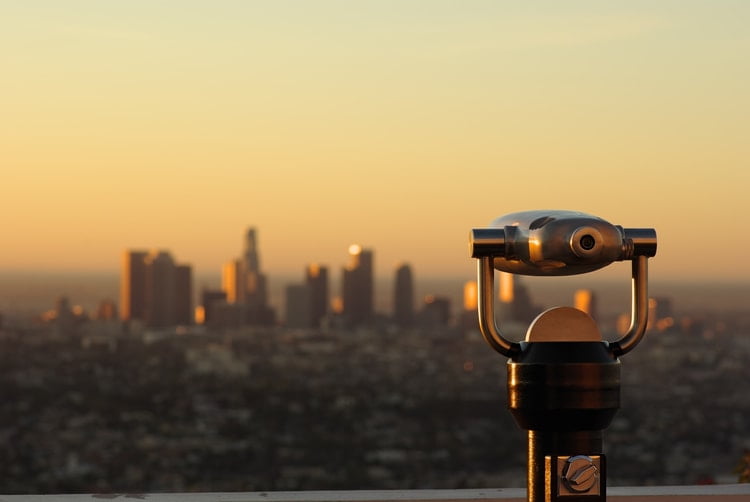 See the Stars Using the Public Telescopes
The Observatory has set up public telescopes on both the west and south sides of the building, allowing you and your group to enjoy the stars. No need to enter the building itself—just enter the coin and look up.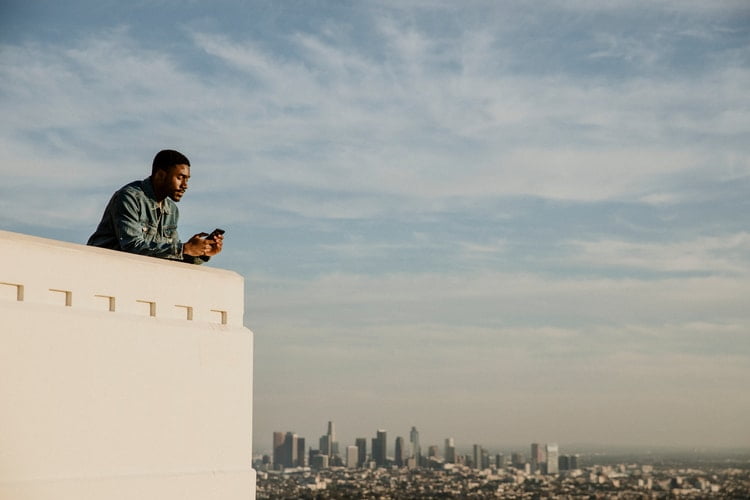 Schedule a Professional Photoshoot
If you're going up to the Observatory to celebrate your birthday or wedding, why not commemorate it by hiring a professional photographer? If you're traveling with twenty people and you book a photographer for an hour, you can expect to pay around twenty dollars per person.
There are only a few restrictions when it comes to photography. The only equipment allowed is a tripod and a camera; other equipment such as reflector boards are prohibited.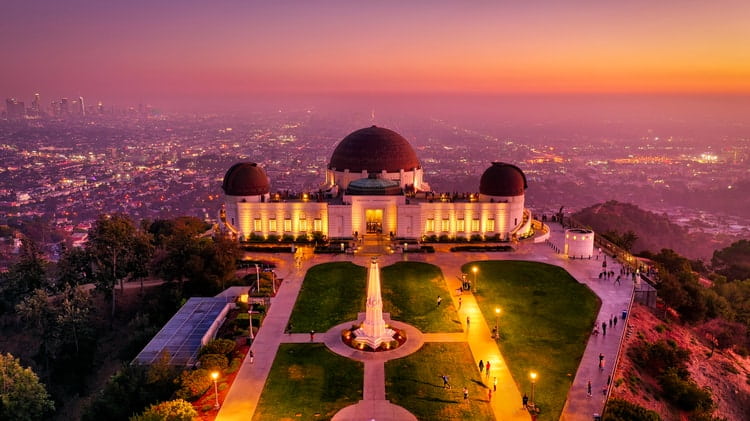 Hike to Your Heart's Content
You can hike up to the Observatory, down from it, and all around it. Because it's situated in the heart of Griffith Park, the Observatory is surrounded by some of LA's most beautiful trails. Griffith Park is one the best places to enjoy the outdoors, and the best part is that it stays open late.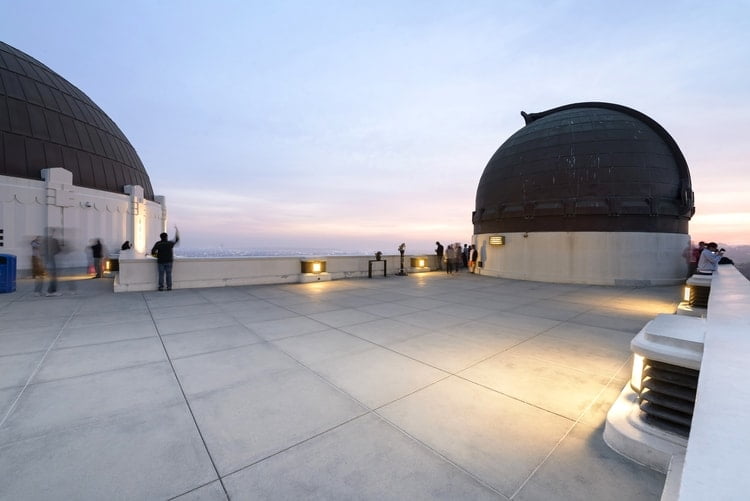 Host a Paint-a-Thon or Sketch-a-Thon
Whether you're interested in the Observatory's unique architecture or its 360-degree views of the city, there's something here for you to draw. Pack a few sketchbooks and host a competition in your group to see who best captures the views.
Traveling to Griffith Observatory is Easy with LA Charter Bus Company
Griffith Observatory is a must-visit during your time in LA. Let Los Angeles Charter Bus Company take care of the logistics so your group has more time to sightsee. Call us 24/7 at 310-667-6197 for a free, no-obligation quote for your trip.
Need a charter bus in Los Angeles?