Visiting LA's Hollywood Neighborhood with a Group
For many, a trip to LA is not complete without a visit to Hollywood—the home of the country's top movie studios and many of Los Angeles's top historic attractions. Sure, it's kind of a tourist trap—but that's part of the fun! Whether you're visiting from out of town or you're a group of locals wanting to play tourist for the day, Hollywood is chock full of places to go, food to eat, and (if you're lucky) famous people to see.
No matter what draws you to Hollywood, Los Angeles Charter Bus Company can make your travels around the neighborhood as easy and stress-free as possible. Call our 24/7 reservation team at 310-667-6197 to learn how a personalized minibus or charter bus rental in LA can make your entire trip go off without a hitch!
A Little Info About the Neighborhood
Located in the north-central part of the city, Hollywood is one of the most visited neighborhoods in all of Los Angeles. This is partially because the district has become synonymous with the country's movie industry—Disney, Paramount, Warner Brothers, and Universal Studios were all founded here. But in addition to the glitz and glamor of the silver screen, the neighborhood has received some much-needed TLC and infrastructure changes in recent decades, drawing in more tourists, sightseers, and movie buffs for tours than ever before!
Getting Around Hollywood
When it comes to traversing Hollywood, your group has a few transportation options available to you (depending on your group's size, itinerary, and priorities):
Cars, Taxis, and Rideshare
Los Angeles is dominated by cars. As one of the largestcities in the country and with most major attractions within driving distance of each other, it makes sense that visitors would be drawn to renting or hiring passenger vehicles while in Hollywood.
Whether you're planning to rent a car, hail a rideshare service or taxi, or pile into your friends' minivan, there are some things you should know about getting around Hollywood by car. If you're parking your own vehicles, be warned: parking in and around Hollywood is pricey and very limited. You can avoid the woes of circling the block for multiple street parking spots by hiring a taxi, Uber, or Lyft, but these services often have high and unpredictable rates—especially during peak tourism season (summer and around major holidays).
Public Transit
While LA is not known for stellar public transportation service, the city's bus line can be helpful for small groups looking for cheap and environmentally friendly rides in and out of Hollywood. The Red Line is the most useful for tourists and visitors, considering it connects Downtown Union Station to North Hollywood through Hollywood and Universal City.
Keep in mind that LA public transit may not be the best option for groups with small children, multiple people with mobility concerns, or out-of-towners who are unfamiliar with the routes. In general, if you're worried that someone may get lost or left behind while making a transfer, you should perhaps consider a different method for getting around Hollywood.
Private Bus Rentals
If you spend enough time in Hollywood, you'll grow accustomed to the sight of shuttle buses, charter buses, and tour vans weaving in and out of the busy streets. And while commercial, preplanned bus tours in Hollywood can be a good way to get the broad strokes of the neighborhood, don't feel like your group needs to be bound to a preset itinerary or has to share a tour bus with a bunch of strangers.
Los Angeles Charter Bus Company specializes in private bus rentals—which means you set the routes and schedules, and only your selected passengers can hop aboard the bus. Fill your days with the sights that most interest your group, and we'll connect with the perfect model of motorcoach and a professional driver to get you there. As an added perk, our network includes minibuses and charter buses with all kinds of amenity options. So whether you want to marathon your favorite films with TVs and a DVD player or catch some shut-eye better stops in comfy reclining seats, our team can accommodate your Hollywood sightseers!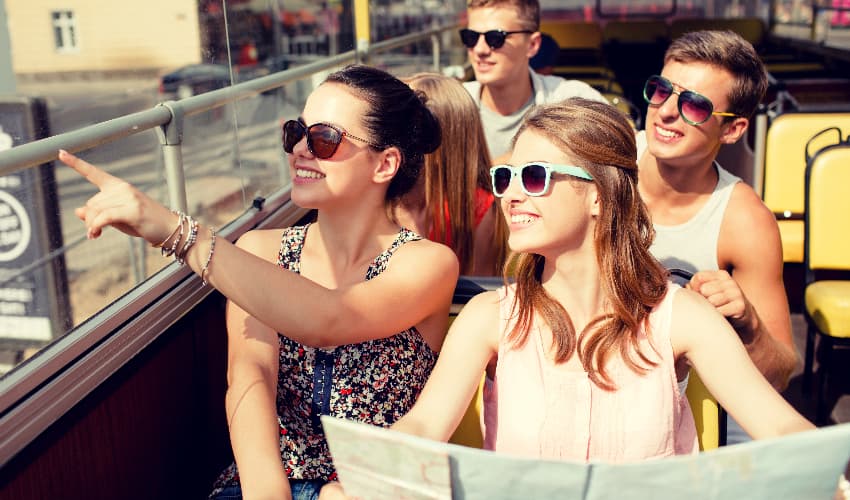 Charter Bus Parking
First things first: where your bus driver parks your bus rental depends on where in Hollywood you want to go. On one hand, many highly frequented destinations like Universal Studios offer designated tour bus parking lots. On the other hand, Hollywood is a dense urban neighborhood in one of the most populated cities in the country—so some areas don't allow oversized vehicles at all.
When in doubt, there are generally two places your charter bus can park while you explore Hollywood's top sights:
The Discover Los Angeles Visitor Center on Hollywood Boulevard offers charter bus parking, information about the neighborhood's top destinations, and close vicinity to popular tourist spots like the TCL Chinese Theatre and the Walk of Fame.
Many hotels in the area can provide complimentary bus parking for groups who book room blocks. If all else fails, have your driver drop everyone off in the middle of your day's sightseeing spots and park back at the hotel.
Popular Hollywood Sights and Attractions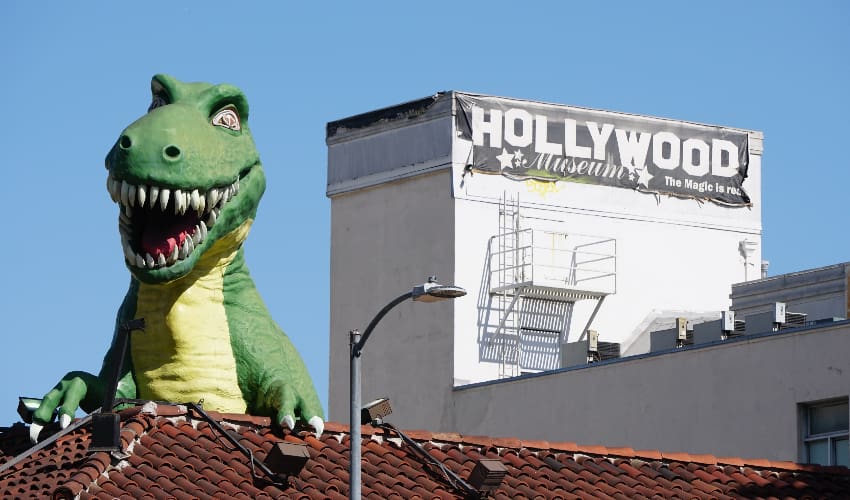 Hollywood Museum
Address: 1660 N. Highland Ave, Hollywood, CA 90028
Not sure where to start your adventures in Hollywood? This museum might be your best starting point! Here, you'll find the most extensive collection of Hollywood memorabilia in the world—with four floors of costumes, props, posters, and personal items of the silver screen's most famous actors over the past 100 years. The museum is located in the Max Factor Building (the former studio of one of the most successful film makeup artists) and is open for group tours Wednesdays through Sundays, 10 a.m. to 5 p.m.
The Hollywood Sign
This larger-than-life sign is one of the most recognizable landmarks in LA and a must-see if you're in Hollywood. And while you can see it from most places within the neighborhood, stopping and posing for a commemorative photo with it as your backdrop is a great way to round out a trip! There are multiple places to see the Hollywood sign within the neighborhood, including picturesque parks, scenic drives, and hikes to the top of Mt. Lee (the hill the sign sits on).
TCL Chinese Theater
Address: 6925 Hollywood Blvd, Hollywood, CA 90028
Founded in 1927 by Sid Grauman (the theatre's namesake until 2013), this legendary screening house has hosted many movie premieres and Hollywood events over the years—including the original Star Wars trilogy and multiple Academy Awards ceremonies. Nowadays, tourists from all over the globe stop by to admire the theatre's authentically crafted bells, pagodas, and Heaven Dog statues. Sightseeing groups can even schedule a tour of the intricate lobby and IMAX theatre inside, and take a picture of their favorite actors' signatures and handprints in the pavement outside the entrance on their way out.
Universal Studios Hollywood
Address: 100 Universal City Plaza, Universal City, CA 91608
Get your fill of movie magic and thrills at this film-studio-turned-theme-park! Some of the most iconic films were developed on this lot—King Kong, Jaws, Back to the Future, and more!—and your group can tour their favorite sets between rides and shows. And considering that groups of 10 or more can receive discounted admission, Universal Studios Hollywood is a great place to host grad bashes with your high school seniors, day trips with your summer camp, and a change of pace for your sightseeing group of kids.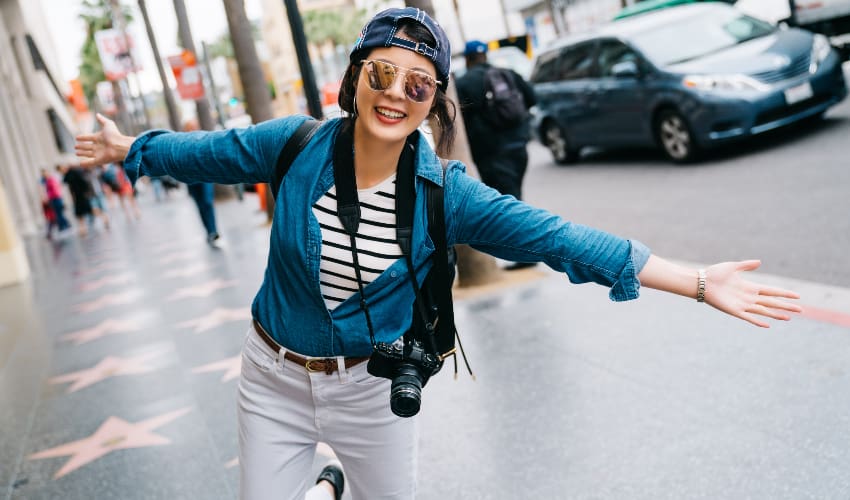 The Walk of Fame
Address: N Highland Ave &, Hollywood Blvd, Los Angeles, CA 90028
As one of the most popular attractions in Los Angeles, this 1.3-mile stretch of Hollywood Boulevard is probably on your itinerary already! If it isn't, consider making time to stop by and admire the nearly 3,000 stars memorialized in the sidewalk here—including Marilyn Monroe, Charlie Chaplin, Mickey Mouse, and more!
If your group doesn't want to traverse the entire Walk of Fame, that's okay too. Just have your bus driver drop everyone off near your favorite celebrity's stars, take a selfie with your favorites, and hop back on your bus rental to enjoy some crisp AC on your way to your next destination.
Group-Friendly Hollywood Restaurants
Craving a bite to eat after a long day of tours and sightseeing? Luckily, Hollywood has plenty of group-friendly restaurants that cater to a variety of tastes. Here are just a few your group of foodies can choose from:
Ruen Pair
Address: 5257 Hollywood Blvd, Los Angeles, CA 90027
This foodie-favorite haunt has it all: long tables and an open seating plan, a budget-friendly menu full of authentic Thai cuisine, and close proximity to Hollywood Boulevard's top attractions! Chow down on hearty servings of curry, noodles, and fried rice dishes late into the night—just be sure to bring cash, and don't be surprised if your party of 5 or more sees a 15% service charge on your bill.
Jones
Address: 7205 Santa Monica Blvd, West Hollywood, CA 90046
This hip eatery showcases Italian and American fare like pizza, spaghetti with meatballs, and apple pie. But don't expect a standard dinner experience here—in fact, many local Angelenos frequent this place to take in the retro supper-club vibe with mood lighting and bustling atmosphere.
Rao's Hollywood
Address: 1006 Seward St, Los Angeles, CA 90038
It may be a replica of the famous NYC restaurant with the same name, but this homestyle Italian place stands out from the crowd, thanks to its spacious patio. Sip from their selection of wine and enjoy generous plates at one of the big group tables out back, and your private dinner party is sure to enjoy the friendly service and warm ambiance.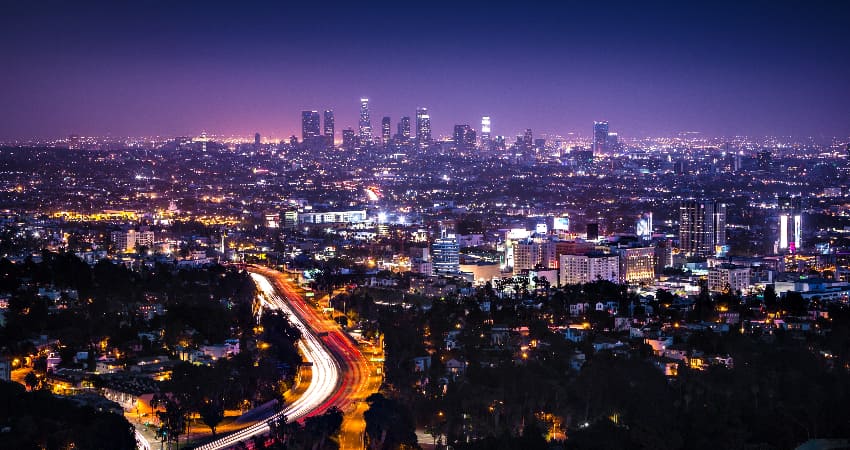 Yamashiro
Address: 1999 N Sycamore Ave, Los Angeles, CA 90068
Although this Sushi and Cal-Asian restaurant has 100 years of service under its belt, its history still isn't the most notable thing about it. Request a seat on the outdoor balcony space, and you'll see it also has some of the best views of the LA skyline around—with so many vistas that your group can spread out across the restaurant and not see the same views.
Explore Hollywood in a Private Bus Rental
Taking in all that Hollywood has to offer is no easy feat—but reserving a stress-free group transportation service makes it a little easier! Los Angeles Charter Bus Company has years of experience showing sightseers around the City of Angels. And between our 24/7 reservation team and our huge network of charter buses and minibuses, we can tailor your Hollywood bus rental to suit your budget, amenity needs, and headcount.
Call 310-667-6197 today to receive a free and no-obligation quote for your personalized bus rental in Los Angeles.
Need a charter bus in Los Angeles?