A Group Guide to Seeing the Hollywood Sign
Few things in Los Angeles are as big and iconic as the Hollywood sign. You've seen it in films, in reality TV shows, on postcards, you name it. But honestly, photos and film reels hardly do this larger-than-life installation justice.
Want to see the Hollywood sign in-person? We've put together this guide to help you do just that!
Whether you want to treat your out-of-town friends and family with a big day out or play tourist with your office as a team-building outing—Los Angeles Charter Bus Company has you covered. Keep reading to learn more about how to see the Hollywood sign with your sightseeing group, and give us a call at 310-667-6197 when you're ready to figure out how you'll get there.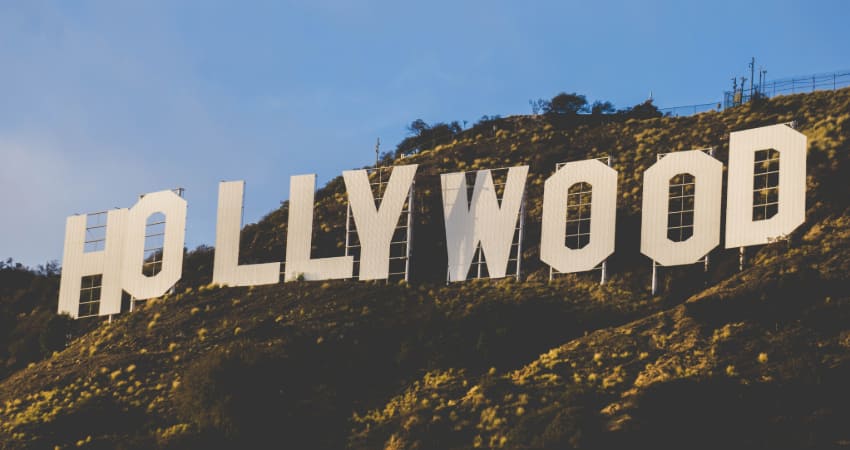 About the Hollywood Sign
Would you believe that Los Angeles's most-recognized landmark began as a real estate advertisement? (Okay, maybe it's not that surprising.) When the letters were first erected on Mt. Lee in 1923, they spelled "Hollywoodland," the name of a then-developing neighborhood in the valley below. Even though modern visitors can't get anywhere near the sign itself, and you aren't gazing upon the original letters (they were replaced with exact replicas in 1978), snapping a photo with the Hollywood sign is still a must-do for tourists, LA newcomers, and even residents who want to reconnect with their city.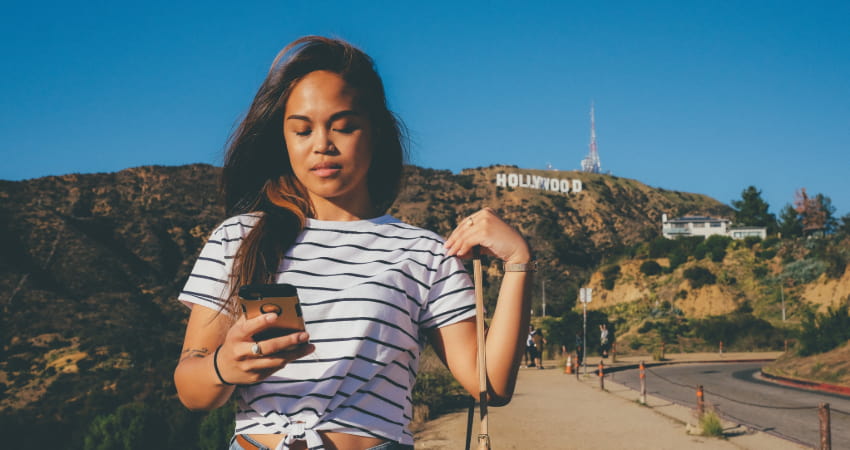 Getting Around Hollywood
The thing about LA is that despite being a car-centric city, parking and driving here can be a nightmare. Especially in frequently-traveled neighborhoods like Hollywood, finding a parking spot—let alone multiple parking spots for multiple cars—anywhere close to where you want to be is a challenge. Public transit is an option, yes, but public bus stops and rail stations are few and far between, so the chances of you finding a line near your destination are slim. And while rideshares and taxis are big in LA, you can only reserve them on an as-needed basis and by the time you hail multiple rides throughout the day, you'll have spent a lot of time and money waiting around for them.
So what's the best way to get your sightseeing group to the Hollywood sign?
Renting a charter bus or minibus service not only keeps everyone together in one vehicle, but also offers comfort and peace of mind you just can't get in a taxi, Uber, or Lyft. After a multi-mile hike out to a lookout or picnic in the park, you'll want a comfortable, climate-controlled ride with plenty of room to stretch out and chill. Luckily, coaches in the Los Angeles Charter Bus Company network have tons of storage space to keep backpacks, cameras, and coolers tucked away while the bus is in motion. That way, everyone can kick back in a reclining seat, scroll
The Best Places to Spot the Hollywood Sign
The bright side of this attraction literally being a 45-foot tall sign on the side of a mountain is that it can be seen from almost anywhere in Hollywood. And while many Angelenos claim the best place to view it is atop the Home Depot parking deck on Sunset Boulevard, we understand that's not the most… glamorous location to add to your Hollywood sightseeing itinerary.
Luckily, your sign-spotters-to-be have some options when it comes to viewing locations: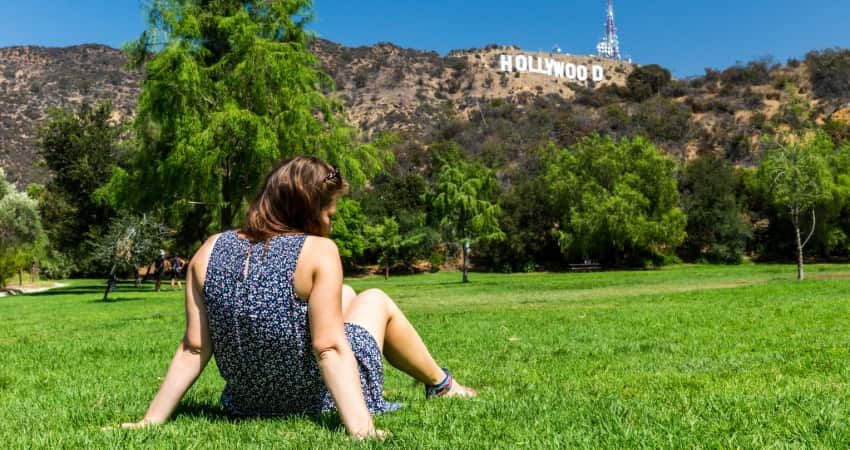 Lake Hollywood Park
Address: 3160 Canyon Lake Dr, Los Angeles, CA 90068
This grassy park is not only one of the easiest-to-get-to and clearest viewing areas for the Hollywood sign, but also a great place for planning picnics, letting young kids burn off some energy, and dog-watching. There's free street parking along Canyon Lake Drive, but it fills up fast. Either show up early in the day to grab a good spot or book a charter bus to avoid the hassle altogether. Your driver can drop you off near the park entrance, help you unpack your picnic blankets and coolers from the bus's luggage bay, and handle the logistics while you snap photos of the sign!
Griffith Observatory
Address: 2800 E Observatory Rd, Los Angeles, CA 90027
The public observatory is well worth the visit even if spotting the Hollywood sign isn't on your LA bucket list, but the view is definitely a bonus. From the observatory's western terraces, you can catch the sunset and the sign all in one vista—the perfect photo op!
The only downside to this viewing location is that the sign is pretty far away. Luckily, though, there's always the Mt. Hollywood Trail that branches from the Griffith Observatory parking lot, if your group wants a closer look and doesn't mind a hike. Three miles total, this loop trail is a relatively easy hike that's perfect for inexperienced hikers and those introducing their kids to the great outdoors. If you are planning to bring adventurous youngsters out here for a field trip, the Hollywood Sign Trust provides printable activity sheets they can complete on the bus ride here.
Since the streets to and from the Griffith Observatory are narrow and parking is limited, park officials encourage observatory visitors and hikers alike to arrive via public transit or charter bus rentals. Those opting for public transit can take the Metro to Vermont/Sunset Station and hop on a DASH bus: the Observatory's shuttle program that costs 50 cents per ride and runs every 15 minutes.
DASH is convenient for small groups and lone hikers, sure—but if you're traveling with a large group, many children, or folks with mobility concerns, a private bus rental may be better suited for you. That way, no one has to worry about transfers or anyone getting lost. Just have your driver drop everyone off, park at the Greek Theatre down the hill, and meet back up with you at the Observatory when you're ready to leave.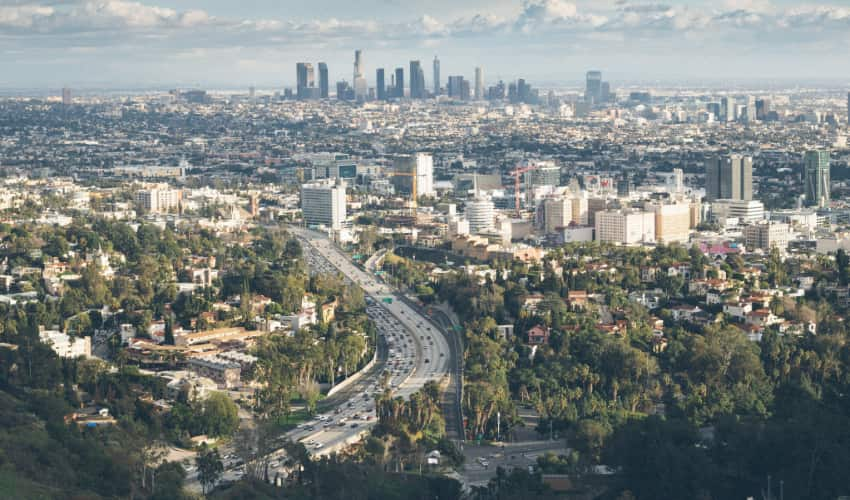 Mulholland Drive
Address: 7036 Mulholland Dr, Los Angeles, CA 90068
Looking to combine sightseeing adventures? You won't want to pass up this scenic drive that offers Hollywood skyline—and a glimpse of the Hollywood sign to boot. The stretch of road between the 405 and the 101 has been the backdrop for many movie chase scenes (and even real street races in the 70s!), and you can see many major studio lots along the way like Universal and Warner Bros.
There are two things you should know before you embark:
The parkway is notorious for its hairpin switchbacks and sharp turns—so a smaller coach like a sprinter van or a minibus would be best suited to maneuver the curves.
Jerome C. Daniel Overlook (aka: the Hollywood Bowl Overlook) is the only place along the parkway you can see the Hollywood sign. Charter buses are allowed to park here but require a permit to enter.
Just let the Los Angeles Charter Bus Company team know a drive along Mulholland is on your itinerary, and we'll ensure you have the right vehicle and that your driver has all the proper paperwork handy.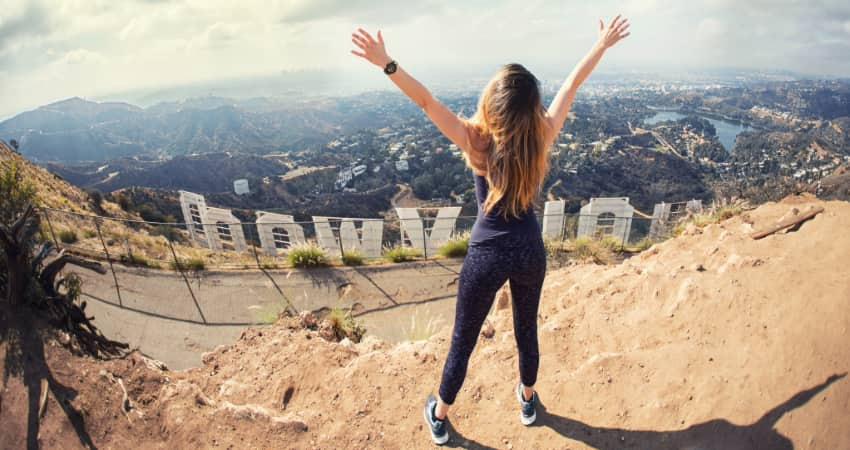 Burbank Peak Trail
Address: 3501 Wonder View Dr, Los Angeles, CA 90068
Another great option for hiking enthusiasts, this trail offers a unique perspective you won't find anywhere else, as you approach the Hollywood sign from the back and look down on it. (Those looking to get a photo of the sign itself should look elsewhere.)
That's not to say the view from up here is disappointing, though—far from it! Mt. Lee is on the northern side of town and is the second-tallest peak in the immediate area. This means that on a clear day, you can see almost all of Los Angeles sprawl before you from the southern-facing lookout point above the Hollywood sign.
Have your driver drop everyone off where Lake Hollywood Drive meets Wonder View Road. From there it's a three-mile out-and-back trail with 875 feet of elevation change—it's not that bad at the beginning, but the trail does get pretty steep and rocky near the peak, so be careful and wear sturdy shoes.
Plan Your Visit to the Hollywood Sign Today
Whenever you're ready to start coordinating your next Hollywood adventure, give Los Angeles Charter Bus Company a call at 310-667-6197. Our team of bus specialists and huge network of motorcoaches means we should have no problem connecting your group with a comfortable ride to every sightseeing destination on your LA itinerary. Let us know where you're going, how many people are tagging along, and what amenities you want on your bus, and we'll handle the rest.
Need a charter bus in Los Angeles?