A History Buff's Guide to Los Angeles
Los Angeles may not be the most historical city in the U.S.—the city's oldest standing building was built in 1818—but there are still plenty of 19th- and 20th-century attractions to keep your tour group or class busy. Check out adobe buildings constructed in the 1800s, and then tour beautiful 1920s mansions built as the film industry started to boom.
Whether you're more into the Gilded Age or the Roaring 20s, Los Angeles Charter Bus Company can help you plan your historical tour of LA. Just give us a call at 310-667-6197 and we'll find comfortable, private transportation to take your group to all of your destinations.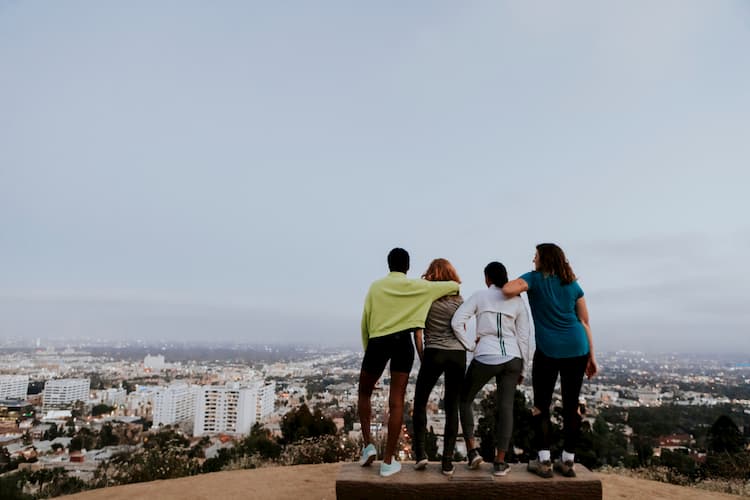 The Beginning of Los Angeles
The Los Angeles area was originally inhabited by the Tongva, a powerful coalition of tribes who excelled at trading. Sadly, none of the Tongva's buildings stand today. The structures were destroyed by a group of Spanish settlers who moved from Mexico to California and established the Pueblo de Los Ángeles in 1781.
El Pueblo de Los Ángeles Historical Monument, located on the site where the Spanish first settled, contains the oldest still-standing buildings in LA. Here are a few of them:
Avila Adobe
Francisco Ávila was born to Spanish parents who had immigrated to Mexico, and his family was later among the first Spanish-Mexican settlers to move to Los Angeles. Francisco eventually became a successful ranchero and served as mayor of the pueblo. In 1818, he built his home, Avila Adobe, out of adobe bricks and tar from the La Brea Tar Pits. The house is now the oldest intact building in the city of Los Angeles.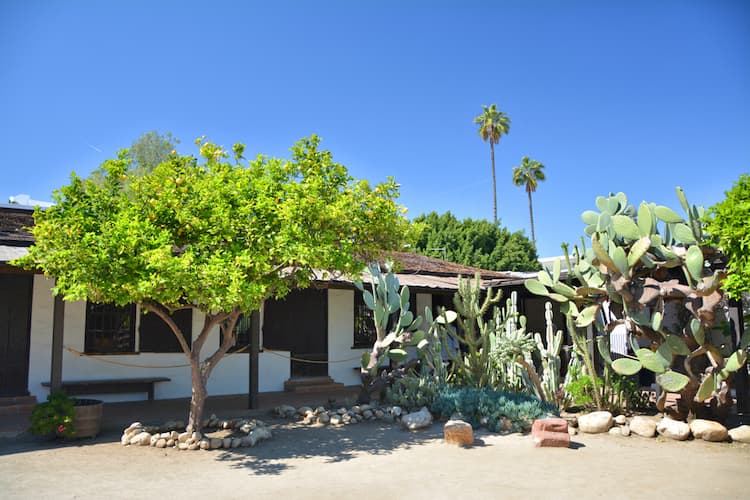 You can find Avila Adobe in the El Pueblo de Los Ángeles Historical Monument area. The house lies in the middle of Olvera Street, and it's free and open to the public. After you visit, you can go shopping or stop at a nearby restaurant in the bustling historic district.
Charter bus parking: This area can get crowded, but there is designated parking for charter buses and school buses along North Main Street in front of the Historical Monument.
Address: 10 Olvera St, Los Angeles, CA 90012
Phone: (213) 485-6855
Iglesia de Nuestra Señora la Reina de los Ángeles
The Church of Our Lady Queen of the Angels was established by Spanish settlers in 1784, though the building you see today was built in 1814 and then almost completely rebuilt in 1861. For a long time, it was the only Roman Catholic church in Los Angeles, and it earned the nickname La Placita or "Plaza Church" for its location in the heart of the city.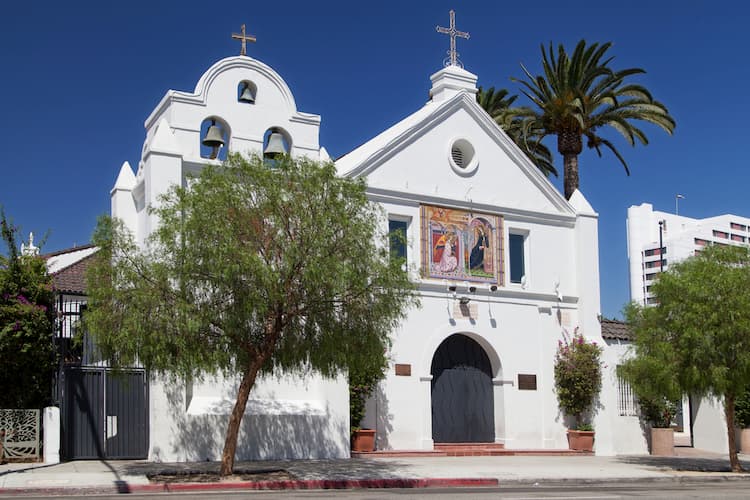 You can tour the building any time services are not being held, and the area around the church features stalls selling rosaries, flowers, and candles. If you're Catholic or just curious and your group speaks Spanish, you can attend daily or Sunday Mass here too.
Charter bus parking: The parking situation is the same as for Avila Adobe—your bus can park along North Main Street in the El Pueblo de Los Ángeles area.
Address: 535 N Main St, Los Angeles, CA 90012
Phone: (213) 629-3101
The Victorian Era
The U.S. gained control of California at the end of the Mexican-American War in 1847, and the Gold Rush in 1849 brought a surge of American settlers to California. Once the Civil War ended in 1865, Los Angeles underwent a period of rapid growth as the American settlers began to build Victorian-style structures in the area. A few of these Victorian buildings are still standing for you to visit.
Point Fermin Lighthouse
This charming lighthouse was built in 1874 and is one of only 3 "Stick Style" lighthouses left in the U.S. The Stick Style is an early Victorian design aesthetic characterized by gables and decorative cross-beams and railings, all of which you can see at the Point Fermin lighthouse. This lighthouse is also special because its first two lighthouse keepers were women, a pair of sisters named Mary and Ella Smith.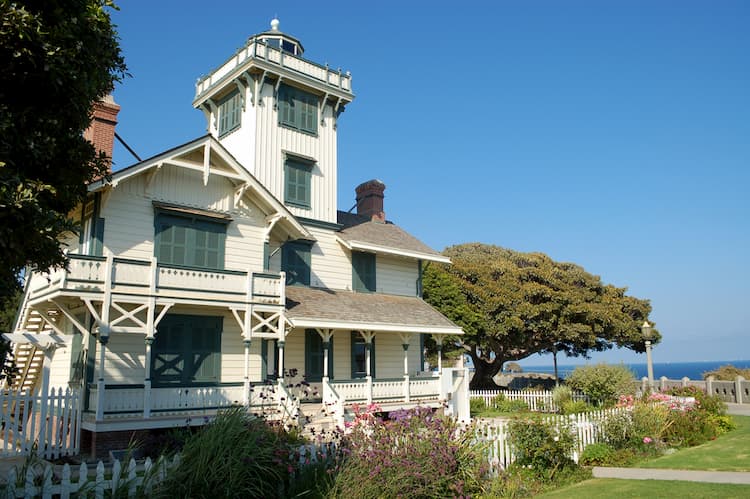 Admission to the lighthouse is free, though donations are requested. Guided tours take place at 1, 2, and 3 p.m. Tuesday through Sunday, and if you have a large group, you can call ahead to reserve a private tour. The lighthouse also lies near the Los Angeles Maritime Museum and the Fort MacArthur Museum, so you can learn even more about Los Angeles's history during your visit.
Charter bus parking: Parking isn't allowed within Point Fermin Park itself, but there are multiple parking lots just outside of it.
Address: 807 W Paseo Del Mar, San Pedro, CA 90731
Phone: (310) 241-0684
Bradbury Building
The Bradbury Building is the oldest standing commercial building in the city of Los Angeles. Built in 1893, this former office building features an indoor courtyard with wrought-iron railings and a fifty-foot glass ceiling to let in light. During your tour, your group can take in original features like the open-cage elevators and marble stairs.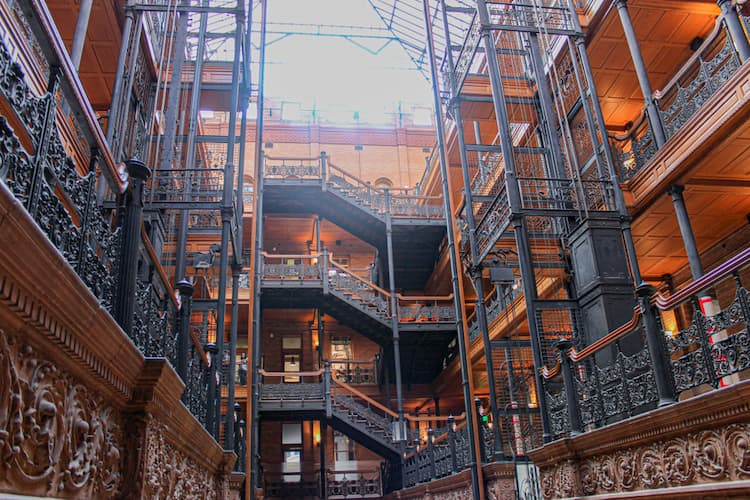 The building also has a contested history—Sumner Hunt drew designs for the building at the request of Lewis Bradbury. Bradbury then fired him and hired George H. Wyman, but it's unclear whether Wyman actually redesigned the building or just used Hunt's design. You can read more about the debate while you treat your group to lunch at Grand Central Market across the street.
Charter bus parking: Because this building is in the city center, there's very little parking. You can ask your charter bus driver to drop you off and then park in a paid public lot a few blocks away.
Address: 304 S Broadway, Los Angeles, CA 90013
Phone: (213) 626-1893
Lummis Home & Gardens
Constructed from river rocks, the Lummis Home is also known as El Alisal, the name Charles Fletcher Lummis gave it because it lay in an alder and sycamore grave. The house was completed in 1897 and hosted parties for well-known scientists, artists, writers, and performers, including John Philip Sousa, Will Rogers, and Clarence Darrow.
Inside the house, you'll find Lummus's books as well as artifacts that he collected. You can also walk around outside to see the many drought-resistant California plants that naturally grow in the area.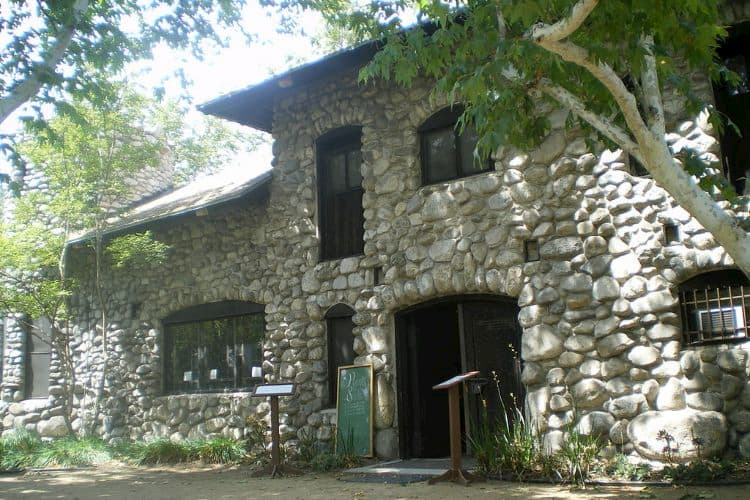 Image credit: Wikimedia Commons
Charter bus parking: There is no parking lot at the house, but street parking is usually available just outside of it.
Address: 200 E Ave 43, Los Angeles, CA 90031
Phone: (323) 226-1620
The Turn of the Century
As the twentieth century began, Los Angeles continued to grow and industrialize at a rapid rate. That means that many new homes and attractions were constructed, from the Venice Canals to the Santa Monica Pier. Unlike the structures from earlier centuries, many of these buildings still stand today, so your history-oriented group can tour them on your bus trip.
Brand Library & Art Center
Situated at the foot of the Verdugo Mountains, the Brand Library and Art Center was originally commissioned by Leslie Coombs Brand in 1904. Brand wanted the house to resemble the East Indian designs he'd seen at Chicago's Columbian Exposition, so his brother-in-law Nathaniel Dryden designed a sprawling white building adorned with spires.
In his will, Dryden left his home to the city of Glendale with the condition that the house be turned into a library and the grounds be turned into a park. The city obeyed, and today you can browse books and see local art as well as admire the architecture when you visit this beautiful building.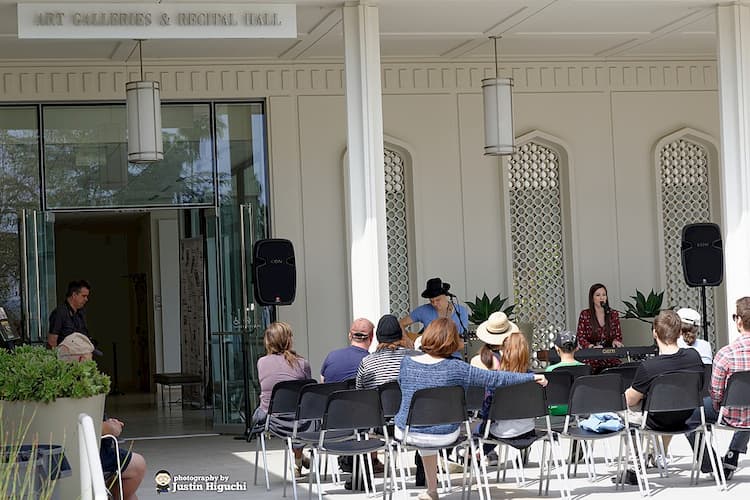 Image credit: Wikimedia Commons
Charter bus parking: Brand Park offers an abundance of free parking, including parking for the library.
Address: 1601 W Mountain St, Glendale, CA 91201
Phone: (818) 548-2051
Venice Canals Walkway
One of Los Angeles's quirkiest features, the Venice Canals were built in 1905 because the city wanted to imitate the famous canals found in Venice, Italy. Although some of the canals were later turned into regular roads, four of them, named Linnie, Carroll, Sherman, and Howland, still exist to this day.
You can follow the walking paths past the historic homes that line the canal and check out their small docks with rowboats and kayaks. Footbridges arc over the canals so you can pass from one side of the water to the other. The canals also lie walking distance from Venice Beach if your group would like to take a stroll down the sand.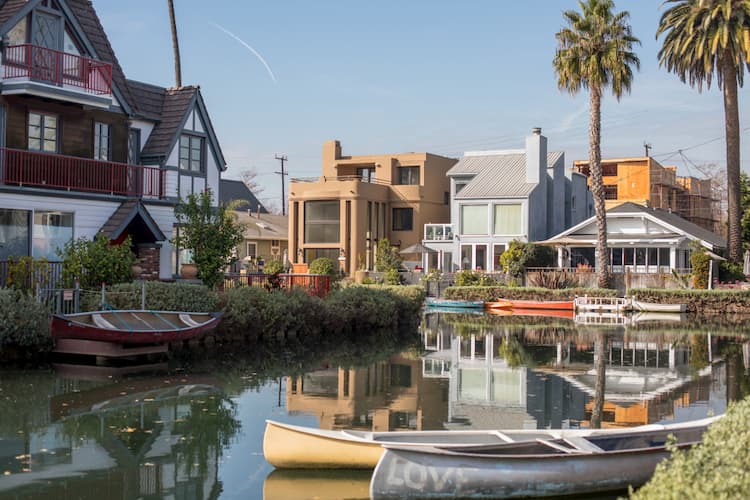 Charter bus parking: Though you can't park directly along the canals, you can find street parking and paid parking lots along South Venice Boulevard.
Address: 200 Linnie Canal, Venice, CA 90291
Phone: (310) 836-1040
Santa Monica Pier
The Santa Monica Pier isn't just an iconic symbol of Los Angeles—it's also a piece of history. The pier was first constructed in 1909 and quickly became a hit with people who wanted to swim or fish. In 1916 an amusement park opened, and though that amusement park wouldn't survive the Great Depression, it was the precursor to the one you'll find on the pier today.
The pier was badly damaged in 1983 and underwent extensive repairs, but parts of the original still remain. Use the free WiFi on your charter bus to do some research on the pier's history before you ride the carousel, swim, or fish at the modern version of it.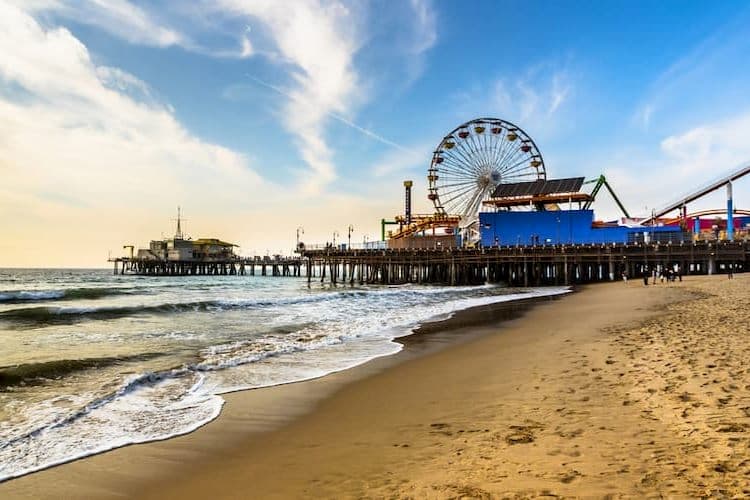 Charter bus parking: An abundance of paid public lots surround the pier. Buses and RVs are allowed in the North, Central, and South beach zones.
Address: 200 Santa Monica Pier, Santa Monica, CA 90401
Phone: (310) 458-8900
The 1920s and the Motion Picture Industry
The first film made in Hollywood debuted in 1910, but it wasn't until the 1920s that Los Angeles became known as the center of the movie industry. The Roaring 20s saw the construction of elaborate homes, movie palaces, and the iconic Hollywood sign, and some of these structures still stand today.
Hollyhock House
The Hollyhock House stands out from other historic homes in LA because it was designed by Frank Lloyd Wright. Commissioned by Aline Barnsdall in 1919, the house took until 1921 to be completed. Barnsdall, a feminist activist who created a scandal by choosing to have a child without being married, wanted to use the house as an artists' colony, but eventually decided to donate it to the city because maintaining it would be too complicated.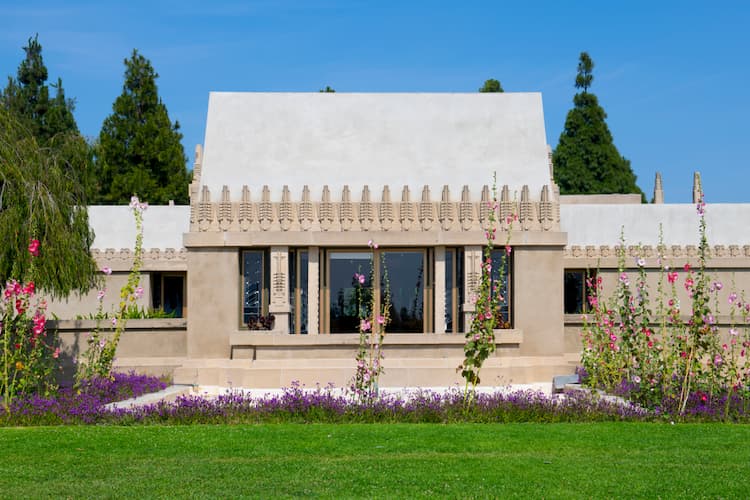 The house now stands in the middle of Barnsdall Art Park, where you can also find an art gallery, a food marketplace, and relaxing fields of grass. The Art Park is actually named for Aline Barnsdall's father, Theodore Newton Barnsdall, because at the time the city was more interested in honoring a prominent oilman than a radical activist. However, today you can learn about both people during your visit.
Charter bus parking: Barnsdall Art Park provides free parking.
Address: 4800 Hollywood Blvd, Los Angeles, CA 90027
Phone: (323) 913-4030
Hollywood Sign
Everyone knows the Hollywood Sign is an iconic symbol of Los Angeles, but not everyone knows that it's also a historic destination. The sign, which originally read "Hollywoodland," was constructed in 1923 to advertise a suburban housing development. Over the years, the sign instead came to symbolize Hollywood and the film industry as a whole. In 1949 it was changed to read simply "Hollywood," and in 1978 it was rebuilt from scratch in the same location as the original.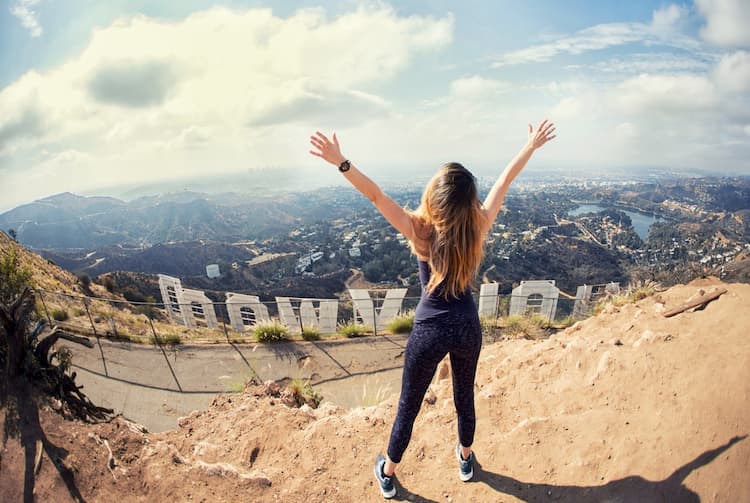 Although you can see the sign from many different places within the city, you'll need to go on a hike through Griffith Park to get close to it. Griffith Park offers three trails of different difficulties that will lead you to the area around the sign. Your charter bus can drop you off at the Griffith Observatory so your group can set off on the Mt. Hollywood Trail, the Brush Canyon Trail, or the Cahuenga Peak Trail.
Charter bus parking: Paid parking is available at the Griffith Observatory. If that lot is full, your bus can park at the Greek Theatre and you can take the DASH bus to the observatory for 50 cents.
Address: 2800 E Observatory Rd, Los Angeles, CA 90027
Phone: (213) 473-0800
Take a History Tour of Los Angeles with Your Group
Next time you're in LA with a tour group, make sure you stop by some of the city's best historical destinations. Whether you want to see Victorian homes or Gilded Age tourist attractions, Los Angeles Charter Bus Company can help with your travel plans. Give us a call at 310-667-6197 to start planning your history tour of LA.
Need a charter bus in Los Angeles?