A Guide to Visiting the LA Area's 2023 Spring + Summer Festivals with a Group
Festival season is fast approaching, which means now is the time to start planning your getaway! As we at Los Angeles Charter Bus Company always say: the more, the merrier!
If you're considering planning a group outing to the Los Angeles area 2023 spring and summer festivals, you've come to the right place. Keep reading to learn the ins and outs of this year's biggest festivals throughout Southern California. (And to learn more about LA's most popular annual festivals—not just the ones that happen in the spring and summer—check out our blog post about it!)
Group Festival Transportation from LA
Note: when we say "LA area," we mean within driving distance of Los Angeles. In reality, some of these SoCal festivals are hours away from the big city. But while smaller groups may want to consider catching a flight from a Los Angeles airport, larger groups may find a road trip to be cheaper—and more fun!
Rather than stressing over snagging seats on the same flight, you can rent a charter bus and enjoy a spacious motorcoach all to yourselves. Upon request, your ride can even include perks like WiFi, TV screens, a DVD player, a restroom, reclining seats, and plenty of space for luggage—so your Los Angeles festival road trip will be as comfortable as possible. Call 310-667-6197 once you know your headcount and itinerary, and the Los Angeles Charter Bus Company team will be happy to help your festival-goers find the ideal, private bus rental for the journey.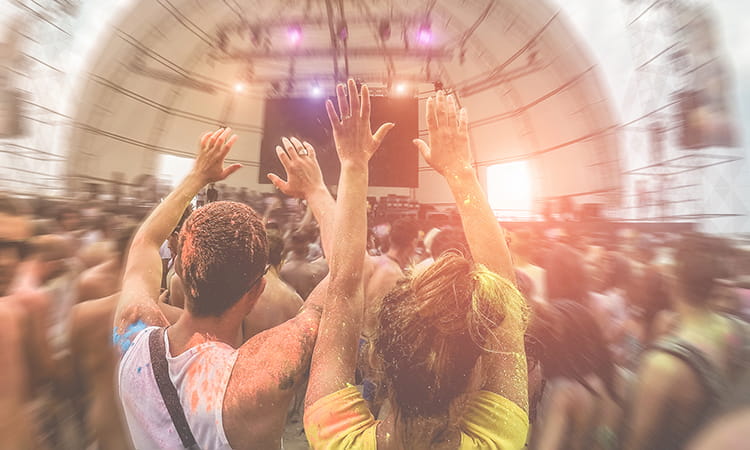 Coachella Valley Music and Arts Festival
Where: 81-800 Avenue 51, Indio, CA 92201
Distance from LA: ~ 2 hours east
When: April 14-16 & 21-23, 2023
Price: $499 – $1269, with optional add-ons
Probably the most recognizable festival on this list, Coachella has become a household name for pop culture aficionados across the country. If your crew wants to experience THE festival of the season, admire incredible art installations (and maybe bump into a celebrity or two) Coachella is the place to be.
As it's been for the past decade, this year Coachella spans two separate three-day weekends in April. Don't worry about which weekend you decide to attend—the lineup is the same for both weekends, so opt for whichever timeframe works best for your group's schedules.
Speaking of the lineup: as of the writing of this blog (January 2023), the only artist confirmed to be playing in the desert this year is Frank Ocean, though rumors speculate we might see the likes of Rihanna, BLACKPINK, and SZA on this years' stages.
Charter Bus Rental Tip: While many die-hard Coachella attendees prefer to camp out on-site, there's no shame in booking a hotel room in a nearby town. Book a private festival shuttle to ease the daily transfer between your lodgings and the festival grounds, so your group can spend less time finding a parking spot and more time enjoying the festivities.
Stagecoach Festival
Where: 81-800 Avenue 51, Indio, CA 92201
Distance from LA: ~ 2 hours east
When: April 28-30, 2023
Price: $389 – $1499
If the address looks familiar, it's because this huge country music festival takes place on the same festival grounds as Coachella! Stagecoach often boasts a variety of performers in both genre and renown, ranging from mainstream country artists like Willie Nelson and Brad Paisley to up-and-coming bluegrass and folk acts. This year's headliners are Luke Bryan, Kane Brown, and Chris Stapleton, and other performers slotted to take the stage including ZZ Top, Old Dominion, Gabi Barrett, and much more.
Charter Bus Rental Tip: Stagecoach is pretty particular as to what you can and cannot bring onto the festival grounds, with items such as professional cameras, tall-back lawn chairs, and outside alcohol strictly prohibited. In case you forget and bring a prohibited item anyway, your charter bus driver will be happy to look after any belongings you leave behind on your bus rental.
Joshua Tree Music Festival
Where: 2780 Sunfair Rd, Joshua Tree, CA 92252
Distance from LA: ~ 2 hours east
When: May 18-21, 2023
Price: $75 – $450, additional camping passes available
Located in the beautiful Joshua Tree National Park, this music festival may be a little different than others you've been to in Southern California. For one thing, it's family-friendly! Kids under 4 get in free, and cheaper admission is available for attendees under the age of 17. There is even a dedicated "Kidsville" area full of activities and live music for little ones to enjoy, and plenty of security measures so your younger travelers stay safe throughout the event.
As for the music lineup, the JTMF organizers pride themselves on the lack of big-name headliners you'll see on stage. This festival showcases the talents of up-and-coming artists and experimental sounds you likely won't find on the radio. 2023 attendees can expect funky, fun performances from bands like Balkan Bump, Galactic, Rainbow Girls, Father Taj, and much more.
Charter Bus Rental Tip: Joshua Tree National Park is a notoriously arid and hot outdoor group destination, so you'll want to stay well-stocked when it comes to water and snacks. When you rent a charter bus, your group can stash extra coolers and food in the undercarriage luggage bay and any electronics in the climate-controlled cabin above.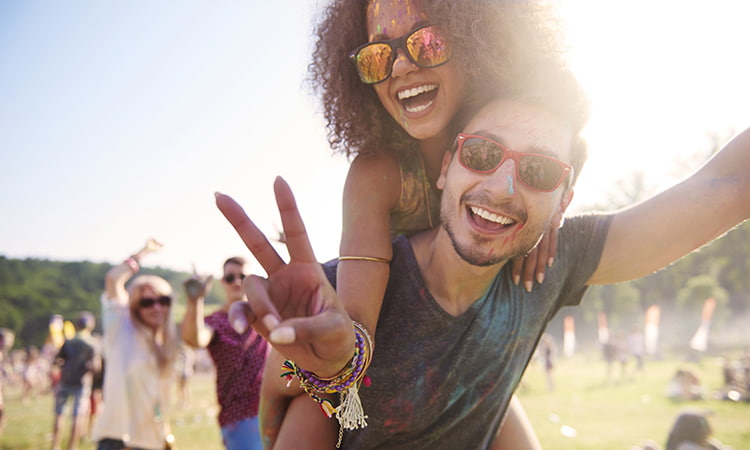 Lightning in a Bottle
Where: 13601 Ironbark Rd, Bakersfield, CA 93311
Distance from LA: ~ 2 hours north
When: May 24-29, 2023
Price: $425 – $760, with optional campsite reservation add-ons
This electronic music festival positions itself as more than just a music festival—although the headlining artists are definitely a major draw. Consider Lightning in a Bottle to be more like a 5-day camping trip on the coast, where your fellow campers can sit back, relax, and enjoy some tunes between cooking workshops, interactive art exhibits, and artisan showcases.
Past performances have seen heavy hitters like Anderson .Paak & The Free Nationals, Glass Animals, Flying Lotus, and Disclosure. The lineup has yet to be released for this year—expect some news in January 2023—but considering it's the festival's 20th anniversary, your group can expect nothing but the best electronic music the industry has to offer.
Charter Bus Rental Tip: When it comes to parking your charter bus or minibus, you'll need to plan accordingly. Oversized vehicles such as motorcoaches can only park for multiple days if your group purchases an RV campsite pass before arrival. Otherwise, your festival-goers may want to opt for a group campsite that accommodates as many tents as you can fit on it and arrange with your bus driver to park your shuttle off-site.
Book Your LA Festival Shuttle Today
Now that you're excited to plan your festival experience, all that's left to do is finalize your transportation plan! Let Los Angeles Charter Bus Company ease your travels between LA and your group's must-see festivals with a personalized bus rental. Rest assured your sleek and modern motorcoach will operate on a schedule you create—so your crew will never have to wait around on the curb for your ride to arrive.
Call 310-667-6197 and see for yourself how simple renting a charter bus in Los Angeles can be! We'll even offer a free bus rental quote with no obligation to book when you call today.
Need a charter bus in Los Angeles?