The Best Places to Enjoy the Outdoors in Los Angeles
If you're planning a trip to sunny Los Angeles, the biggest mistake you can make is to spend it cooped up inside. Not only do the city and surrounding areas have so much to offer in the "outdoor adventure" department, but depending on what you want to do while you're out and about, exploring the great outdoors in LA is also a budget-friendly way to fill out your itinerary.
In this blog post, we'll cover some of the best group-friendly city parks, beaches, and national parks in the LA area and how to reach them in a private coach rental. If you see someplace you want to visit, call Los Angeles Charter Bus Company at 310-667-6197 and let us know! Our reservation team is available around the clock to hash out any group excursion you can dream up.
Now let's get moving!
LA Urban Parks
Who says you need to get out of town to enjoy the outdoors? Some of the best chances you'll get to stretch your legs and enjoy the sunshine are right here within city limits. Read on to learn about two of Los Angeles' best green spaces.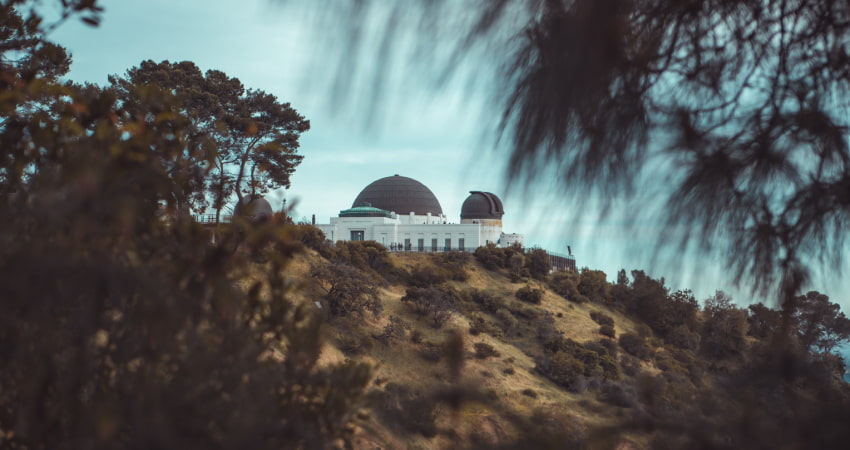 Griffith Park
Great for: stargazing and urban exploration
Welcome to one of the biggest outdoor spaces LA has to offer. Griffith Park covers nearly 4,500 acres and is the largest urban park on the continent. It's considered the most accessible place to work up a sweat outside, if only because the park features hiking trails galore—including some that lead to the city's best views of the iconic Hollywood sign.
This park is where you'll find the Griffith Observatory, one of the biggest public observatories in the world. All are welcome to check out the massive telescopes and the coelostat (a device used to observe the sun) or to just take in the sweeping views of the city through the stationary binoculars. If you time your visit right, your group can even crash one of the monthly Star Parties—where volunteer astronomers will teach you how to use different telescopes on the lawn—or pay a small fee to catch a show at the 290-seat planetarium theater. The observatory is especially group-friendly, since large groups don't need to make a reservation to enjoy the facilities. Just keep in mind that if you're traveling with kids, you should have at least one chaperone for every 10 kids.
Griffith Park is also home to one of LA's biggest (and possibly spookiest) secrets: the ruins of the Old Los Angeles Zoo. This former zoo park once showcased 15 exotic animal species and has lain abandoned since 1966—but don't worry about trespassing. Nowadays, it's perfectly legal to wander around the ruins. Visitors can hike the paths winding through the surrounding hills, explore the networks of rusted cages, and even take lunch on the picnic tables situated in the old tiger exhibit.
Other features of Griffith Park include:
Bronson Canyon—backdrop to countless films, as well as the mouth of the Batcave from the 1960s Batman TV series
Fern Dell—take a stroll along the half-mile trail that winds through tropical flora and ferns, or take a break from the heat in the air-conditioned Nature Museum
Los Angeles Zoo—the one that hasn't been abandoned for 50 years, that houses more than 250 animal species and a lush botanical garden
Autry Museum of the American West—brush up on your U.S. history and check out cowboy relics, Native American art, and Gold Rush-era artifacts
Bus Parking: There are plenty of lots here that can accommodate oversized vehicles, but like I said, this park is huge. You'll need to be strategic about where your driver parks the bus to ensure a quick and easy drop-off and pick-up process. Depending on where your group wants to explore, have your driver park at the LA Zoo, the Autry Museum, the Greek Theatre (if there's not a show or concert, parking here is free!), or the Forest Lawn parking lots.
Address: 4730 Crystal Springs Dr, Los Angeles, CA 90027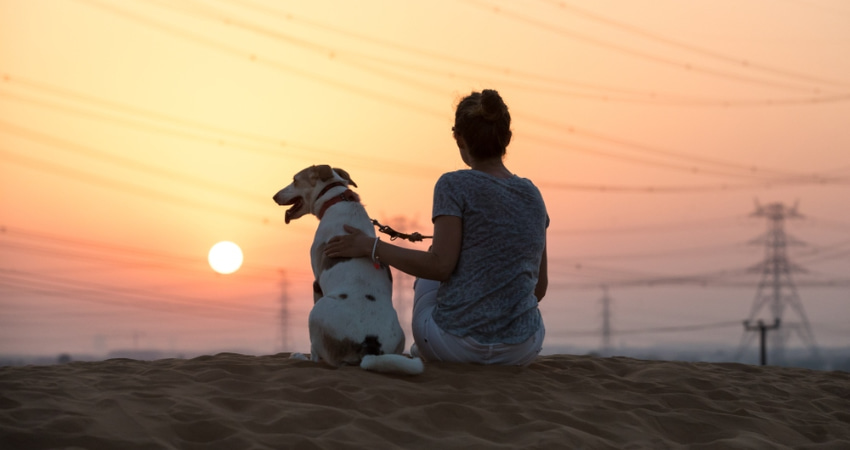 Runyon Canyon Park
Great for: dog-spotting and celebrity-stalking
Griffith Park may have all the telescopes, but Runyon Canyon Park is popular for a different kind of stargazing. This is the closest green space to West Hollywood, and even celebrities need fresh air and sunshine. So don't be surprised if you see the likes of Natalie Portman, Orlando Bloom, Channing Tatum, or Amanda Seyfried whilst wandering the hiking trails.
Speaking of trails, Runyon Canyon has a lot of them. The hikes here offer a range of difficulties to suit many skill levels, from the semi-paved Runyon Canyon Road Trail to a craggy scramble up to some of the best views in town. The three most popular trails are:
The 1.6-mile out-and-back to Inspiration Point
The 1.8-mile loop, which also swings by Inspiration Point
The 3.5-mile loop around the whole park
Oh, and did I mention there's dogs? As in a lot of dogs? 90 of the park's 160 acres are designated for off-leash use, which makes this a popular spot where Angelenos let their pups run free. So whether you're bringing along your furry friend—which you can do on a charter bus, by the way! Just keep them crated while the bus is in motion—or swinging by to pet the locals', you can't go wrong with an afternoon at Runyon Canyon Park.
Bus Parking: Most trailheads are accessible from the park's southern entrance, so if you're here to hike, that's likely where you'll want to be dropped off. In that case, your driver can find a spot a few blocks south of this entrance at the Hollywood Visitor Center, which offers designated tour bus parking.
Address: 2000 N Fuller Ave, Los Angeles, CA 90046
Beaches in Los Angeles
Is there anything more SoCal than hitting the surf? With over 30 miles of public beaches, Los Angeles is a great place to do so—for relatively cheap at that. Besides paying for parking, you don't have to spend any money to enjoy the city's shoreline. And while I've already covered some of the best beaches in Los Angeles, here are some more popular spots I left out the first time.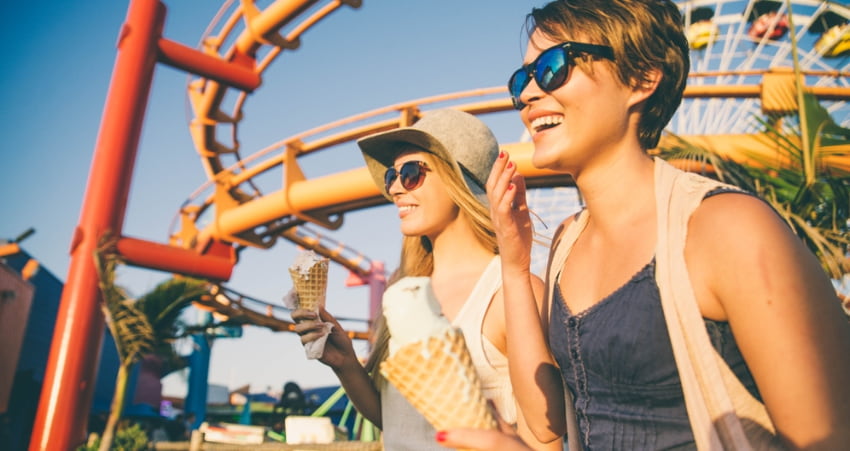 Santa Monica
Great for: beautiful people and boardwalk fare
When it comes to LA and beach time, booking it to Santa Monica is a no-brainer. It may get a bad rap as a tourist trap, but you have to admit the gorgeous white sand, attractive beachgoers, and even the cheesy boardwalk attractions all have their charm.
In fact, many out-of-towners consider the Santa Monica Pier a must-see attraction. It's where you'll find Pacific Park—the boardwalk-style amusement park with the roller coaster, the carousel, and the huge Ferris wheel—which offers discounted rates for groups. Need a break from the sun and heat? Dip inside the Playland Arcade to flex your skeeball skills, or pay a visit to the Santa Monica Aquarium to learn more about the local sea life (and soak in that sweet AC). If you'd rather get your blood pumping, your group can pack some extra water bottles, rent bikes, and cruise down the Marvin Braude Bike Path—the 5-mile oceanside trail between Santa Monica and Torrance.
Once you've had your fill of the beach, have your shuttle bus drop everyone off at any of Santa Monica's award-winning restaurants. And don't worry about wearing your wet bathing suits during dinner. With a Los Angeles Charter Bus Company rental, folks can change into dry clothes in an onboard restroom and stash their suits, towels, and chairs in the luggage bay before heading to the restaurant. Bus drivers in our network strive to be at least 10 minutes early to every destination, so you can rest assured you won't miss your dinner reservation on our watch. Just let your reservation rep know you need extra room to store your beach gear and a place to change, and we'll be more than happy to hook you up.
Bus Parking: The city of Santa Monica is very particular about where buses should park, where they can load and unload, how long a vehicle can idle, and what permits bus drivers need. If your group wants to be dropped off as close to the pier as possible, ask your driver to unload at Palisades Park before parking in Lot 4 South.
Address: 200 Santa Monica Pier, Santa Monica, CA 90401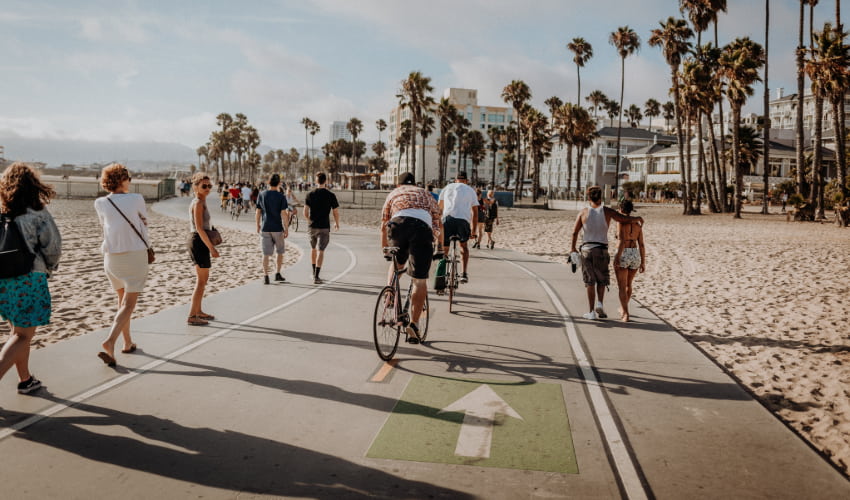 Venice
Great for: people-watching and tuning into LA's boho scene
Say what you will about Venice, but you have to admit it has a lot of character. It's the home of infamous Muscle Beach (Arnold Schwarzenegger's old stomping grounds back in its heyday), an impressive array of street performers, and a near-endless stream of people on rollerblades. I mean, what more could you possibly want from a beach?
Locals will tell you the boardwalk here is overrated, and that if you want to buy overpriced sunglasses you're better off going to Santa Monica. But if you can see past the kitschy souvenirs, Venice Beach represents a lot of the artistic vibes that make Los Angeles what it is.
Between laying out on the sand and frolicking in the surf, take some time to absorb your surroundings and appreciate the culture: the locals with tie-dye shirts and skateboards, the pickup-style basketball games near the shore, even the dog-walkers with their obnoxious boomboxes. On top of that, Venice Beach is one of the best places to admire LA's street art—though you'll need a permit to contribute your own handiwork to the public graffiti walls.
Bus Parking: Parking in Venice is hard, even for drivers of compact vehicles. The lots are often crowded and can be very expensive on weekends. If possible, have your driver drop you off near where you want to set up your blankets and chairs and park near the north end of the beach (closer to Santa Monica).
Address: 1800 Ocean Front Walk, Venice, CA 90291
National Parks near LA
If urban parks or crowded beaches just won't cut it, there are plenty of outdoor opportunities if your group ventures out of town. There are tons of national and state parks within driving distance of LA, with most SoCal destinations less than 4 hours away. Here are a couple destinations for your next outdoor adventure: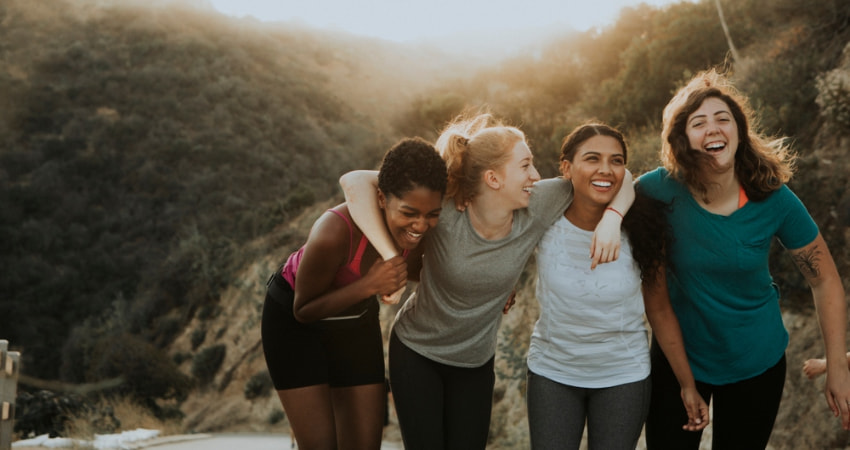 Angeles National Forest and Mount Baldy
Great for: mountain enthusiasts—both in summer and in winter
Want to explore the wilderness without straying too far from the city? Angeles National Forest is the place for you. A mere 45-minute drive from downtown, this national forest makes up most of the mountains that tower over northern LA.
The most popular of these is Mount San Antonio. It's the highest peak in Los Angeles County at over 10,000 feet, but most people just call the place Mount Baldy due to the lack of trees and bald terrain at the top.
By winter, the mountain offers the closest ski resort to Los Angeles: 26 runs total, one of which features a 2,000-foot vertical drop. Ski season around here usually lasts from November to April.
By summer, you'll find one of LA hikers' favorite trail systems. On a clear day, summiters are met with sweeping views from the Mojave in the east to the Catalina Islands in the west. And to reach the summit of Mount Baldy, you have two options:
Hike the entire 11-mile out-and-back up the mountain, starting at the Mt. Baldy Trailhead.
Ride the chairlift up to 7,800 feet, then hike to the summit and back—6.5 miles round-trip.
Keep in mind that if you want to hike anywhere in Angeles National Forest—including Mount Baldy—you need to obtain a permit so rangers can keep track of who is on the trails at any given time. They're completely free of charge and are available online and at visitor centers throughout the Forest.
Bus Parking: Where you'll want to park depends on what you want to do here.
If you're just driving through and want to stop for a picnic, there's unpaved roadside parking available near the Oaks Picnic Area that can accommodate larger motorcoaches.
If you're staying at a resort or looking to ski, many resorts in the area have plenty of parking to accommodate oversized vehicles—just call them ahead of time to confirm they have enough room.
If you're here to hike, finding a spot near the trailhead will be very tricky, especially on busy summer weekends. Have your driver drop your hiking group off near the trailhead, park at a nearby resort or town, and meet back up with everyone at the trailhead after the hike.
Address: Palmdale, CA 93550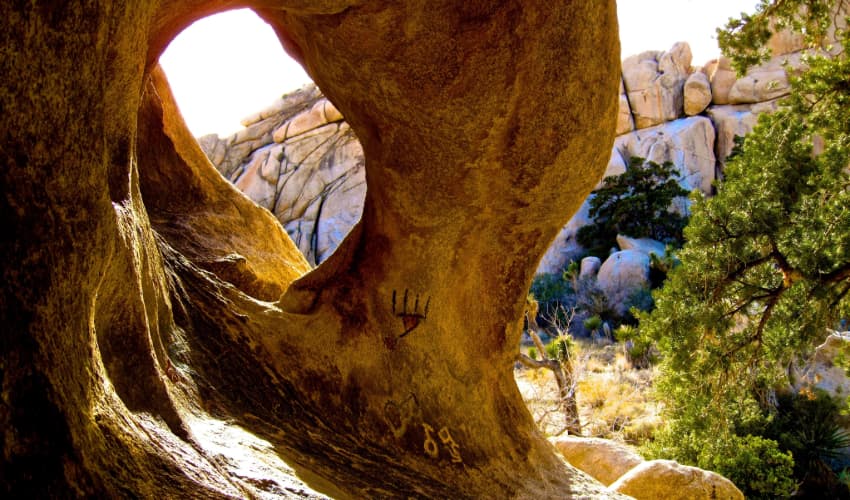 Joshua Tree National Park
Great for: desert views and weekend trips away from the city
If you're looking to get out of town—and I mean way out of town—consider taking the 3-hour-long haul out to Joshua Tree National Park. Here you can see a wide variety of desert plants and animals because it's technically two distinct desert ecosystems (the Mojave and the Colorado) mashed together. This is also a favorite destination for LA city-dwellers, as the open desert skies and lack of light pollution make it an exceptionally great stargazing spot. On clear nights, you can even see the Milky Way!
With over 800,000 acres to cover, figuring out what sights to see can be tough. Luckily, a lot of the park is drivable and many of the main landmarks are accessible from the park's primary road. That means your tour bus can drop you off near any of these highlights:
Keys View—a panoramic lookout point and one of the best places to catch sunset in the park. Grants visitors views of the San Andreas Fault and (on really clear days) Signal Mountain in Mexico. Wheelchair accessible.
Skull Rock—a smooth granite rock formation with two depressions like eye sockets created by erosion that makes this geological formation resemble (you guessed it) a skull.
Baker Dam—a man-made desert oasis constructed in the 1900s to hold water for cattle and mining use. Eagle-eyed visitors can catch Native American petroglyphs on the rocks due west of the still waters. Also a great bouldering spot for adventurous rock climbers.
Joshua trees—the park's namesake, and one of its most prevalent forms of flora. Trees are spiky, twisting, towering, and often appear otherworldly. Visit the park after the spring rains roll through to catch these giant yucca trees in full bloom.
Like in most national parks, you can expect to pay a per-vehicle entrance fee at the entrance. So if you're traveling with a large group, a multi-car caravan can quickly bring up the cost of your visit here. That's why it's recommended that groups travel to Joshua Tree by bus—you'll pay the admission fee once, and your group will be set for the rest of your visit.
Bus Parking: Parking a bus in Joshua Tree National Park itself is straightforward—the visitor center usually has ample space to fit a private coach or minibus.
Address: 74485 National Park Drive, Twentynine Palms, CA 92277
Get Out There with Los Angeles Charter Bus Company
Whatever group outdoor activities you're planning, let Los Angeles Charter Bus Company take the wheel. We have years of experience making group transportation a walk in the park—from company team-building exercises to wedding beach bashes, private vacations, and anything in-between. Let us know what will make your ride throughout Los Angeles as comfortable as possible, and we can find a motorcoach that can suit your needs.
Need plenty of storage for your picnic lunches, beach chairs, or rock-climbing gear? We'll find you a bus with a spacious luggage bay, no problem.
Want to share your favorite photos with the rest of your crew? Request onboard WiFi and power outlets to keep your devices recharged and connected once you're back on the bus.
Tired after a long day in the SoCal sun? Let us treat you with plush reclining seats and flatscreen TVs so you can kick back and enjoy a film. You've earned it!
Give us a call at 310-667-6197 whenever you're ready to get started. Our 24/7 team of representatives will walk you through the rental process and offer an instant, no-obligation quote so you can get back to planning your Los Angeles outdoor adventure!
Need a charter bus in Los Angeles?