SoCal On A Budget
You have a trip planned to Los Angeles in the near future— whether its for a spontaneous business meeting, an impromptu family vacation or your best friend's wedding, you're not thrilled. The very idea of spending time in a city notorious for its expensive tastes has already lead to a spike in your blood pressure. You've invested a fortune in the plane ticket and hotel room. Why spend more just for mere entertainment?
We at Los Angeles Charter Bus Company completely understand your frustration. That's why we've compiled a list of the top 11 free activities you can participate in when you find yourself lost, confused and borderline-broke in L.A. Take advantage of our private shuttle services to enjoy the best in arts, culture and nature in the City of Angels— without spending another cent.
We offer a variety of modern yet economical charter bus rentals that can fit around 18 to 56 passengers, with comfortable seating space for everyone on-board. Improve your overall group transportation experience by utilizing your bus amenities, such as free WiFi, spacious restrooms, roomy luggage bays, electrical outlets for your chargers and more. You'll be able to travel like a king, yet enjoy your trip like a thrifty traveler. Sounds amazing, right?
Take this opportunity to enjoy Southern California without overspending and eating instant noodles for the next three weeks. Rely on us to get you where you need to go. Check out our list below for some much-needed inspiration: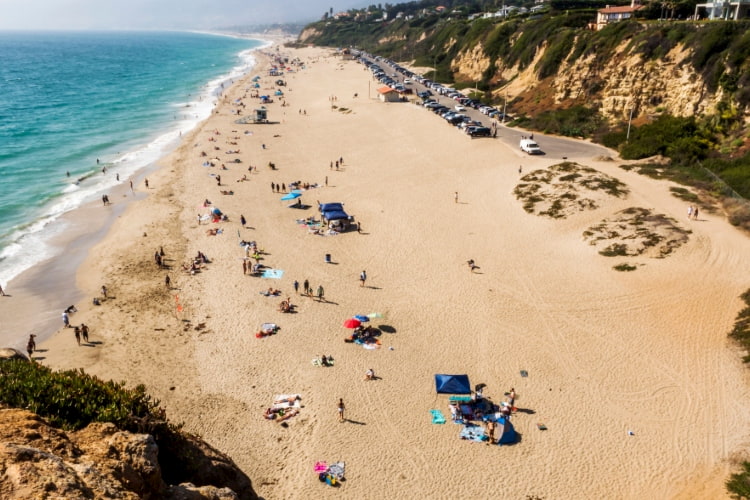 1. Go to the Beach, Any Beach
One thing is for certain: the Southern California coast is dotted with some of the most beautiful beaches in the world. Crystal-blue water, powdery-white sand, fiery sunsets— it's the literal definition of paradise on earth. Best part is, visiting the beach costs nothing. On any given day, weather permitting, you can grab your group of sun-loving friends and get dropped off at any appealing spot along the coast. Whether you want to visit Zuma Beach to surf the cerulean waves, Santa Monica Beach for the bustling pier, or Venice Beach to stroll along the boardwalk, Los Angeles Charter Bus Company can take you to any location of your choice.
Bus Tip: Store your flip flops, towels and coolers in the overhead bus cabins.
2. Indulge in Live TV
TV is America's favorite pastime. Why not attend a live taping for free with your best friends? Many shows are taped in Hollywood and are a 3 to 6 hour commitment, ranging from sitcoms, to game shows and reality tv. If you're lucky, you might find yourself attending cult-favorite shows such as Raven's Home, America's Got Talent, and Jimmy Kimmel Live! In order to secure a spot in the audience, follow a very simple process of obtaining free tickets from audience service websites such as Audiences Unlimited, On Camera Audiences, or 1iota. Once you've submitted your information, inform your bus driver of your destination and get there with ample time to spare.
Bus Tip: Leave your valuables on the bus to prevent theft when waiting in long lines.
3. Walk up to the Griffith Observatory
Famously dubbed as 'Southern California's gateway to the cosmos', the Griffith Observatory is a fascinating destination for all budget-conscious folks. Situated in Griffith Park, it offers stunning aerial views of Downtown Los Angeles and the Pacific Ocean. Use their historic Zeiss telescope at night to see the moon, planets and other stars in the galaxy without worrying about fishing for an extra dollar. Once a month, the observatory hosts a public star party so that Angelenos can try out different telescopes and learn more about the wonders of the solar system.
Bus Tip: Don't fret about finding a parking space; leave it to your bus driver to drop and pick you up from the observatory before 10 pm.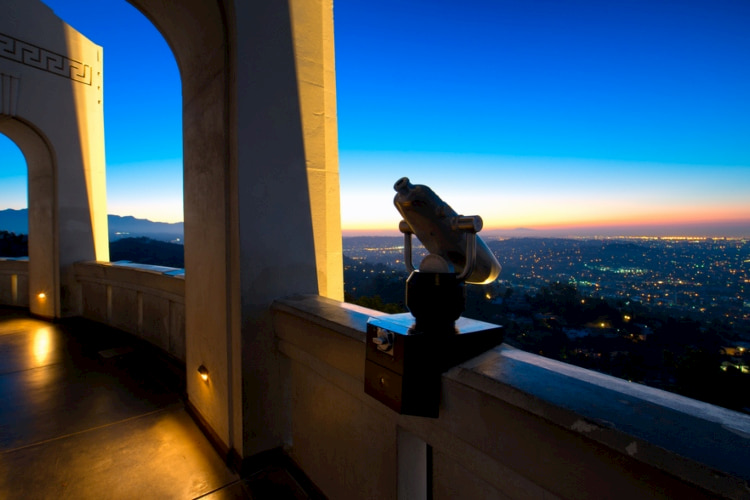 4. Explore the TCL Chinese Theatre
Considered a 'movie palace' by many, the TCL Chinese Theatre (a.k.a Grauman's Chinese Theatre) is a historic Hollywood jewel. Instead of paying for a tour or for movie tickets, spend time exploring the external facade of the theatre. It's more commonly known for its quirky imprints in the concrete pavement surrounding the vicinity. Many classic Hollywood legends such as Marilyn Monroe, Rita Hayworth, and John Wayne have signed the pavement. More recently, these imprints have taken a humorous turn, such as the emblem of the wands used by the Harry Potter cast, an outline of Whoopi Goldberg's dreadlocks, and even an imprint of Herbie's (a Volkswagen Beetle) tires. Get dropped off at the theatre to experience Hollywood's rich history, you won't be disappointed.
Bus Tip: If L.A.'s heat gets too hot to handle, use your personal minibus as a portable air-conditioner.
5. Mingle with The Stars on The Hollywood Walk of Fame
You've seen it in your favorite movies, you've caught a glimpse of it on social media—what really is the appeal here? The Hollywood Walk of Fame is not only the most Instagrammable location in Los Angeles, it also holds massive importance in the film industry. It's an ode to the actors and actresses who have dedicated their lives to Hollywood, proudly bearing their achievements in the form of brass and terrazzo stars that go on for around 15 blocks. Your bus driver can drop you off at any parking lot close to the site.
Bus Tip: Before you embark on your walk, don't forget to charge your phone on your charter bus, so that you can snap never-ending selfies with your favorite stars.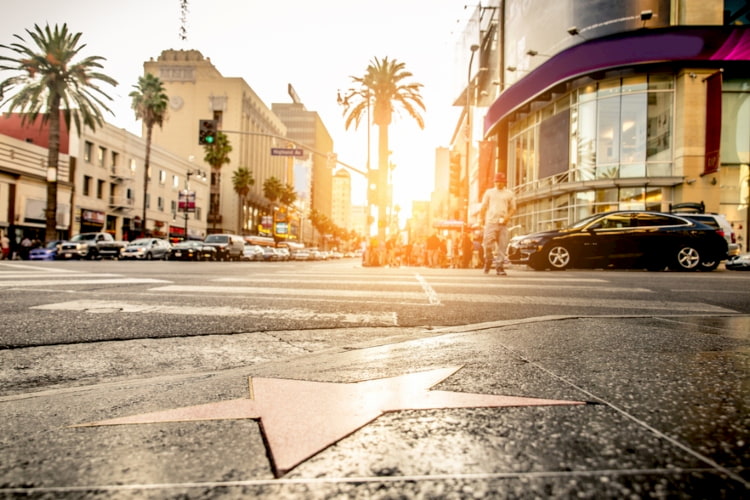 6. Find Your Favorite Fossil at La Brea Tar Pits
The Ice Age was an incredible period in Earth's history. Since we weren't there to experience it, catch up on all that you've missed at La Brea Tar Pits, where you can see the largest collection of fossils and specimens on the West Coast. Watch live excavations where paleontologists study new discoveries in their lab— since attendance is usually overflowing, get there on time to make the most of your free one-of-a-kind experience.
Bus Tip: If you feel icky about being surrounded by skeletons, hop on your bus and clean up in your on-board restroom.
7. Hike Through Any Landscape
If all else fails, go hiking. It's the perfect therapeutic activity for your soul and will help you disconnect from whatever has brought you to L.A. in the first place. From towering mountains to rolling green parks, there are plenty of opportunities to hike in the early morning hours. Runyon Canyon Park is one of the most beloved destinations as it provides a skyline view of Los Angeles amidst the endless trails, while Griffith Park is a family-friendly location with several forests, gardens and caves to walk through. Other popular spots include the Kenneth Hahn State Recreation Area, Trebek Open Space and Ferndell Trail.
Bus Tip: Feeling drained after your long hike? Sit back and relax in your plush reclining seats, and see all your worries melt away.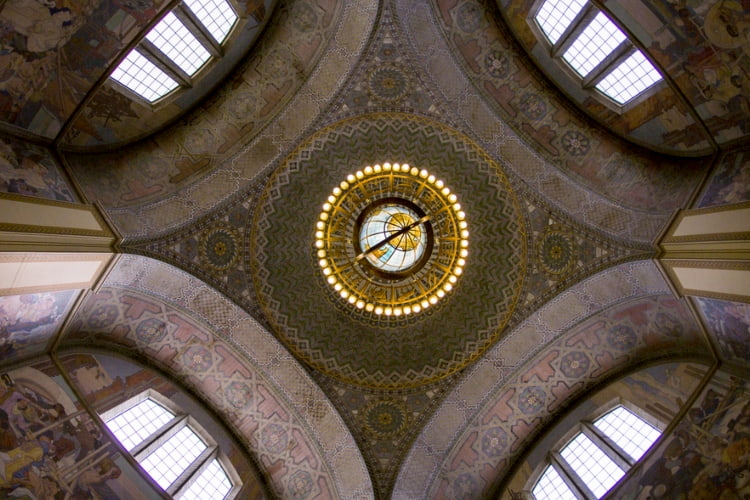 8. Witness the grandeur of the Los Angeles Public Library
Reading isn't the only thing you can do at the Los Angeles Public Library. The architecture of the place mesmerizes every viewer who visits. The library was designed with Egyptian and Mediterranean elements in mind, including sculptures, mosaics, chandeliers, and a magnificent Rotunda ceiling. Every day, there are free tours given of the art and architecture of the building, and on Saturdays there is an Art-in-the-Garden tour of the Maguire Gardens, located outside the library.
Bus Tip: Traveling with a handicapped passenger who can't walk lengthy distances? Request an ADA-compliant bus and store up to two wheelchairs in the back.
9. Participate in a Metro Art Tour
The freedom of expression in artistic fields is what makes L.A. a diverse, cultural melting pot and a place worth exploring. Metro Art Moves is a series of free tours provided by the Metro Art Docent Council Volunteers. Each tour lasts around 2 hours, with plenty of opportunities to walk around and observe art at your own pace. There are several meeting spots around town, where you can meet up with fellow art lovers in Metro stations and explore all types of art, from paintings to murals to photography.
Bus Tip: It may be counterintuitive to ride on a bus just to get dropped off at a metro station. But if you're traveling in large groups, it makes sense to bus-pool together since it's a convenient way to assemble in one place without losing sight of each other.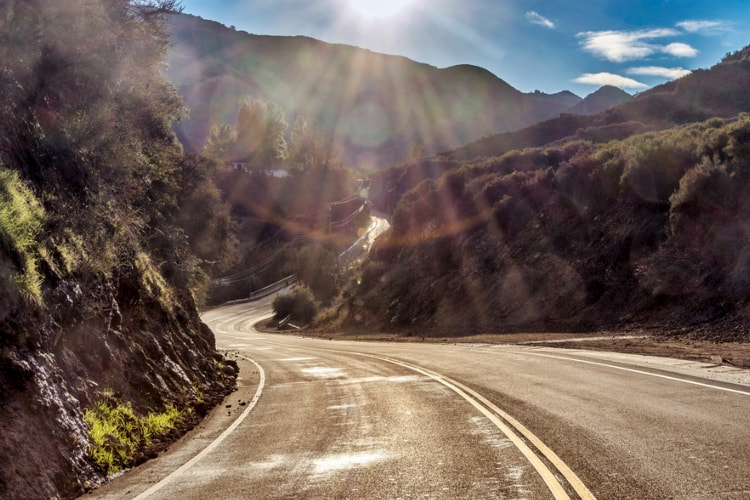 10. Cruise by the Coast
Instead of getting off your private bus rental, stay seated and enjoy cruising by panoramic Southern California locations. Mulholland Drive is an example of a scenic route that provides stunning views of the Hollywood Sign, San Fernando Valley and the city of Los Angeles. The view at dawn or dusk is the perfect time to drive by, as you get to see the warm hues of color spreading like wildfire across the sky. The Pacific Coast Highway is another local favorite. When driving by, you'll see an endless highway bordering the coast. The glittering ocean combined with the changing scenery is a sight for sore eyes. If you believe nature is truly meant to be viewed from your comfort zone, check out more drives here for plenty of cruising time.
Bus Tip: While cruising down the coast, play your own music on your bus's audio entertainment system. You'll feel like you're in a music video.
11. Get a Taste of the Lavish Life at the Venice Canals
Instead of splurging on an expensive ticket to see the gondolas in Venice, Italy, get a feel of the canal ambiance right in the heart of Venice, Los Angeles instead. The Venice Canals are part of a historic district, complete with gondoliers, unique bridges, and quaint bungalows along the water. Stroll along and take in the brilliant architecture while enjoying the balmy breeze from Venice Beach, which is just 2 minutes away.
Bus Tip: The Venice Canals are surrounded by delicious restaurants and bars. If you feel like you've had too much to drink, leave it to your designated bus driver to get you home.
Begin Your Frugal Adventure with Los Angeles Charter Bus Company
Excited to splurge on zero-cost activities? We're happy to assist! Let Los Angeles Charter Bus Company help you navigate through the ins and outs of Southern California. Our efficient yet affordable transportation service will ensure that you make the most of your stay, without letting finances hold you back. Contact our 24/7 reservation team at 310-667-6197 to get the best bus deals for your trip!
Need a charter bus in Los Angeles?