Los Angeles Wedding Venues that Fit Almost Any Couple's Style
Los Angeles knows how to throw a party. The city is almost always hosting an awards ceremony, celebrity fundraiser, or star-studded wrap celebration. So if you're planning to get married in LA, you don't have to worry about finding an event venue with plenty of space, delicious catering, and experienced professional staff.
However, you may have to worry about finding a venue that's perfect for you and your partner and that all of your guests can get to. If you dream of getting married outdoors, you can find beautiful ranches, gardens, and houses with bay views—but you may have to drive 20 or 30 minutes outside of the city. If you'd prefer a historic home or stark warehouse space in downtown LA, you can find those too—but they often come with limited parking and plenty of surrounding traffic.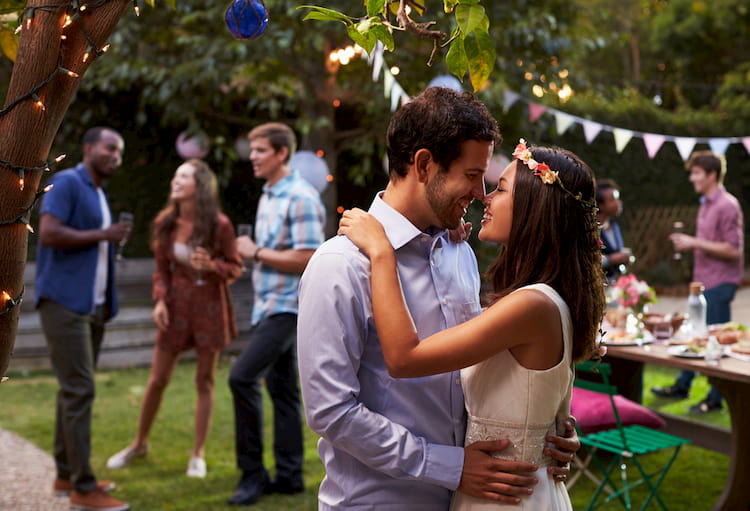 So how do you choose the perfect venue and ensure all of your wedding guests can get there? You can start by browsing our list of Los Angeles wedding venues that come in a variety of price points and styles. (Pro tip: prices are most definitely estimates. Contact the venue if you want an exact quote.) And if you discover a place you like and think you may need help getting there, call Los Angeles Charter Bus Company at (310) 667-6197. We'll help you find a comfortable charter bus or minibus to take all of your guests to your celebration.
For couples who love the outdoors:
Inn of the Seventh Ray
If you have a soft spot for flowers, you'll fall in love with Inn of the Seventh Ray at first sight. Most of the tables at this restaurant stand outside in beautiful flower gardens, and you can choose whether you want to hold your ceremony and reception beside a waterfall, a creek, or a fountain.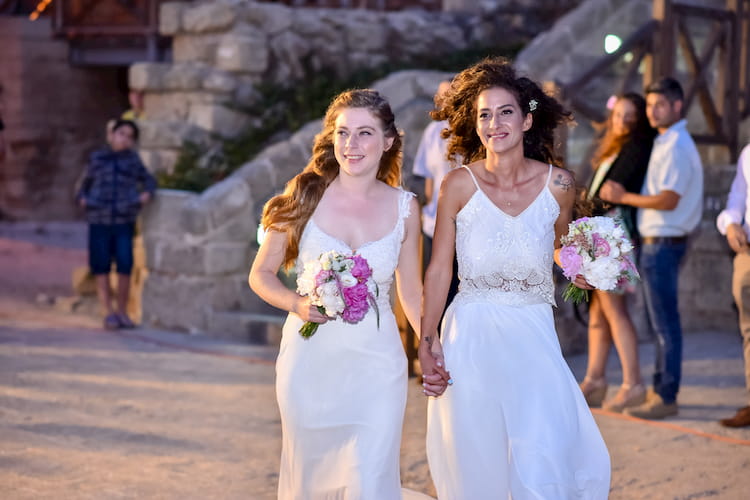 Because this restaurant is nestled in Topanga State Park in the Santa Monica Mountains, it has limited parking, and the state park does charge an entrance fee. A charter bus offers one of the easiest ways to get your entire party to the Inn without struggling with parking fees or someone getting lost within the state park. And if your guests want to pair their free-range half chicken or truffle risotto with craft beer and cider, your professional driver can serve as their DD.
Price range: $2000+ rental fee; $40+ per meal (minimums apply)
Address: 128 Old Topanga Canyon Rd, Topanga, CA 90290
Phone: (310) 455-1311
Bel-Air Bay Club
For an outdoor wedding, it's hard to beat the views from Bel-Air Bay Club. Say your vows on a grassy bluff with the Pacific Ocean stretched out behind you. When the ceremony ends, you can host your reception in the Bay Club's Mediterranean-style mansion that dates back to 1927. The club's in-house catering includes seasonal dishes made from local ingredients, and a dedicated event coordinator will help you arrange your wedding and reception decor.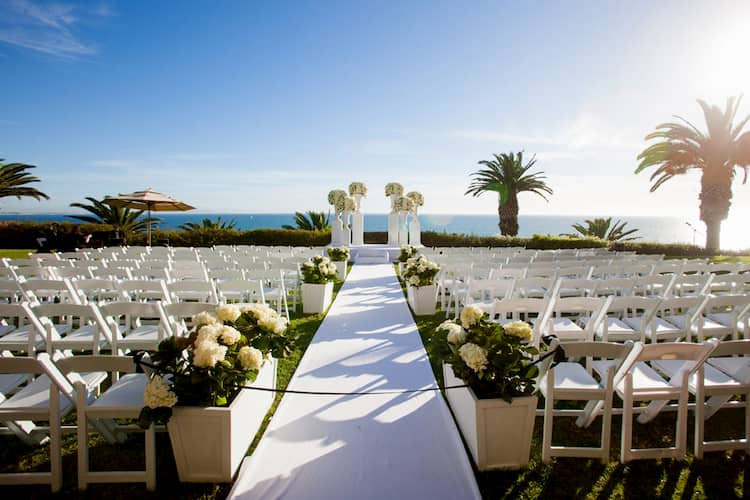 Image credit: Wikimedia Commons
The Bel-Air Bay Club lies in between Santa Monica and Malibu, about 30 minutes from downtown LA. If you're hosting your bachelor/ette party or rehearsal dinner downtown, you can spare your guests the stress of navigating LA traffic by renting a charter bus to take them out to Pacific Palisades. Worried about your guests getting bored? Request WiFi on the bus so they can stream music or scroll through social media.
Price range: $1500+ rental fee; $50+ per meal (minimums apply)
Address: 16801 Pacific Coast Hwy, Pacific Palisades, CA 90272
Phone: (310) 230-4700
Calamigos Ranch
Maybe when you think "outdoor wedding," you're thinking of a more rustic setting than a mansion near the beach. In that case, check out Calamigos Ranch. Nestled in the Santa Monica Mountains, this ranch has served as a serene retreat for special events and weddings since 1937. You can get married in a grove of towering birchwood or redwood trees or in front of a natural stone waterfall.
The ranch provides all of its own catering, and many of the dishes incorporate ingredients grown on site. The venue also offers valet parking, but you can save money by letting them know a single charter bus or a few minibuses will drop off your guests. Don't forget to request free WiFi so everyone can upload photos of the wedding party in front of the Ferris wheel—yep, the ranch has its own Ferris wheel!
Price range: $13,500+ rental fee (depends on location; minimums apply)
Address: 327 Latigo Canyon Rd, Malibu, CA 90265
Phone: (818) 889-6280
For couples who embrace LA's history:
The Ebell of Los Angeles
If you're a history buff, you can find space for your wedding inside one of LA's historical homes from the early twentieth century. The Ebell, opened in 1927, serves as the headquarters of The Ebell Women's Club, which still provides community service and networking events for women. The club also rents out the building for special events, making this classic Art Deco space a great place to hold your ceremony.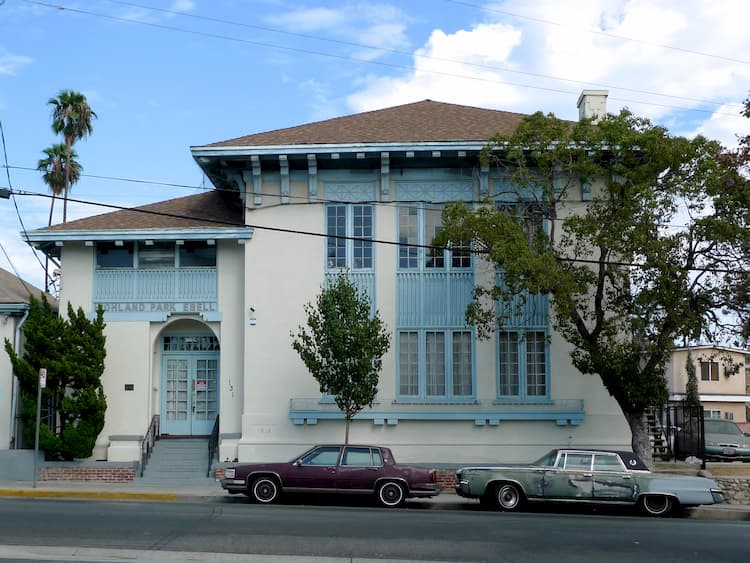 Image credit: Wikimedia Commons
Choose between two beautiful ballrooms, the art salon, the courtyard garden, and the Broadway-style theater as the setting for your wedding. You'll also be able to select fresh California cuisine from the catering menu and craft cocktails from the specialty mixology menu. The Ebell has two parking lots, but since it's situated in busy downtown LA, you may still want to provide group transportation for your guests.
Price range: $2000+ rental fee (depends on location; minimums apply)
Address: 743 S Lucerne Blvd, Los Angeles, CA 90005
Phone: (323) 931-1277
Greystone Mansion & Gardens
Want to get married amidst the glamour of Beverly Hills? You can rent a room inside the elaborate Greystone Mansion or hold your ceremony in the garden, courtyard, or pool area that surround the house. Originally built in the late 1920s, the mansion has a distinctive look that comes from its eponymous stones. It's now a public park maintained by the city government, but groups can reserve the building and grounds for private events like weddings.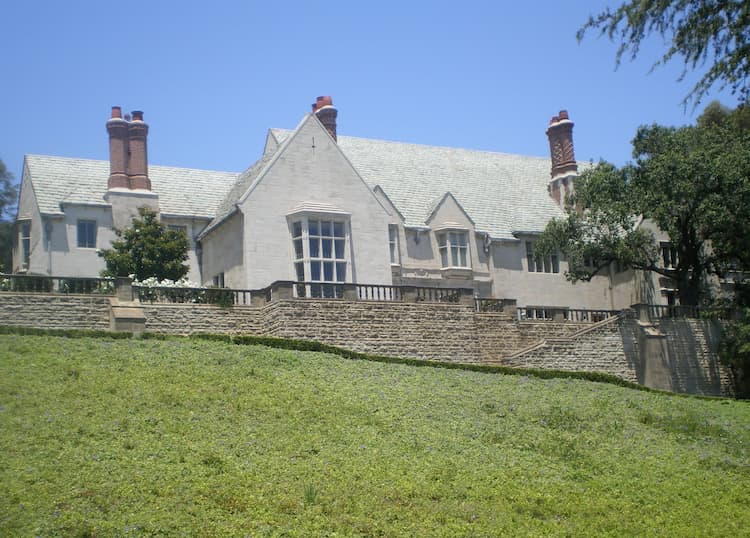 Image credit: Wikimedia Commons
If you crave the flexibility of choosing your own caterer, Greystone is a great venue for you—you can pick from a list of Frequent and Approved Caterers or request permission to hire a company that's not on the list. Greystone offers parking, too, but you can rent transportation if anyone in your group is uncomfortable driving to Beverly Hills. Your driver will drop you off and serve as DD so you can focus on celebrating among the beautiful Art Deco rooms and natural gardens.
Price range: $5000+ rental fee (minimums apply)
Address: 905 Loma Vista Dr, Beverly Hills, CA 90210
Phone: (310) 285-6830
Lombardi House
Prefer the 1900s to the 1920s? You can find turn-of-the-century style at the Lombardi House, a Victorian-influenced farmhouse built in 1904. Surrounded by fruit trees and gardens, the house offers accommodations that you can rent for your wedding night as well as event space. Most ceremonies take place in the renovated barn, which includes 35-foot vaulted ceilings. Your celebration can then spill out onto the lawn and into the gardens.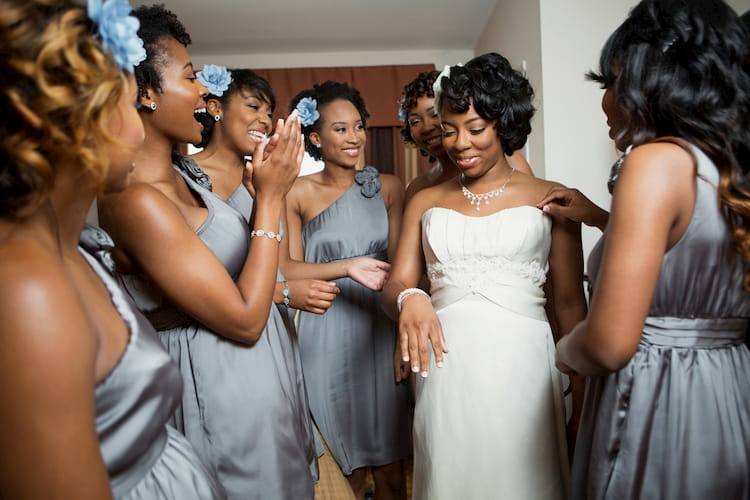 It's rare to find a home with a barn and generous outdoor space in the heart of downtown LA, which makes the Lombardi House a popular site for special events. However, it also means that parking can be tricky. If you're considering this venue, you'll definitely want to think about booking a minibus so your guests won't have to circle the neighborhood searching for a spot or walk a long distance in heels.
Price range: $5000+ rental fee (minimums apply)
Address: 1717 N Bronson Ave, Los Angeles, CA 90028
Phone: (844) 544-6873
For couples who crave contemporary elegance:
Taglyan Complex
Want to take your wedding to the next level? Book the opulent Taglyan Complex, which regularly hosts celebrity fundraisers and award ceremonies in LA. Say your vows in the Italian-inspired gardens that overflow with cypress trees, roses, and Renaissance-style fountains, and then take your group inside for the reception in the Grand Ballroom.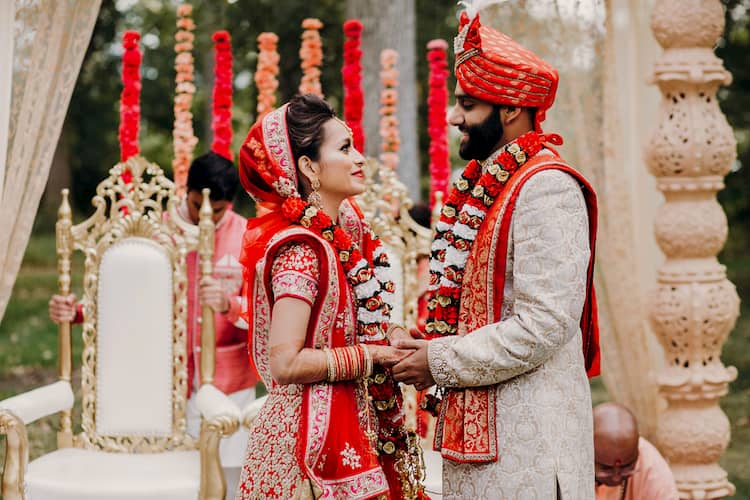 The Grand Ballroom is known for its stained-glass ceiling, which is adorned with crystal chandeliers. While you share your first dance, the lighting in the room can change to purple, teal, pink, or blue to match your wedding's colors. After a delicious meal prepared by Divine Food & Catering and a few glasses of wine, your guests can climb onto a charter bus rental to get back to their hotel safely.
Price range: $7000+ rental fee; $150+ per meal, per person
Address: 1201 North Vine St, Los Angeles, CA 90038
Phone: (323) 978-0005
Honeypot LA
Located in the heart of downtown LA, Honeypot (sometimes stylized HNYPT) offers modern, industrial loft space in a building that used to be a warehouse. In spite of its humble beginnings, this space now hosts events for Nike, Hulu, Comedy Central, and Facebook, and it's the ideal spot for a cool, contemporary wedding.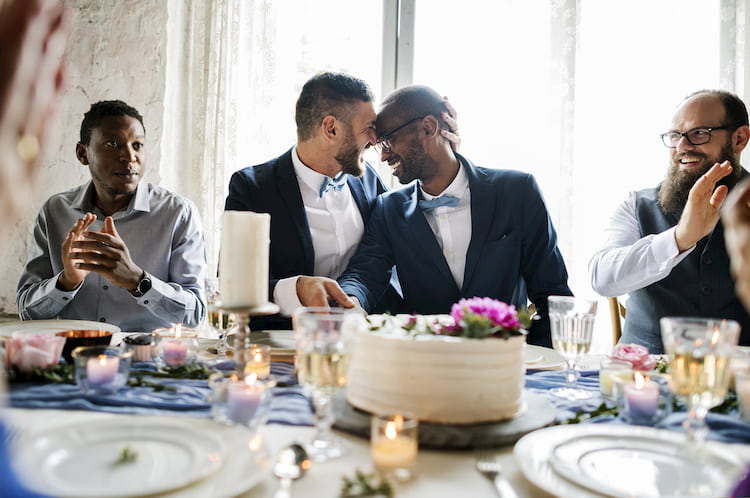 Honeypot is incredibly flexible—you can choose your own caterer, and the decorating decisions are left up to you and your planner or florist. If you appreciate having a blank canvas that you can customize to your desires, this is the venue for you. Because it's in the heart of downtown LA, Honeypot only has street and garage parking, so you may want to ask your minibus or charter bus to drop your guests off and return to pick them up at the end of the night.
Price range: $5500+ rental fee (minimums apply)
Address: 212 W 12th St, Los Angeles, CA 90015
Phone: (213) 769-8040
Celebrate Your Love at an Amazing Venue in LA
These beautiful destinations represent some of Los Angeles's most popular and well-reviewed wedding venues, but they're only the beginning of what LA has to offer. No matter where you and your beloved decide to hold your ceremony, Los Angeles Charter Bus Company can help all of your guests get there safely. Just give us a call at (310) 667-6197, and we'll find a charter bus that's perfect for your special day.
Need a charter bus in Los Angeles?