Los Angeles Deep Cuts for Frequent Visitors
Tired of the same-old-same-old Los Angeles attractions?
Even if the planetarium at Griffith Park has lost its novelty and you've walked the Hollywood Walk of Fame more times than you can count, that doesn't mean LA has lost its edge! This sprawling SoCal metroplex is as dense as it is wide, which means it has so much to offer besides the regular tourist attractions—even for frequent visitors.
In this guide, we'll unearth some of the best hidden gems the City of Angels has to offer for returning visitors.
And when you need to sort out your group's LA transportation, Los Angeles Charter Bus Company is here to help. Give us a call at 310-667-6197 to learn more about our comfortable and reliable bus service options, and keep reading to learn more about these deep cuts for your LA itinerary!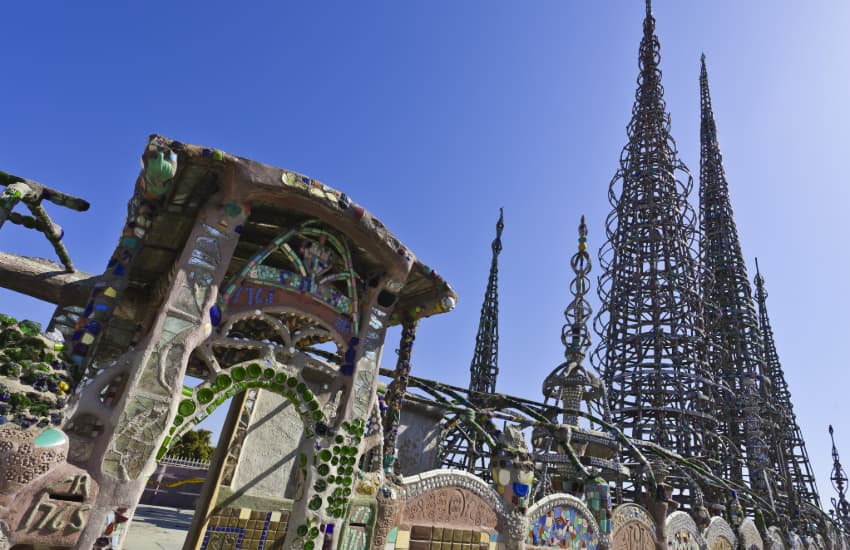 The Watts Towers
Address: 1727 E 107th St, Los Angeles, CA 90002
If your band of art enthusiasts wants to see an off-the-wall installation you won't find anywhere else, you've come to the right place.
Behold: the makings of a man with a vision, a lot of wire, and concrete.
Simon Rodia was a semiliterate Italian immigrant who worked as a construction worker and tile mason. Between shifts at his day job and throughout his weekends, he poured hours upon hours of his free time into turning his backyard into the 17 spires you see today—the tallest of which is just shy of 100 feet tall! No one really knows why he started building them in 1921, why he spent 33 years (nearly half his life) constructing them, or exactly why he stopped in 1954.
These sculptures were constructed entirely by Rodia with simple hand tools. They were built with no blueprint and are anchored only 2 feet into the ground, yet are able to support 10,000 lbs of pressure—an architectural marvel and the reason you'll find this place cited in many engineering textbooks!
Today, the towers and surrounding grounds serve as an art center that features local visual artists, programs for underserved communities, an amphitheater, and two small public parks. The gates to the towers are open Thursday through Saturday, and your group will need to pay $7 per head for a guided tour of the gardens. However, if your group doesn't mind missing out on the intricate broken-pottery-tilework and just want to see the spires, everything is outdoors and clearly visible from blocks away—so you can stop by anytime to admire the spectacle from afar.
Victorian Structures
When you think of old-school LA, you probably think of the glitz and glamor of Old Hollywood, right?  Well, before the silver screen was even invented, Los Angeles was still a bustling metropolis, especially in the Victorian era.
For a glimpse of the City of Angels' pre-film roots, we recommend checking out these hidden gems built during Victorian times:

Carroll Avenue
Address: 1301 Carroll Ave, Los Angeles, CA 90026
Take a trip to LA's first suburb: Carrol Avenue. When the area was first incorporated in 1887, this district was home to upper-middle-class Angelenos. With wealthy families come beautiful homes—like the lineup of Victorian homes you'll see along Carrol Avenue. Many of the houses along this street are preserved and painted as they would have been back in the late 1800s, which has made them the perfect backdrop for tourists' Sunday strolls and period films alike. You may have seen even these homes on the big and little screens before. Charmed fans will recognize 1329 Carroll Avenue as the manor featured in the show, and eagle-eyed MJ fans have seen the house at 1345 Carroll Avenue in the final scene of Michael Jackson's "Thriller."
Most of the houses you'll see along this street are private residences, so unfortunately your group won't be able to peek inside. But you can still walk around and take in the well-preserved gabled roofs and gingerbread trimmings of these painted ladies! Your bus can drop you off where Carrol Avenue meets East Edgeware Road and meet back up with you on the western end of the avenue.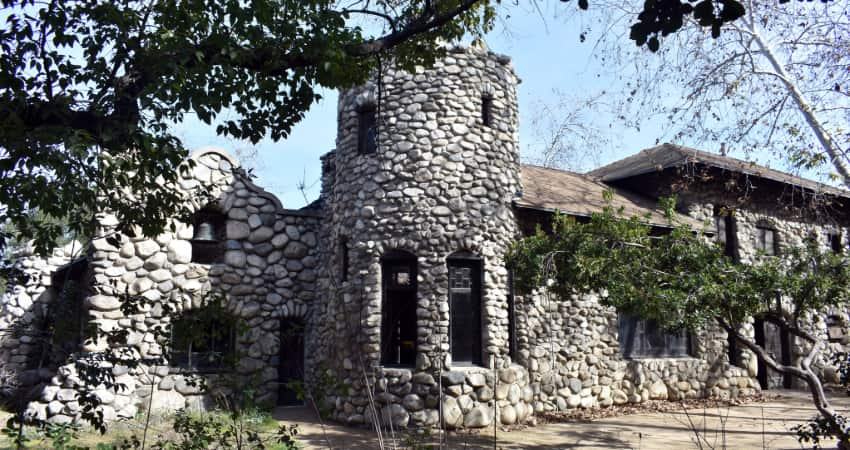 Image Credit.
The Lummis Home (El Alisal)
Address: 200 E Ave 43, Los Angeles, CA 90031
Okay, this place is included in the "Victorian" category on a technicality. Was it constructed within the Victorian era? Just barely. Is it what you'd expect from a home built in that time? Probably not. Is it literally a castle built out of river rocks? Well… yes!
Construction began in 1895 when Charles F. Lummis—activist, historian, author, Harvard dropout—decided to settle down in Los Angeles after walking (yes, walking) the length of the contiguous U.S. in street shoes. Lummis selected this particular plot to break ground because of a huge ancient sycamore ("El Alisal") that once stood here. He decided that he wanted to live in a castle. Even in the 1890s, castles were not a huge contributor to the LA real estate landscape, so Lummis decided to build one himself. By hand. Out of stones he pulled from the Arroyo Seco. By himself.
In the decades following, the house became a favorite gathering spot among the city's up-and-coming artists and even inspired the Arts & Crafts architecture style that soon swept through LA. The Lummis home is now distinguished as a historical landmark and museum that's free and open to the public on Saturdays and Sundays from 10 a.m. to 3 p.m. There's usually ample, free street parking available along the nearby East Avenue 42, but if your bus driver has trouble finding enough space to park, just call the Los Angeles Department of Recreation and Parks at (323) 226-1620 for help.
Lesser-Known Los Angeles Museums
So you've already toured all of Los Angeles' most popular museums—whether that meant art-hopping around the Getty or nerding out at the Natural History Museum. What now?
Here are some LA museums that are just as interesting as the ones you've seen before but rarely get the love and attention they deserve: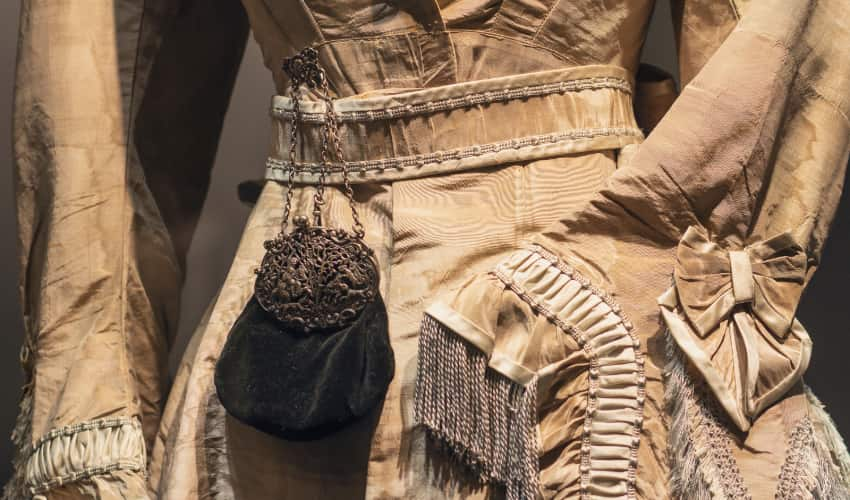 Fashion Institute of Design & Merchandising Museum
Address: 919 S Grand Ave, Los Angeles, CA 90015
Costume designers, outfit historians, and fashionistas, this is your stop! Located on the ground floor of the Fashion Institute of Design & Merchandising's downtown LA headquarters, this museum features over 12,000 costumes, accessories, and textiles—from bonnets and bustles of the 19th century to clothes that showcase the evolution of Chanel and blue jeans. You can also find Hollywood film and theater costumes from throughout the decades.
If you want to simply walk around and look at the exhibits, your group is more than welcome to—the museum is free to the public. However, if you're visiting with aspiring design students or business clients you'd like to impress, you might want to spring for a curator-led tour of the galleries. Curator tours provide visitors an opportunity to interact directly with FIDM Museum curatorial staff. Groups of 10-25 people are asked to reserve at least 48 hours in advance of their visit and front the fee of $20 per person. If your group is larger than that, you'll need to call the Curator's Office at (213) 623-5821 to ensure the museum can accommodate everyone comfortably.
Since this museum is in the heart of downtown Los Angeles, parking in and around the Institute can be scarce–especially for oversized vehicles. If you're staying at a downtown hotel with your driver, simply have them drop off everyone within walking distance of the museum and return to the hotel parking lot until you're ready to get a move on. Otherwise, consider contacting the nearby STAPLES Center and inquiring about oversized vehicle parking there. If there's not a home game or an event going on, parking there should be easy enough to find.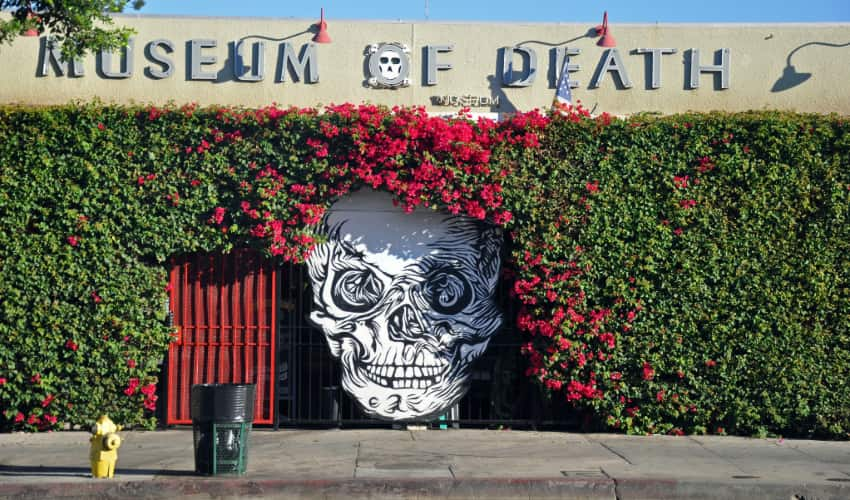 Museum of Death
Address: 6031 Hollywood Blvd, Hollywood, CA 90028
Ever wonder what serial killers doodle in their spare time behind bars? Or what antique coroner equipment looked like? Or how one might taxidermy their pet after it passes? Luckily, Los Angeles has a museum dedicated to exploring these inquiries and many more like them: the Museum of Death.
After taking a souvenir selfie with the gorgeous skull mural outside, your group of visitors can take a self-guided tour through exhibits and galleries all surrounding the topic of death. Expect to spend 45 minutes to an hour wandering through the displays—though visitors are allowed to peruse as long as they like.
Fair warning: this destination contains graphic material, including depictions of crime scenes and true accounts of murder and mass suicide. If you're out and about with younger kids (or you just don't want to see photos of dead bodies), you should definitely skip this museum.
Due to tight aisles and walkways between exhibits, the museum asks visitors to leave oversized items (strollers, luggage, backpacks, etc.) behind. If you reserve a charter bus or minibus shuttle, you can easily store your bulkier belongings in the overhead storage bins and luggage bays. Don't worry—your driver will keep an eye on your things while you tour the museum, and you'll have ready access to them once you return.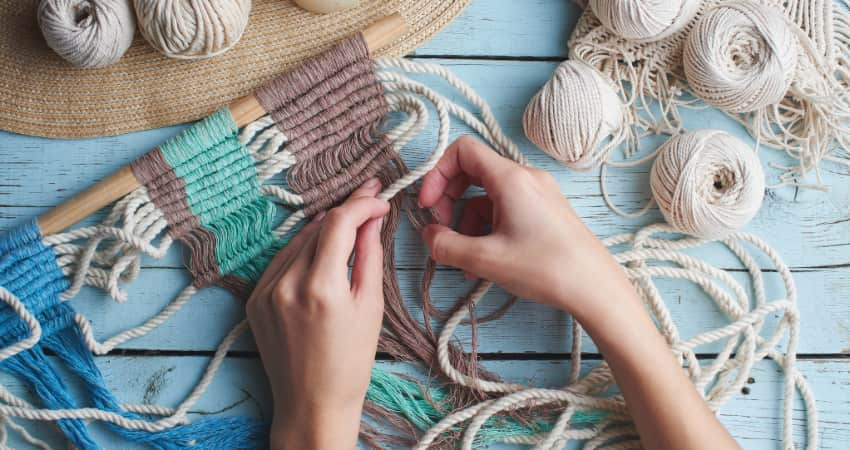 Craft Contemporary
Address: 5814 Wilshire Blvd, Los Angeles, CA 90036
Resident Angelenos and frequent visitors may also know this place by its former name, the Craft and Folk Art Museum. Since 1975, this gallery space has been celebrating the role of handicrafts and the cultural traditions surrounding them by showcasing local talent and encouraging visitors to craft for themselves. Exhibitions change out fairly regularly—every few months—so even if you've visited before, you won't know if the gallery is filled with needlework, recyclable sculptures, or hand-thrown pottery until you get there.
Group tours are available for 15 to 60 people on Wednesday, Thursday, and Friday afternoons. Fill out a tour request form at least three weeks before you expect to visit, and be sure to let the museum know if you want to throw in a hands-on crafting workshop after your guided tour of the galleries.
Good news! Close proximity to popular LA museums like the Los Angeles County Museum of Art and the famous La Brea Tar Pits means parking at Craft Contemporary is relatively easy. Buses may park along Curson Avenue or Sixth Street for free. Just keep in mind that these spots are first-come-first-served, so if you're in this area during peak tourism season your driver may have to venture farther to find adequate parking space.
Start Your LA Hidden Gem Tour Today
Whether it's your first time in LA or your hundredth, one thing is certain: you'll need a ride to get everywhere you want to be. While public transportation is prevalent, many locals would say the routes are unreliable and require a lot of transfers if you want to travel very far.
Los Angeles is a commuter city, so you'll need a vehicle to get around. But what if you're traveling with a larger group? Assembling carpools is a pain, and hailing multiple rideshares through Uber or Lyft can quickly blow your budget and takes up precious time you'd rather be spending out on the town.
Enter: Los Angeles Charter Bus Company.
We have a huge network of motorcoaches, charter buses, and minibuses to accommodate nearly any number of passengers and years of experience to make your group's next trip run as smoothly as possible. You can trust our 24-hour team of reservation specialists to help you find the perfect shuttle service plan and our network's certified, professional drivers to handle all your transportation logistics during your trip.
From coordinating a late-minute rental to decking out your bus with all the amenities you'll need to stay comfy (WiFi, TVs and a DVD player, power outlets, you name it), we've got you covered. Call 310-667-6197 today for a free quote on your personalized bus rental—no guaranteed booking necessary!
Need a charter bus in Los Angeles?