Group Travel Guide to the Los Angeles Airports
If you're planning to fly into Los Angeles, your first inclination is probably to check the available flights at LAX. But that's not your only gateway to the City of Angels! Especially if your travels take you to places outside the city's center—whether it's to a vacation at the theme parks, a dream wedding on a southside beach, or an industry meetup in Burbank—your group may be better served at any of LA's four other airports.
So how do you decide where to fly?
Los Angeles Charter Bus Company is here to help. We know a thing or two about getting around LA, which is why we've put together this group travel guide to the Los Angeles airports. And if your group ever needs help hashing out ground transportation, our team is available around-the-clock at 310-667-6197 to help you find a shuttle and offer a free quote for your personalized rental plan.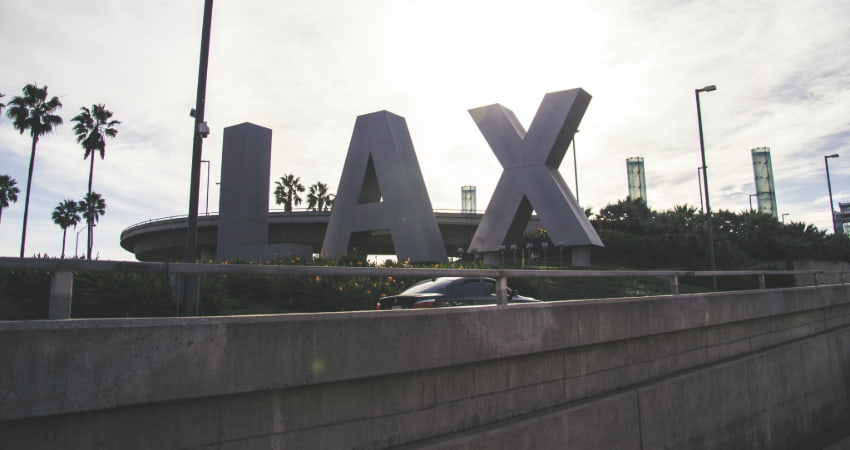 Los Angeles International Airport (LAX)
Address: 1 World Way, Los Angeles, CA 90045
Phone: (855) 463-5252
When you think of "airports" and "Los Angeles," this one is probably the first to come to mind. And for good reason! With nine terminals in all, it's the largest airport in town. Every U.S. domestic airline services LAX, and many international airlines do as well. Plus, it's located in the Westchester neighborhood, right next to Beverly Hills, Santa Monica, and downtown LA.
With popularity and close proximity to the heart of LA comes one major drawback: it's the most stressful LA airport to fly through. Because it's so busy, getting through security takes a long while, and traffic in and out of this U-shaped terminal structure is a nightmare—even by LA standards.
As long as you go into your LAX travels with these frustrations in mind, you can plan around them. Rather than leaving your group's ride to the terminal up to the whims of a Lyft, Uber, or taxi, let a professional driver drop everyone off on a schedule you create. With everyone in one motorcoach, you don't have to worry about multiple cars getting separated in traffic. And while we can't guarantee that your shuttle won't be slowed by traffic, free WiFi and a movie playing over the TV screens are sure to make the time stuck in gridlock more bearable.
Besides, LAX is especially bus-friendly—there are designated loading zones outside every terminal for sprinter van, minibus, and charter bus rentals. So whether you're fresh off the plane and itching to see the sights or you're rolling in to catch your late-night red-eye, an airport shuttle rental is your best option to keep everyone on track at LAX.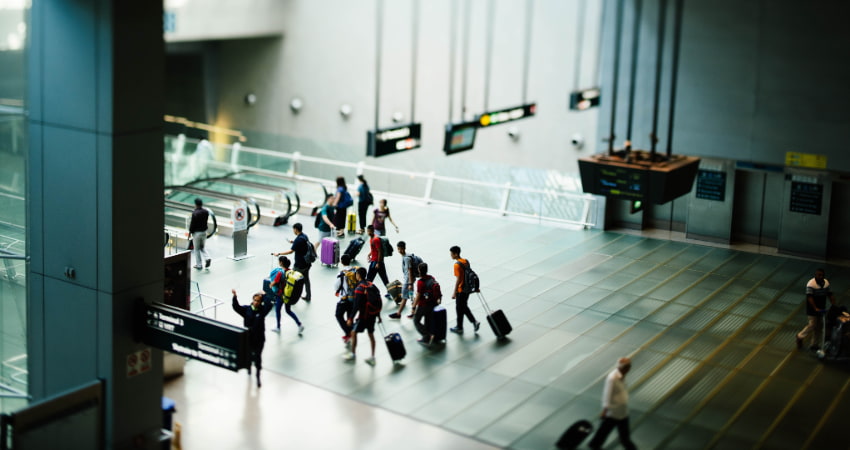 Ontario International Airport (ONT)
Address: 2500 E Airport Dr, Ontario, CA 91761
Phone: (909) 544-5300
Not to be confused with the Canadian province, Ontario International Airport is a favorite amongst international travelers. As the name would suggest, this airport is mostly frequented by travelers entering or leaving the country. And while ONT offers eight international airlines for overseas travelers, you should have no trouble snagging a domestic flight if you need to.
Navigating this airport is fairly easy, as long as you know where you're going. Most international flights depart and arrive from Terminal 2, and every flight with Southwest or American Airlines goes through Terminal 4. (Don't let the names fool you. There are only two terminals in this airport.)
Most flyers' complaints with this airport are that 1) it's very out-of-the-way if Los Angeles is your destination, and 2) public transportation and parking shuttles run on inconvenient schedules around here.
Not to worry, though. A private shuttle service can help your group avoid both of these frustrations. Rather than having to run up the mileage on multiple rental cars just to get your group into the city, let a professional driver handle the hour-long drive into Downtown so your group can decompress after a long flight. And when you rent through Los Angeles Charter Bus Company, your bus will arrive exactly when and where you want it to—no more waiting around a public bus stop with tons of luggage and cranky, jetlagged travelers. Just hop on your private shuttle and enjoy the ride!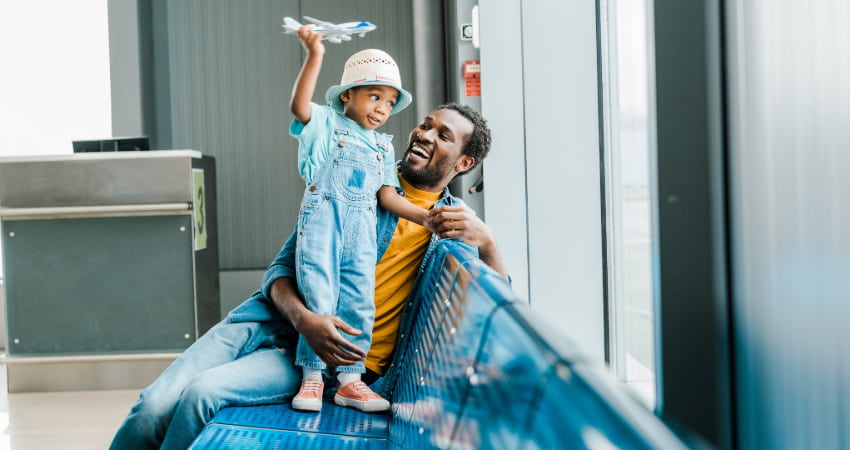 John Wayne Airport (SNA)
Address: 18601 Airport Way, Santa Ana, CA 92707
Phone: (949) 252-5200
This Orange County airport may be smaller than others—seven airlines, all domestic—but this is your best bet if you're in town to park-hop. The main draw here? This Santa Ana airport is the closest one to Disneyland, with only a quick 15-minute drive between you and the parks.
Ground transportation pick-up is located across the street from the larger-than-life statue of the actor the airport is named after. However, getting from the baggage claim to your lodging can be tedious and costly if you don't know where to look.
Disneyland offers a Resort Express shuttle service between the terminal and the theme parks, but these buses only service Disney-affiliated resorts and hotels. In other words, if your group is staying off of park grounds, you'll need to find another ride there. Taxis and rideshares are an option, but due to high demand, you can expect to pay around $40 per vehicle (before tip!) to get to Disneyland.
That's why we recommend reserving a shuttle service: no one has to split up between multiple taxis or cars, and when you rent through Los Angeles Charter Bus Company, you set the route and the schedule that works best for your group. Not to mention, we offer a predictable price point when you call and claim your free quote—the price you hear is what you'll get. And when you split the cost amongst every passenger, you'll usually spend less than if you rely on taxicabs for your entire trip. Win-win!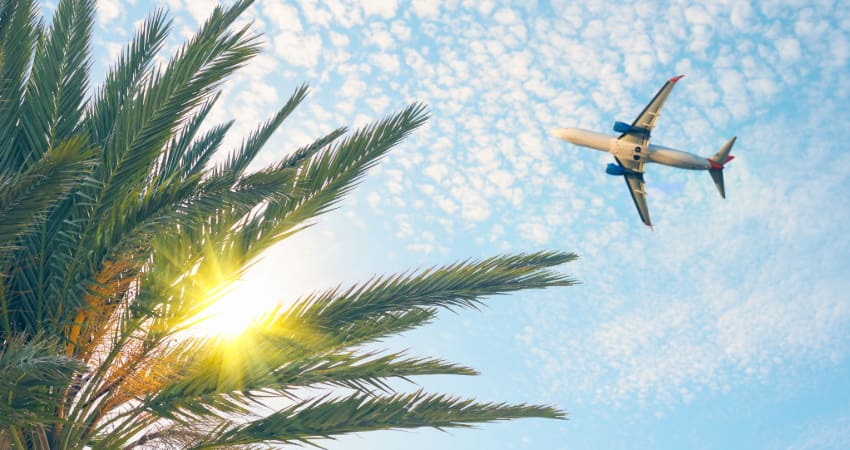 Long Beach Airport (LGB)
Address: 4100 Donald Douglas Dr, Long Beach, CA 90808
Phone: (562) 570-2600
If you're flying domestic, heading into or leaving south/central LA, or  can't be bothered with all the stress that comes with LAX—Long Beach Airport is where it's at. It's also close to Orange County, making it another fly-in option if you're Disney-bound and flights into John Wayne are booked up.
The catch? Only four airlines service this place, and they generally only fly to a select few cities. However, flights are often cheaper here than at other LA airports. So depending on where you're going or your willingness to catch a connecting flight, LGB may be your most cost-effective option.
Be aware: out of all five LA airports, LGB has the most limited public transportation access. Unless your group is staying in or around Long Beach (which isn't cheap, let's be honest), you should definitely consider reserving some sort of ride service. Luckily, your Los Angeles Charter Bus Company specialist can help you choose the right shuttle bus service when you call 310-667-6197. Just give us a headcount, an itinerary, and a list of desired amenities, and we'll handle the rest!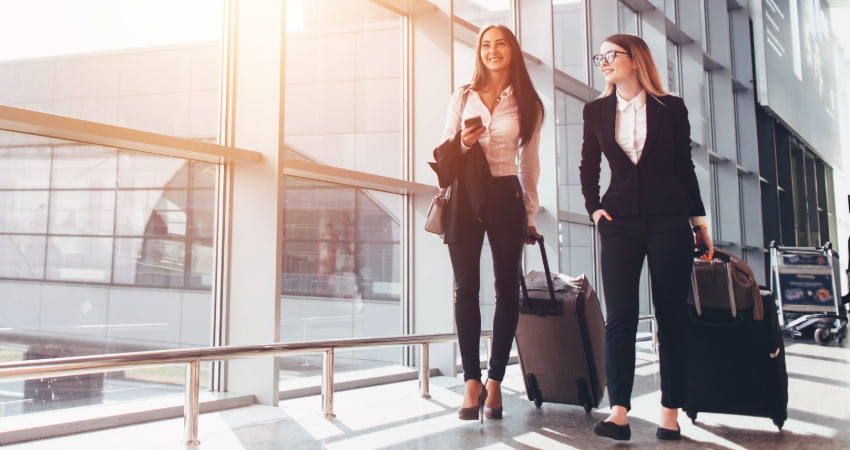 Hollywood Burbank Airport (BUR)
Address: 2627 N Hollywood Way, Burbank, CA 91505
Phone: (818) 840-8840
Formerly known as the Bob Hope Airport, this one is a favorite among production executives and those in town for film and television.
It's relatively small, with only 6 airlines stopping here—Alaska Airlines, American, Delta, JetBlue, Southwest, and United. BUR mostly services the western half of the United States, so if you're coming or going any farther than that, expect to catch a connecting flight before you reach your destination.
Although its small size means limited flight options are available, some consider flying from Hollywood Burbank one of the most pleasant airport experiences in LA. After all, fewer flights mean shorter security lines upon entry and less traffic coming in or out of the parking lot.
Its compact campus also makes it fairly easy to navigate upon departure and arrival. It's L-shaped—one main entrance building houses most of the dining options, with Terminal A to the east of it and Terminal B to the south of it. Pickup and dropoff for all shuttles, taxis, and buses are located on the three islands directly in front of Terminal B. Ask your shuttle driver to head for the middle island for a smooth and easy pickup and dropoff.
Easy Airport Transfers Through Los Angeles Charter Bus
Forget about navigating LA's unreliable public transit system with all your luggage in tow. Instead, let the professionals handle your ground transportation so you can focus on the rest of your trip!
When you leave it to Los Angeles Charter Bus Company, we'll be sure to find you a ride with plenty of room to stash your suitcases and all the comforts your passengers need between the terminal and your final destination. From efficient minibus shuttles to full-sized charter buses, our vehicle network, and 24-hour rental team offer all you need to secure stress-free ground transportation around any LA airport! Call 310-667-6197 today to receive a free, no-obligation quote.
Need a charter bus in Los Angeles?