A Beginner's Guide to Visiting LA
Los Angeles is jam-packed with things to do and sights to see for all types of travel groups. There's so much to do, that planning a group trip can quickly become overwhelming. That's where this guide comes in! We've compiled a few helpful tidbits on how to travel, where to stay, and what to see in Los Angeles during your first visit.
As you plan a private group tour of LA or a big vacation with friends, you'll also want to think about how you get to and from each spot on your Los Angeles itinerary. Los Angeles Charter Bus Company can take care of group transportation with a private minibus or charter bus rental in LA. Don't sweat the hectic traffic, just leave it up to a professional driver well-versed in Los Angeles's roads. Getting a bus rental quote starts with calling 310-667-6197!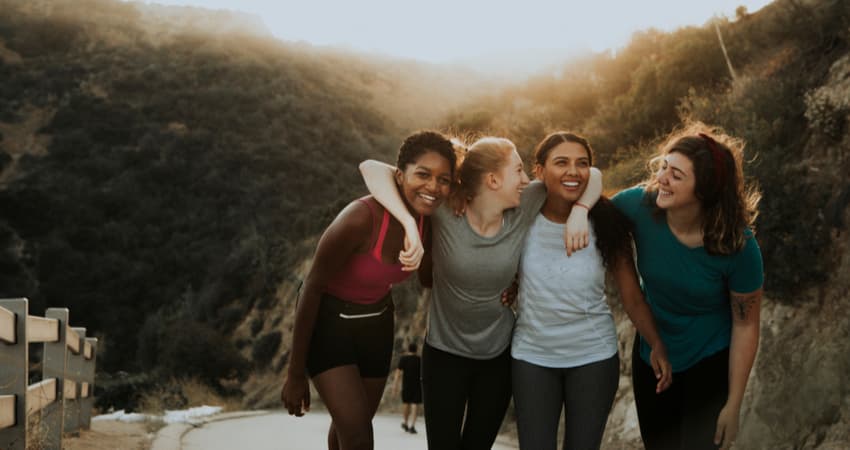 How to Travel
Air Transportation
Flying into Los Angeles seems like a simple solution until you have to deal with the hectic and busy LAX.  If you opt to fly into Los Angeles, it's highly recommended you consider choosing nearby domestic airports like Hollywood Burbank Airport(BUR).  Depending on when you travel, airfare can be more affordable and BUR is much easier to navigate and considerably less busy than LAX. Both BUR and LAX are located around 15 to 20 miles from Downtown LA.
Ground Transportation
Even if you opt to fly into Los Angeles, it's highly recommended that you rent a car or rent a charter bus to see the city. Since LA is so spread out, taking public transport can take a very long time and walking isn't always doable between different neighborhoods. Los Angeles Charter Bus Company offers minibus rentals for small groups and full-size charter bus rentals for a bigger number of visitors. Every rental with Los Angeles Charter Bus Company includes a professional driver dedicated to your trip. Your group will also stay comfortable for your entire group trip with a climate-controlled charter bus with WiFi, power outlets, TVs, and onboard restrooms. It's a less stressful way to travel and can also be a cost-effective option for large groups.
Where to Stay
The best place to lodge is going to vary depending on your itinerary. There are a few popular LA neighborhoods for tourists that will place you relatively close to top attractions.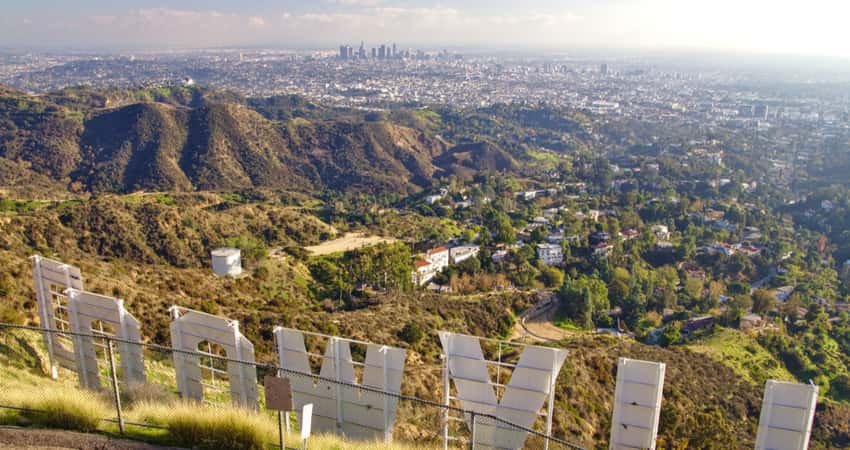 Hollywood
Want to be near big tourist attractions like the Hollywood Walk of Fame, the TCL Chinese Theatre, and Universal Studios Hollywood? Groups lodging in Hollywood will also be close to Griffith Park and Observatory, as well as the famed Hollywood Sign.
West Hollywood
Hollywood and West Hollywood are two distinct neighborhoods. While Hollywood is great if you want to be central to famous sites, West Hollywood is the place to lodge if your group is looking for good shopping, nightlife, and LGBTQ+ establishments.
Downtown Los Angeles (DTLA)
DTLA can be a toss-up on lodging options, as the neighborhood does have some rough areas. You'll still find wonderful hotels in the Arts District, centrally located to attractions like The Broad, the Walt Disney Concert Hall, and Grand Central Market. Plus, you'll be in the center of LA, making bus travel relatively easy anywhere in the city.
Venice Beach
If you want to stay by the water, Venice Beach is beautiful and filled with cool spots. Lodging here will give you easy access to the beautiful coastline and famous attractions like the Santa Monica Pier and Venice Canals.
Beverly Hills
Groups looking for luxury lodging with easy access to LA attractions may want to opt to stay in Beverly Hills. You'll be close to premiere shopping and dining on Rodeo Drive and Melrose Avenue. Your group can also easily shuttle to nearby attractions like The Getty, the Los Angeles County Museum of Art (LACMA), and the La Brea Tar Pits.
6 Must-See LA Stops for First-Timers
It's hard to narrow down the top things groups should see in Los Angeles and what you add to your itinerary will depend on your group's interests. If you're traveling with kids, you may want to add stops like the La Brea Tar Pits or if you're a group of outdoor enthusiasts, you may want to add stops like Angeles National Forest.
These are just a few stops that any and every type of group may enjoy when visiting Los Angeles: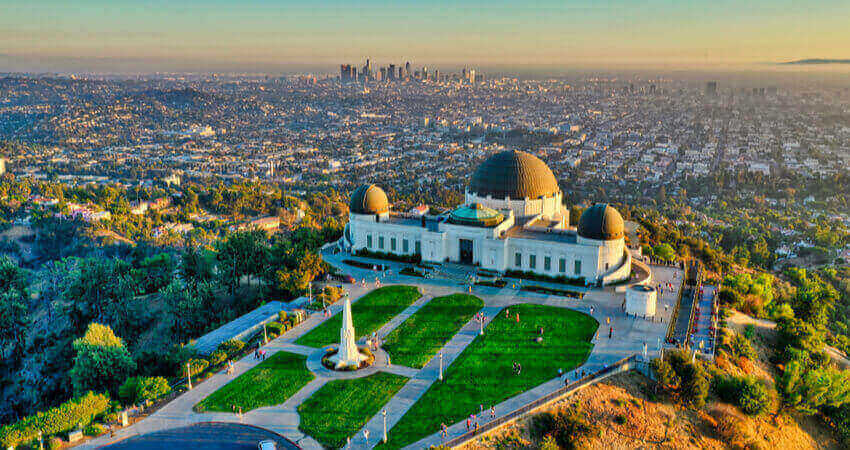 Griffith Park, Griffith Observatory, and the Hollywood Sign
Griffith Park Address: 4730 Crystal Springs Dr, Los Angeles, CA 90027
Phone: 323-913-4688
Griffith Park is Los Angeles's most famous green space, well-trekked hiking area, and is home to major attractions like the Griffith Observatory, the Hollywood Sign, the Old Los Angeles Zoo, and the Greek Theater. Seeing everything in the 4,310-acre park is impossible in one day, but if you have to prioritize locations—the Griffith Observatory and Hollywood Sign should be at the top of your list.
The Griffith Observatory sits atop Mount Hollywood and offers beautiful sweeping views of the city, as well as the impressive Samuel Oschin Planetarium and educational exhibits about space. When you visit the observatory, you'll also be able to see the iconic Hollywood Sign atop Mount Lee. If you want up-close views of the sign and photo ops of the LA skyline from behind the massive letter, you can hike up Mount Lee. The Hollywood Sign can be accessed via three trails: Mt Hollywood Trail, the Brush Canyon Trail, and the Cahuenga Peak Trail.
Charter bus rental parking tip: Traveling in and out of Griffith Park comes with heavy traffic, especially during peak visit times. Charter buses may drop groups off at a designated area near the observatory but must park elsewhere. Oversized parking is sometimes available at the Greek Theater.
The Getty Center
Address: 1200 Getty Center Dr, Los Angeles, CA 90049
Phone: 310-440-7300
LA is home to several famous world-class art museums and The Getty Center is a must-visit for art lovers. The Getty Center has a wide collection of work from famed European artists like Van Gogh, Paul Gauguin, and Claude Monet. The center is also surrounded by pristinely manicured gardens including sculpture gardens, a cactus garden, and the sprawling 134,000-square-foot Central Garden with more than 500 varieties of plants.
If your group has extra time and is interested in Greek and Roman sculptures, consider visiting the Getty Villa in the Pacific Palisades area of Malibu. Admission to both museums is free but $20 parking fees do apply for every vehicle.
Charter bus rental parking tip: The Getty Center cannot currently accommodate on-site parking for charter buses with a more than 30-passenger capacity. So it's highly recommended your group travels by minibus or arranges off-site parking for a full-size charter bus rental.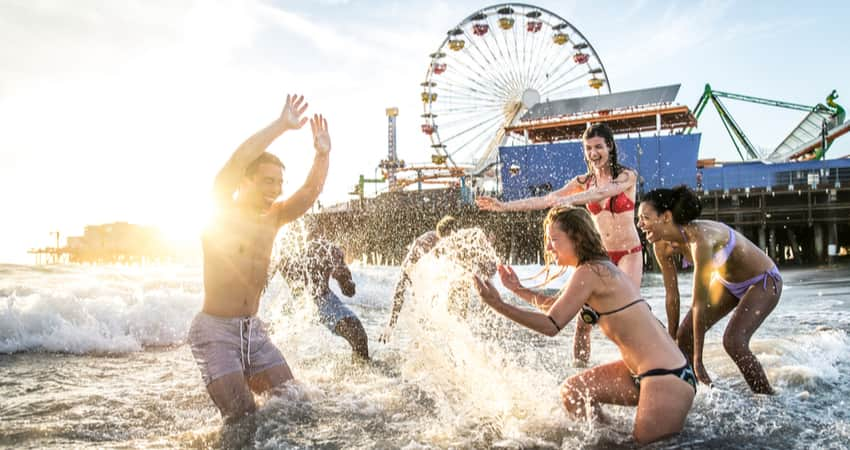 Santa Monica Pier and Beach
Address: 200 Santa Monica Pier, Santa Monica, CA 90401
Phone: 310-458-8900
As one of the most famous piers in the country, Santa Monica Pier is often overflowing with tourists. Sure, it may seem a bit tourist trap-y but the waterfront views from the pier and adjoining beach are well worth it. Groups traveling with kids may also enjoy the rides and arcade games at Pacific Park. Visiting Santa Monica Pier will give you the perfect oceanfront sunset photo ops to fill your camera roll.
Charter bus rental parking tip: The Santa Monica Pier has its own parking lot but oversize vehicles are not allowed to park on-site. Bus parking areas can be found in Lots 1N, 3N – 9N, and 2S – 5S. Parking specifications can be found here.
Venice Canals and Venice Beach
Venice Beach Address: 1800 Ocean Front Walk, Venice, CA 90291
Phone: 310-396-6794
These historic man-made canals are located just a short way from the famous Venice Beach and Skatepark. The Venice Canal Historic District was established in 1905 to mirror the beautiful waterways in Venice, Italy. Visiting groups can stroll the canal front walkways and bridges before hopping over to the actual beach. Dip your toes in the sand at one of California's coolest beaches and watch the skateboarders show off their skills at the iconic Venice Beach Skatepark.
If you have additional time in the Venice Beach area, consider stopping at local attractions like the Mosaic Tile House, the Venice Sign, and Muscle Beach.
Charter bus rental parking: Parking can be found along the streets of Venice, particularly on Venice Way, and oversized parking can also be found at 100 Venice Way, Venice, CA 90291. Keep in mind that oversize vehicles may not be allowed on the roads in the Venice Canal Historic District.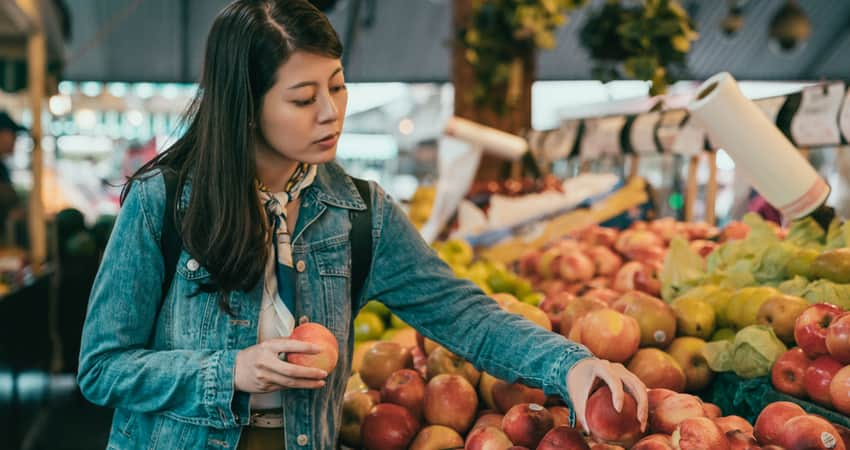 The Original Farmers Market and The Grove
The Original Farmers Market address: 6333 W 3rd St, Los Angeles, CA 90036
Phone: 323-933-9211
These two historic shopping centers are located next door to one another in LA's La Brea neighborhoods. The Original Farmers Market was established in 1934 as a center for locals to pick up fresh produce and goods. Today, the historic market is the place to be for foodies! It's one of the best places to visit for a variety of foods and gourmet goods to meet every group member's tastes. Grab some farm-fresh produce, a variety of hand butchered meats, fresh baked goods, or fully prepared meals at restaurants ranging from Cajun to Greek food.
The market also has a variety of boutique shops with jewelry, clothing, flowers, and personal care items. If the shops at the market don't have what you're looking for, hop next door to The Grove and check out more local restaurants and a variety of shops like Coach, Nike, and Topshop.
Charter bus rental parking tip: Two parking lots are available on the farmers market and a garage can be found at The Grove. Oversize vehicles likely won't be allowed to park in these areas. Limited metered street parking can be found on Fairfax Avenue.
Hollywood Walk of Fame and TCL Chinese Theatre
TCL Theatre address: 6925 Hollywood Blvd, Hollywood, CA 90028
Phone: 323-461-3331 Visiting the Hollywood Walk of Fame and the TCL Chinese Theater should go hand-in-hand during your first trip to LA. It's part of the quintessential Hollywood film experience and is also a great way to stretch your legs.
Start your trip at the TCL Chinese Theater where you can snap photos of the gorgeous extravagant architecture, catch a film showing, or even take a VIP tour of the historic movie palace. The Walk of Fame spans 15 blocks of Hollywood Boulevard and 3 blocks of Vine Street with stars dedicated to entertainment icons like Michael Jackson, Marilyn Monroe, and Walt Disney.
Charter bus rental parking tip: The roads and parking around the Hollywood Walk of Fame are usually very crowded. You'll need to organize a designated pickup, drop off, and parking location with your charter bus driver.
Explore LA with a Charter Bus Rental Today
No matter where you want to go in Los Angeles, LA Charter Bus Company will make sure you see any and every location on your itinerary. Relax on a professionally operated charter bus and leave the stressful LA driving up to your driver. Plan your Los Angeles group trip and give the LA Charter Bus Company team a call at 310-667-6197 to find a bus rental at your price point.
Need a charter bus in Los Angeles?