Exploring LA's Music Industry Scene
As a massive hub for entertainment, Los Angeles has a long and fruitful history in the film and music industry. Music lovers interested in learning about LA's ever-booming music scene will have plenty to see. Organize a group tour for your music lovers or plan a field trip for your music class to LA's many music museums, historic venues, and landmarks.
Visiting LA's music landmarks can be exciting, but infamous LA traffic can quickly put a damper on things. Los Angeles Charter Bus Company can help groups travel between music industry destinations in comfort and with ease. Traveling in a minibus or charter bus rental with air conditioning, TVs, and reclining seats will keep your group traveling stress-free anywhere in Los Angeles. Reserve a comfortable charter bus rental in LA with a pro driver to take care of busy roads during your tour of musical sites. Call 310-667-6197 at any time to book your tour of these music industry destinations: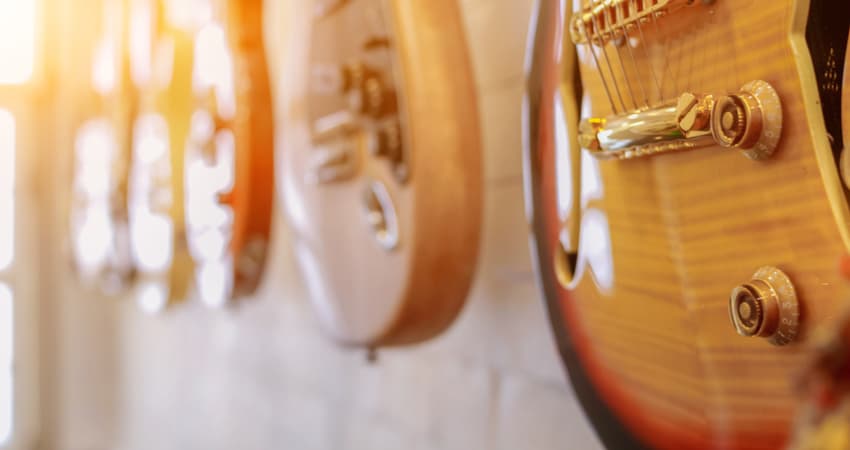 GRAMMY Museum
Address: 800 W Olympic Blvd, Los Angeles, CA 90015
Phone: 213-725-5700
The Grammy Museum is located in the L.A. Live entertainment complex and is dedicated to the history and winners of the prestigious music awards. Interactive exhibits will take you through years of music history with award wins, performances,and memorabilia from artists like Michael Jackson, Jennifer Lopez, Elton John, Johnny Cash, Beyonce, and Ray Charles.
Discounted group admission tickets and guided group tours can be booked by emailing groups@grammymuseum.org. Groups of 10 or more will qualify for discounted admission.
Charter bus rental travel tip: The closest designated bus drop off area can be found on Figueroa Street in front of the Staples Center.
Amoeba Music Hollywood
Address: 6200 Hollywood Blvd, Los Angeles, CA 90028
Phone: 323-245-6400
Amoeba Music is SoCal's most famous independent music store. The record store opened in 1990 in Berkley, just a few blocks from the University of California Berkeley campus. Amoeba opened its LA location right near the Hollywood Walk of Fame in 2015. The sprawling store sells new and used vinyls across all genres, music zines, posters, clothing memorabilia, and blu-ray DVDs. Your group can easily burn hours sifting through Amoeba's large selection of media.
Charter bus rental travel tip: Amoeba Hollywood is located in the El Centro complex that shares a paid parking garage with other businesses. Oversized vehicles like minibuses and charter buses may not be able to parking in this garage. Metered street parking can be found on Hollywood Avenue and Argyle Avenue.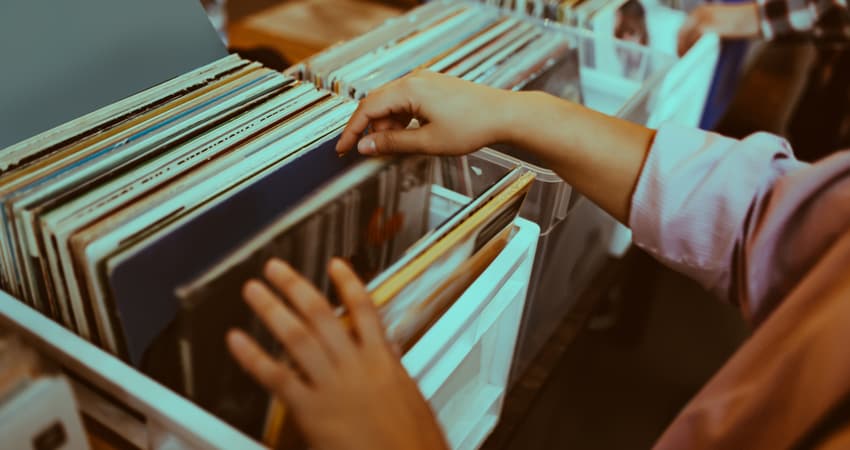 World Famous VIP Records
Address: 1028 CA-1, Long Beach, CA 90806
Phone: 562-591-2349
Lovers of old-school hip hop need to make a stop at World Famous VIP Records in Central Long Beach. This longstanding store also doubles as a recording studio and small performance space, having launched the careers of many West Coast rappers like Snoop Dogg, Warren G, Nate Dogg, and G-Funk in the 1990s. Today, the original VIP Records building has closed but the newer shop is still a hip hop landmark that sells a variety of vinyl, CDs, and music merchandise. If you're lucky, you may run into legendary owner Mr. Kelvin Andersen who has more than 40 years of music history under his belt while running the store.
Charter bus rental travel tip: The store is located on the busy Pacific Coast Highway (PCH) but street parking can be found on Lewis Avenue and Martin Luther King Jr Avenue.
Capitol Records Building
Address: 1750 Vine St, Los Angeles, CA 90028
The Capitol Records Building is home to the iconic Capitol Studios where music greats like Frank Sinatra, Michael Jackson, Nat "King" Cole, and Paul McCartney have recorded major hits. Although you can't tour this Hollywood music landmark, this 13-story tower is a must-see for music lovers. Right outside of the iconic building, you'll find the Hollywood Jazz: 1945-1972 mural depicting jazz legends like Ella Fitzgerald, Miles Davis, and Billie Holiday. Part of the Hollywood Walk of Fame is located right outside of the building where you'll see stars for The Beatles and Buddy Holly.
Charter bus rental travel tip: Plenty of metered street parking can be found on Vine Street.
Hollywood Bowl
Address: 2301 N Highland Ave, Los Angeles, CA 90068
Phone: 323-850-2000
As one of the most historic and picturesque music venues in the city, the Hollywood Bowl is a top spot to tour or catch a show. The famed amphitheater is flanked by the beautiful Hollywood Hills and has hosted concerts from The Beatles, Lady Gaga, Van Halen, Kanye West, and countless others. The outdoor venue is also the summer home for the world-renowned Los Angeles Philharmonic orchestra. Music lovers who are also foodies will love the selection of food and wine at the Hollywood Bowl, unlocking a tasty and convenient selection of elevated picnic boxes you can take to your seats.
Charter bus rental travel tip: Traffic and parking around the Hollywood Bowl during an event is notoriously a nightmare. Renting a charter bus can ensure your group won't have to worry about handling the traffic. Bus parking can be found in Lot B and usually runs around $55, depending on the event.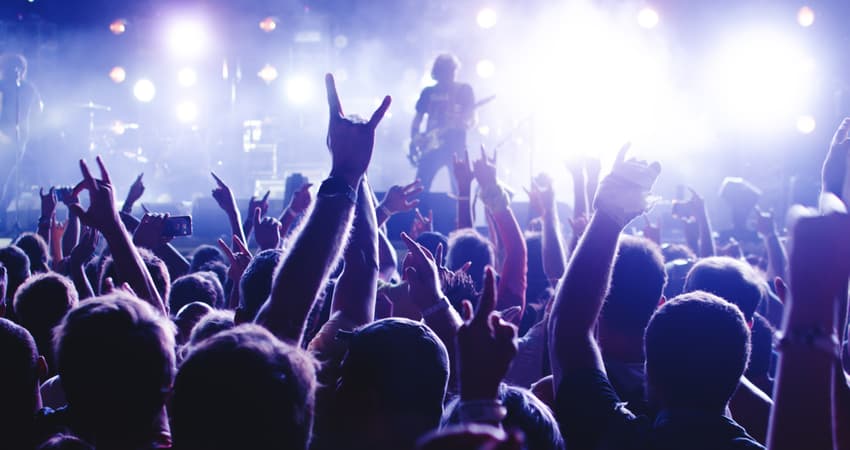 Sunset Strip Music Venues
Los Angeles's Sunset Strip has many music venues with long histories and famous stories of big-name musicians playing in their early careers. There are more than a dozen entertainment landmarks located along the fabled strip of Sunset Boulevard. Here are just a few Sunset Strip venues that music lovers should stop to see:
Whisky a Go-Go
Address: 8901 Sunset Blvd, West Hollywood, CA 90069
Phone: 310-652-4202
This famous nightclub is a must-stop for lovers of all things rock music. Whisky a Go-Go opened in 1964 and became a no-frills hotspot for drinking, gogo dancing, and live music. Rock legends like The Doors, KISS, Janis Joplin, Led Zeppelin, AC/DC, Metallica, and Guns n' Roses have all graced the stage over the bar's 50+ year history.
The Roxy Theatre
Address: 9009 Sunset Blvd, West Hollywood, CA 90069
Phone: 310-278-9457
The Roxy is located right next door to Whisky a Go-Go and is an intimate performance space with a storied history reaching back to 1973. Musicians and comedians have taken to the stage for now-famous performance recordings. Notable shows include standup from Richard Pryor, The Ramones' first California concert, multiple live recordings of Bob Marley & The Wailers, and Adele's debut concert tour in 2008.
Viper Room
Address: 8852 Sunset Blvd, West Hollywood, CA 90069
Phone: 310-358-1881
At the time of opening in 1993, the Viper Room was known for being partly owned by actor Johnny Depp and its 1920's-themed jazz club interior. Although the club had such a jazzy atmosphere, the Viper Room is actually famous for its role in the rock music scene. Musicians like Lenny Kravitz, Johnny Cash, Courtney Love, and Tom Petty and the Heartbreakers are just a few of many rock icons to play Viper Room.
Charter bus rental travel tip: There are paid public parking lots and valet services near most of these venues. Oversize vehicles like bus rentals will need to park at metered street spots. Just be sure your charter bus driver thoroughly reads the many parking signs in the area (Los Angeles's street parking rules can get a bit confusing).
Explore LA's Rich Music Scene with Los Angeles Charter Bus Company
Ready to catch a show or tour famed music spaces? Then let's get going! Whenever you're ready to book a charter bus rental for your group of music lovers, a Los Angeles Charter Bus Company representative will be available to help you at 310-667-6197. The LA Charter Bus Company team will get you a personalized rental quote in no time.
Need a charter bus in Los Angeles?