Guide to Organizing an LA-Area Wine Country Tour
Northern California may be the first area that comes to mind when people think of the West Coast wine, but Southern California has its own players in the wine industry. LA-based groups looking for top-quality winery tours won't have to travel too far from the City of Angels.
Even though there are wineries relatively close to home, who's going to be DD for your group wine tour? Los Angeles Charter Bus Company has you covered with minibus and charter bus rentals that include a professional driver! We offer group transportation services in LA for private group wine tours anywhere in the area.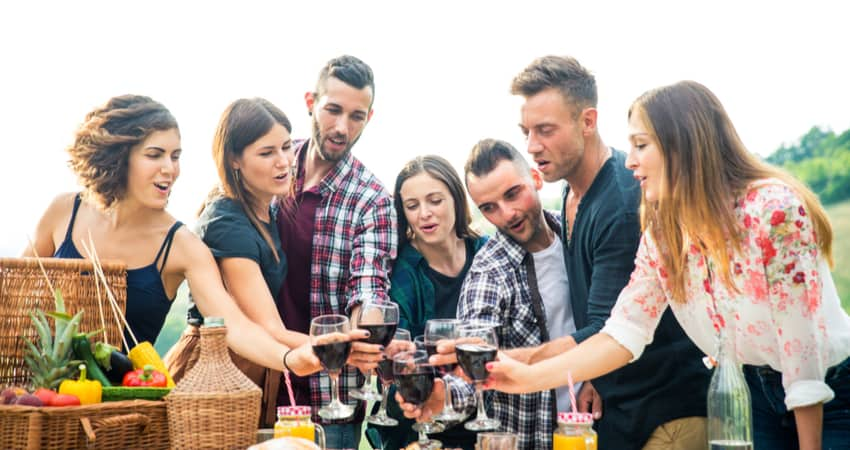 Rent a charter bus or minibus for your friends' weekend, birthday bash, team-building event, or bachelor and bachelorette party. You'll have a built-in DD with your LA charter bus rental and you'll also be traveling in complete comfort. Seriously, who wants to be cramped in a sedan after a long day of sampling wines and accompanying foods? That's why a charter bus is the way to travel! With spacious reclining seats and amenities like WiFi and powerful climate controls, your group of wine lovers will be comfortable and safe all trip long. Rent your LA charter bus at 310-667-6197 for your upcoming group wine tour.
Los Angeles-area Wineries
There are several small wine-producing areas scattered throughout Los Angeles County and neighboring counties. You'll find wineries in places like Cucamonga Valley, Antelope Valley, Ojai, and parts of Malibu. Unlike areas like Sonoma, Napa, or Temecula, vineyards closest to LA are spread out, so you'll need an efficient and comfortable way to travel. Create an itinerary of wineries in the area and leave the rest up to Los Angeles Charter Bus Company and your driver.
Here are just a few of the wineries near Los Angeles for your group to check out!
San Antonio Winery
Address: 737 Lamar St, Los Angeles, CA 90031
Phone: 323-223-1401
Distance from DTLA:  ~10 minutes or 2.5 miles
Established in 1917 in the Lincoln Heights neighborhood of LA, San Antonio Winery is the city's oldest and biggest wine producer. Owned and operated by the Riboldi family for 4 generations, San Antonio Winery has become a local favorite in the heart of LA. Although you won't find vineyards on-site at the Los Angeles location, you'll find a variety of award-winning wines from the Riboldi Family Farm in Monterey and the winemaking facility in Paso Robles. Group wine tastings and private events can be booked for 8 or more visitors. San Antonio also has Maddalena Restaurant, a trattoria-style Italian restaurant serving up seasonal fare.
Charter bus rental tip: San Antonio Winery has a spacious, private lot for patrons. Oversized vehicles may need to opt for street parking on Lamar Street, Cardinal Street, or Gibbons Street.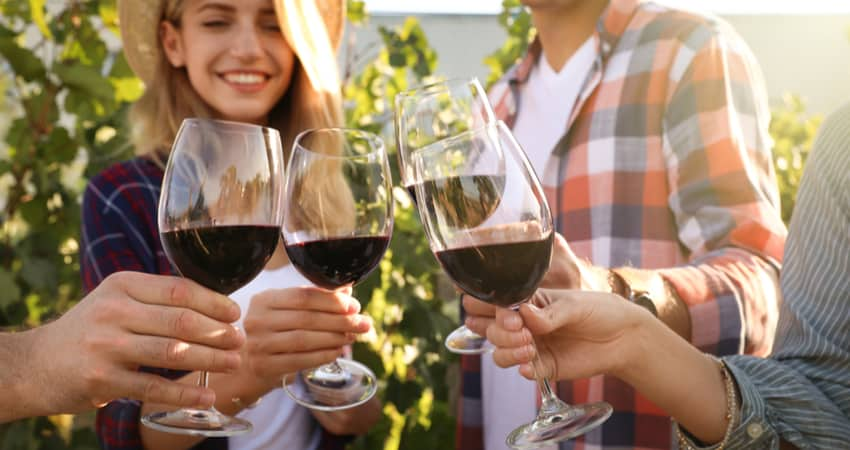 Galleano Winery
Address: 4231 Wineville Rd, Mira Loma, CA 91752
Phone: 951-685-5376
Distance from DTLA:  ~1 hour or 45 miles
Galleano Winery is located in the southern Cucamonga Valley, which was one of Southern California's biggest wine-producing areas in the 1940s. Today, many Cucamonga Valley wineries have shuttered their doors but Galleno still stands operating in its original location. Wine tastings are offered in the Galleano Tasting Room by reservation only, at this time. Galleano is well known for offering high-quality yet affordable wine like their popular zinfandel and sherry.
Charter bus rental tip: Parking for oversize vehicles is limited on the winery's historic grounds. Your charter bus driver may need to park outside the winery complex on Harrell Drive.
Rosenthal – The Malibu Estate
Address: Kanan Dume Rd &, W Newton Canyon Rd, Malibu, CA 90265
Phone:  310-456-1392
Distance from DTLA:  ~1 hour or 40 miles
Rosenthal Winery operates a popular tasting room on the PCH but if you want to tour the vineyards, you'll have to hop over to the estate in Malibu's Newton Canyon. The hillside location offers picturesque views of the gorgeous vineyards flanked by oak forests. Private tours of the vineyard are offered for groups with a minimum of 8 guests. Be sure to try Rosenthal's Surfrider label of wines. Proceeds from each purchase of Surfrider contribute to organizations dedicated to preserving our oceans and aquatic wildlife. All visits to the vineyard estate are by reservation only. The Rosenthal Wine Bar and Patio on the PCH is open to the public for tastings.
Charter bus rental tip: The Rosenthal Estate has a private lot but the wine bar is valet only.
Malibu Rocky Oaks Estate Vineyards
Address: 340 Kanan Dume Rd, Malibu, CA 90265
Phone: 877-676-7660
Distance from DTLA:  ~1 hour or 40 miles
If you're looking for a vineyard with the ultimate view, it's hard to beat Malibu Rocky Oaks Estate Vineyards. This gem is nestled atop a 2,000-foot peak in the Santa Monica Mountains, offering 360-degree views of the breathtaking landscape and 10 acres of vineyards dedicated to nearly a dozen varieties of wine grapes. However, unlike other vineyards on this list, Malibu Rocky Oaks Estate is a private residence and is open for private events like weddings and business gatherings. At this time, the estate is working on a public wine tasting program. If you're looking for a wine-focused venue for a private event, Malibu Rocky Oaks is the place for you.
Charter bus rental tip: Driving up the mountain is notoriously stressful and may not be recommended for oversize vehicles. At the time of booking your event, it's recommended you also inquire about oversized vehicle accommodations, if available.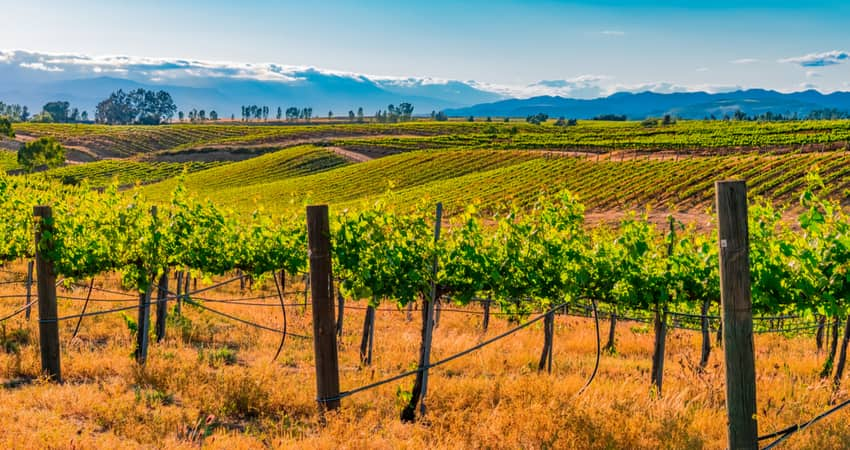 Temecula Valley Wineries
Just north of San Diego, Temecula Valley is one of the South Coast AVA's biggest wine-producing subregions. Temecula Valley is around a 1.5-hour drive from Los Angeles but is well worth it for a tour packed with world-class wineries. You'll find more than 50 wineries in the region, making it easy to hop between locations once you're there. Kick back, relax, and enjoy a film on your charter bus's TVs for the 1.5-hour ride to your Temecula Valley wineries of choice.
Leoness Cellars
Address: 38311 De Portola Rd, Temecula, CA 92592
Phone: 951-302-7601
Distance from DTLA:  ~2 hours or 95 miles
Leoness Cellars was founded in 2002 among the rolling hills of Temecula Valley. The winery initially began with producing cabernet sauvignon grapes but soon grew to include varieties like merlot, syrah, and cabernet franc. Group wine tastings and tours are available for groups of 12 or more with reservations. Leoness Cellars offers a variety of touring experiences, including standard vineyard tours, wine education tours, and wine & cheese pairing. There's also a full-service restaurant on-site, offering food pairings like miso-glazed mushrooms and prosciutto-wrapped filet.
Charter bus rental tip: Groups must indicate that they're planning to arrive by charter bus at the time of reservation, Yoru group can be dropped off at the circular driveway near the tasting room before your driver parks in the winery's upper lot.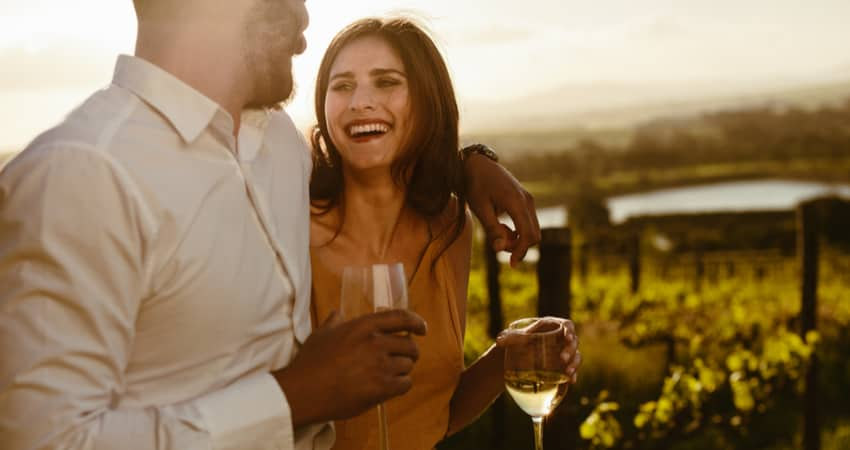 Fazeli Cellars Winery
Address: 37320 De Portola Rd, Temecula, CA 92592
Phone: 951-303-3366
Distance from DTLA:  ~2 hours or 95 miles
Temecula Valley is filled with plenty of beautiful wineries but the grounds of Fazeli Cellars are easily some of the most stunning. The winery is modeled after a Modern Moorish villa and is dedicated to producing high-quality wine, while also paying homage to the Fazeli family's Persian roots. Visitors rave about Fazeli's selection of white and rosé wines like the sauvignon blanc, riesling, and grenache. Tastings are held daily and private group packages that include a deluxe tour are currently in the works. In the meantime, groups are welcome to visit the winery with a reservation. Fazeli also offers Persian-Mediterranean fusion fare like hummus, flatbreads, and gyros through Baba Joon's Kitchen.
Charter bus rental tip: Groups must make a reservation at least 24 hours in advance and will be required to be dropped off in front of the grand staircase at the entrance.
Miramonte Winery
Address: 33410 Rancho California Rd, Temecula, CA 92591
Phone: 951-506-5500
Distance from DTLA:  ~2 hours or 90 miles
Established in 2000, Miramonte is a boutique winery that produces small batches of wine grapes from its vineyards. Miramonte also works with other local vineyards to produce premium wine from other varieties of grapes generally cultivated in Europe. Miramonte Winery is a popular choice for live music, charming atmosphere, and of course—delicious wine! It's the perfect place to relax on a patio, sip white or red sangria, take in the beautiful landscape, and enjoy the sounds of local musicians. Groups of 10 or more should make a reservation with the tasting room by phone. Private tours can be booked online, if available (tours are currently restricted during the ongoing pandemic.)
Charter bus rental tip: Miramonte has a spacious parking lot and additional spaces along the entrance driveway for oversized vehicles.
Callaway Vineyard & Winery
Address: 32720 Rancho California Rd, Temecula, CA 92591
Phone: 951-676-4001
Distance from DTLA:  ~2 hours or 90 miles
Callaway Vineyard is a lovely spot to enjoy the sun setting beyond the Temecula Valley hills. The winery's roaster is well-balanced, including popular cabernet sauvignons, syrahs, and chardonnays. Tours and wine tastings are available daily and private options for groups can be booked by calling Callaway's group sales team at 800-472-2377. If your group gets hungry, Meritage Restaurant is there to serve up farm-to-table meals like roasted Jidori chicken and succulent Angus ribeye.
Charter bus rental tip: All groups traveling by charter bus must make a reservation in advance. Saturdays and Sundays are particularly busy, so group and charter bus accommodations may be limited.
Rent a Bus to Wineries Near Los Angeles
Your biggest group travel dilemma should be picking between all the amazing wineries you have available, not how you'll get there! Let Los Angeles Charter Bus Company take care of the transportation logistics for your day of vineyard hopping and winery touring. Call 310-667-6197 to rent a charter bus or minibus for a fun and safe day traveling around SoCal wineries.
Need a charter bus in Los Angeles?