A Group Guide to Visiting the Santa Monica Pier
You can't visit the Los Angeles area without heading down to the beach and enjoying the beautiful waterfront views. But where exactly is the best location to see the sea? Santa Monica, of course! Well, there are quite a few wonderful locations to snap photos of the Pacific, but none are quite as famous as the Santa Monica Pier. On your next group trip around LA, make a stop at Santa Monica Pier to enjoy amusement park rides and carnival games, catch some sun, and dip your toes in the water.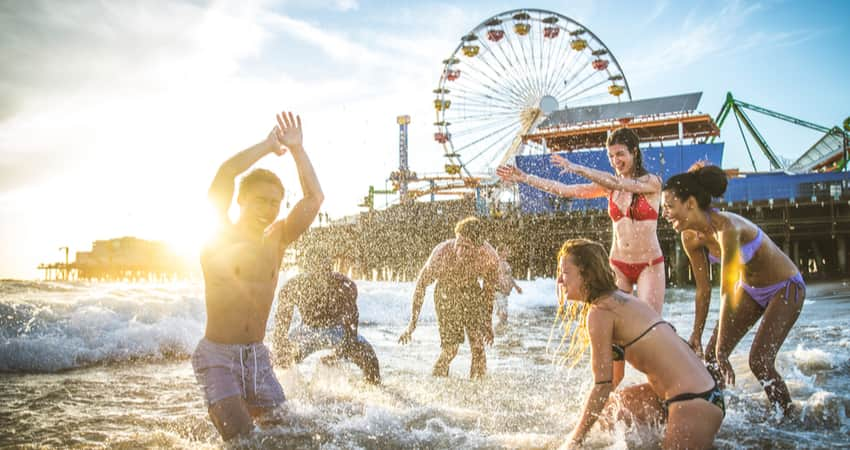 Depending on when you're traveling, the Santa Monica Pier can be extremely crowded. You'll want to make sure you have your group transportation and itinerary well-organized. Booking a minibus or charter bus is one of the best ways to see the pier and keep your group together. LA Charter Bus Company can make your Santa Monica visit run smoothly with a private bus rental for your entire group. Just give the LA Charter Bus Company team a call 24/7 at 310-591-8697 to reserve your transportation.
Let's take a look at some helpful tips to use on your Santa Monica Pier trip!
COVID Precautions
If you're traveling during the COVID-19 pandemic, you'll need to be aware of some important changes to the Santa Monica Pier. Here are some things to keep in mind when planning your group trip:
The beach and pier are open to the public, but group activities like beach volleyball, other organized sports, and general gatherings with people outside of your household are not allowed.
Most restaurants and shops are open on the pier, but all amusement rides in Pacific Park are closed until further notice.
Some businesses on the pier may have separate safety regulations for visitors.
Face coverings are required for visitors age 2 and older to visit the pier. Beachgoers must also wear face coverings when out of the water.
Parking may be limited, as the pier's main parking deck is closed to limit visitors.
How to Get to the Santa Monica Pier
Getting to Santa Monica from Los Angeles is a straight shot down I-10 W off exit 1B. You'll likely hit quite a bit of traffic, as I-10 is a heavily traveled road throughout the day. When you're traveling by charter bus though, you won't have to worry about taking on traffic yourself. Rather than splitting up in a carpool and having to keep track of everyone, rent a spacious bus to Santa Monica. LA Charter Bus Company can book a minibus rental for small groups or a full-sized bus for larger groups. Have everyone hop on board and let a professional driver take care of your ride!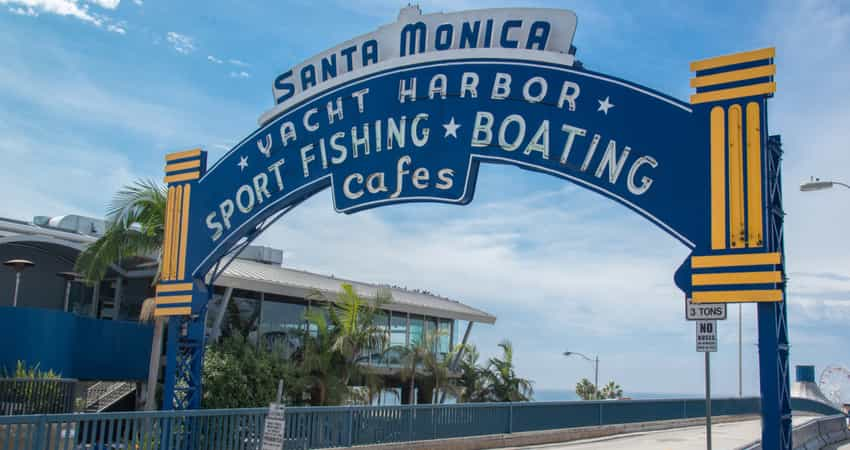 Where to Park at Santa Monica Pier
Groups traveling in personal vehicles can park in nearby Downtown Santa Monica public parking garages or at Beach Lot 4-South on the corner of Bicknell Avenue and Ocean Avenue. If you're traveling by charter bus, you can have your driver park at Lot 1 North beach parking lot. This lot is just north of the pier, and parking can be prearranged by emailing parking@smgov.net or calling 310-458-8295. Parking rates for all vehicles vary by season and the lot you choose.
Things to Do at Santa Monica Pier
Even though options at Santa Monica Pier are more limited than usual, there's still plenty to do. You can also create an itinerary for a future trip when the pier is fully reopened. Here are a few ways you can spend your time at the pier:
Have fun with games and rides at Pacific Park or Playland Arcade
Once Pacific Park reopens, visitors traveling with kids will want to make it a must-see part of their Santa Monica Pier trip. Pacific Pier has 12 thrill rides to choose from, including a roller coaster, bumper cars, a drop tower, and the world's only solar-powered Ferris wheel. You'll also find rides that are great for small kids, like the Frog Hopper and Sea Planes. If you have group members who aren't fond of thrill rides, try out the carnival games instead! You can play for prizes at classic games like Balloon Bust, Water Race, and Whac-A-Mole.
Groups traveling with tiny tots will definitely want to get a ride or two on the historic Santa Monica Pier Carousel. This merry-go-round is hailed as America's Most Famous Carousel, with its history dating back to the 1920s. You'll also find additional games in the pier's Playland Arcade. Play classic arcade games like pinball, skeeball, and air hockey.
Group travel tip: Be sure to inquire about group packages in advance. The pier offers packages with discounted admission, game/ride tickets, and meal cards. These packages are perfect for school groups, summer camps, and private tour groups.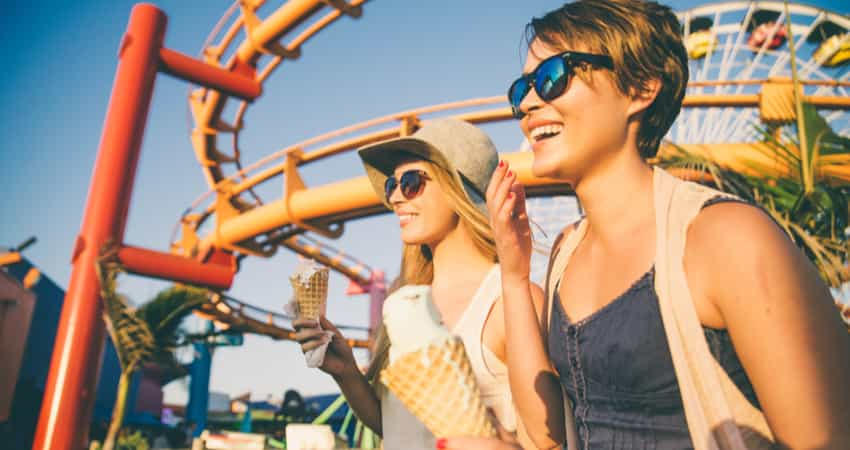 Dip your toes in the sand
Santa Monica Beach is located just outside of the pier and is a popular destination to soak up some sun. The 3.5-mile stretch of beach can get crowded at times, so be sure to keep at least six feet from other beachgoers when you're there. If you want to visit another popular sandy spot, hop on your bus and shuttle down Neilson Way to Venice Beach. Looking for a quieter location than Venice? Consider Will Rogers State Beach just north of Santa Monica Beach instead.
Grab a bite to eat
There are around a dozen restaurants and food stands on the pier. Grab a quick bite at stands like Japadog, or sit down for a bite at local seafood eateries like The Albright or Big Dean's. In the mood for something other than seafood? Try Maria Sol Cocina for savory Mexican fare or Pier Burger for classic shakes and burgers. Some restaurants may only be offering takeout or may be limiting group dining options. Consider calling ahead to ensure your sit-down restaurant of choice can accommodate your group size. Alternatively, you can order takeout and eat on the beach. Just be sure to clean up after yourselves to keep the beach beautiful.
Support local street performers
Unfortunately, street performers are not allowed on the pier at this time. Once everything is fully open again you'll see local musicians, dancers, and artists. It's the perfect opportunity to people watch, enjoy a performance, and spare a few bucks to support local artists.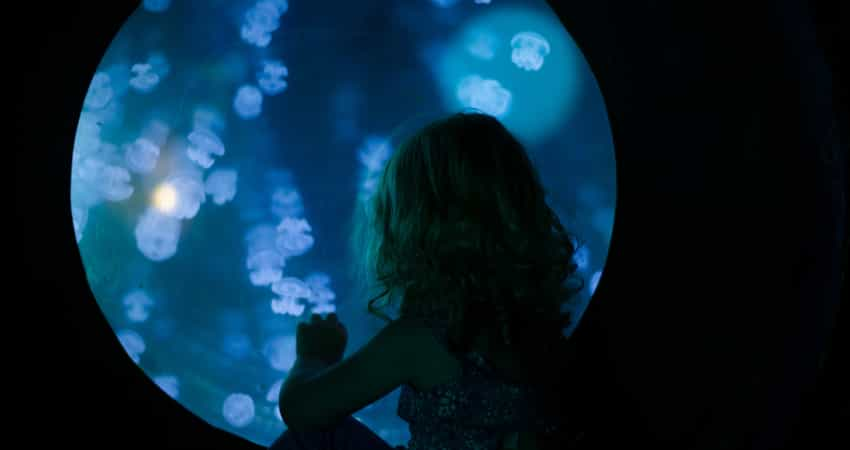 Learn about aquatic wildlife
The Heal the Bay Aquarium is one of the pier's best-kept secrets. The small aquarium is located beneath the Santa Monica Pier and houses over 100 sea animals. Conservation of and education about Southern California's sealife is the aquarium's main goal. Educational programs are regularly organized to teach visitors of all ages about the diverse aquatic life right in their backyards. Learn about sea-dwelling creatures like the California moray eel, the leopard shark, the California two-spot octopus, several species of jellyfish, and starfish.
Group travel tip: Group discounts apply to 10 or more guests. Admission with a group discount is $5 per guest or $3 per person for California residents with IDs. If you're planning a school field trip or a community organization outing, contact the aquarium ahead of time for educational program options.
Book Your Group Ride to the Santa Monica Pier Today
Planning your trip to the Santa Monica Pier starts with figuring out how you'll get there! LA Charter Bus Company will take care of your transportation so everyone in your group can relax and enjoy the ride. Call the LA Charter Bus Company team at 310-591-8697 to reserve a bus for your day at the beach.
Need a charter bus in Los Angeles?