Best Parks & Outdoor Spaces in Los Angeles
Planning to travel to the star-studded city of Los Angeles anytime soon? We're here to help! Whether you are a first-time visitor or a veteran LA traveler, our blog offers great guides to some of the city's top sights. We've got the best intel for history buffs, those wanting to learn more about the city's legendary movie scene, music lovers, and of course the iconic spots like the Hollywood Walk of Fame and the Hollywood Sign.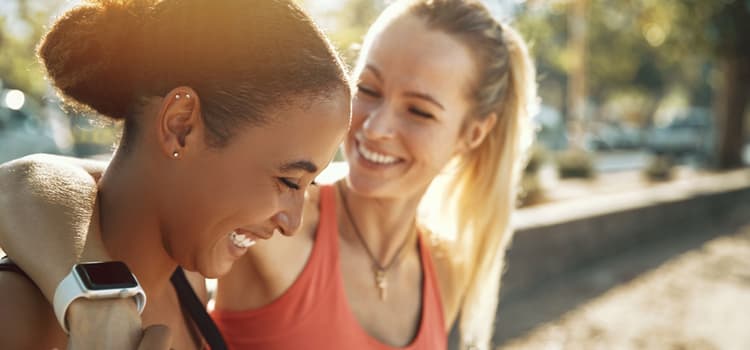 And who are we? We are Los Angeles Charter Bus Company. In addition to keeping you in the know about group transportation in Los Angeles, we provide top-of-the-line charter buses for all group sizes that are great for all occasions to help you cruise through the city of stars in style. Enjoy modern amenities like WiFi, TVs, reclining seats, and more. For more information on how a charter bus can elevate your group's travel experience in Los Angeles and beyond, call us any time for an obligation-free quote at 310-667-6197. And for more Los Angeles knowledge, check out the rest of our blog.
In this blog post, we will be going over some of the best parks and outdoor spaces in Los Angeles and what they have to offer. There are plenty of parks and outdoor spaces rich in history, recreation, and unique features you don't want to miss.
Griffith Park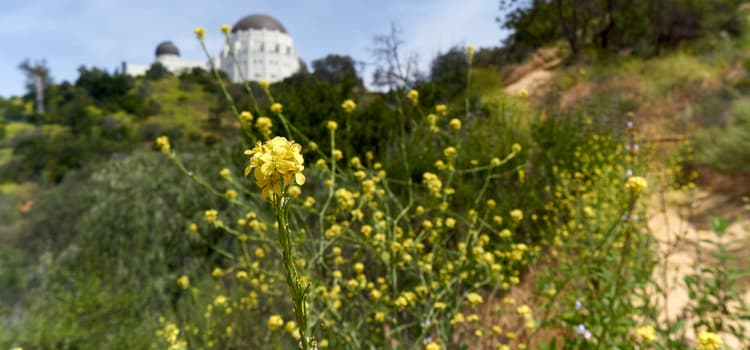 Often compared to Central Park in New York City, the 4,310-acre Griffith Park is one of the largest urban parks in North America and offers plenty to do.
Some of the top attractions at the park are:
Los Angeles Zoo
Autry Museum of the American West
Bronson Canyon
There are plenty of other outdoorsy activities such as hiking and equestrian trails, golf courses, picnic grounds, and more. For those fascinated by wildlife, an adult mountain lion is also known to slink around the park.
Griffith Park also isn't short on star power; many of the areas within the park have served as filming locations for iconic movies and other media, such as La La Land and Back to the Future. It also houses a carousel that served as the inspiration for Disneyland.
Charter bus information: In such a crowded city, parking can be a hassle. And since Griffith Park is the most popular park in the city, you may want to consider renting a charter bus to help your group get to and from different spots within Griffith Park. Your bus driver can drop you off and be there to pick you back up (etc. etc.)
Address: 4730 Crystal Springs Dr, Los Angeles, CA 90027
Kenneth Hahn Park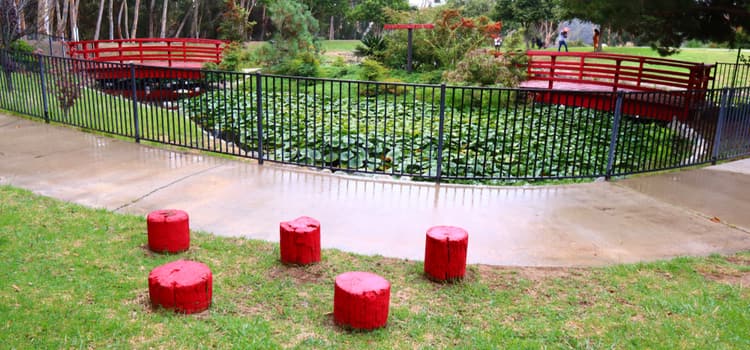 A park rich in history, the Kenneth Hahn Park is nestled in the Baldwin Hills Mountain region of Los Angeles, which was part of the homeland of the Tongva people for more than 8,000 years. The area east of the park was also used to build the first-ever Olympic Village for the 1932 Summer Olympics. It's also been a filming site for films and television shows such as Mighty Morphin Power Rangers.
One of the park's big features includes a lake, which is stocked with different fish such as trout or catfish, for fishing. Other outdoor activities include four playgrounds, a half basketball court, a multi-purpose field, and a sand volleyball court. You can also find more than 100 picnic tables scattered throughout the park, plus a 9-hole disc golf course along the north bowl. Enjoy more than seven miles of trails, including a one-mile hike to a waterfall.
One scenic offering at this park is the Japanese garden, which has a beautiful stream of water weaving through it and a waterfall. You can find a variety of wildlife in the garden and beyond, such as squirrels, foxes, desert cottontail rabbits, and others.
Charter bus tip: The park charges $6 for parking and offers a private parking lot. But the lots fill up quickly, and a charter bus might be an easier option to pick up and drop off your group more easily.
Address: 4100 S La Cienega Blvd, Los Angeles, CA 90056
Los Angeles State Historic Park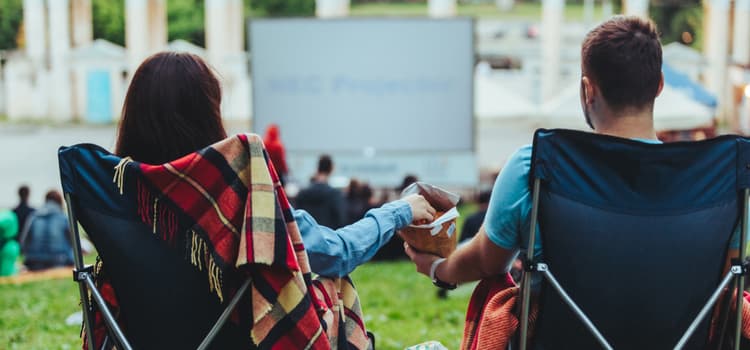 This historic park is also nicknamed "The Cornfield" and once served as the site of the Southern Pacific Transportation Company's River Station, which was considered the "Ellis Island of California" during its usage from 1876 to 1901. This 32-acre site was designated as a state park in 2001 and is located in the Chinatown District, offering plenty of food, shopping, and entertainment within walking distance of the park.
The site is known for hosting great musical performances and music festivals, and for catching beautiful sunsets and views of the Los Angeles skyline from a distance. It was also recently updated in 2017, giving it a fresh and modern feel, and locals describe it as a quiet, green space among the busy Chinatown district.
It offers plenty of space to run and walk, and the dog-friendly park is also a favorite area for flying kites, getting plenty of wind on a good day. The historic park also hosts weekly events, and special events such as street food and outdoor cinema nights. You can find plaques around the park learning about its rich history. Though it's a smaller park on our list, it's beautifully landscaped and a local favorite.
Charter bus parking: Parking is not free, but you can also find street parking nearby the park. There's plenty of parking at this space, but if you are renting a charter bus, you don't need to worry about parking at all. Just have a professional, friendly driver drop off your group and pick you back up when you're ready. When you call for a quote, be sure to ask about bringing your furry friends along for the ride and what the policies are.
Address: 1245 N Spring St, Los Angeles, CA 90012
Grand Park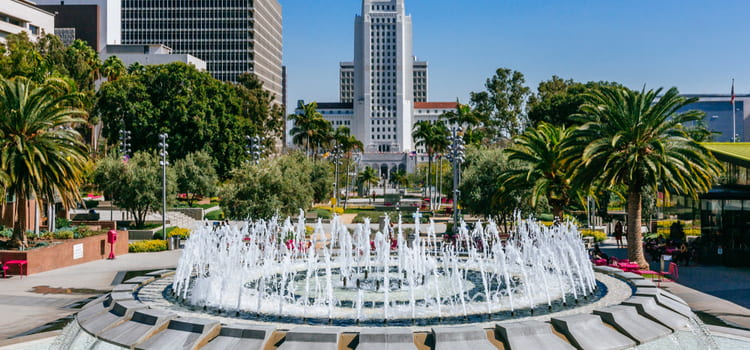 Grand Park is a 12-acre park that was originally developed in 1966 as the "Civic Center Mall." It is now part of a larger re-development known as the Grand Avenue Project. The park stretches between the Los Angeles City Hall and the Los Angeles Music Center. It is designed to be pedestrian-friendly and connects Bunker Hill to the civic center.
The park includes sidewalks and shady trees, fauna, jumping fountains you can play in, open lawns for relaxing and recreation, and performance lawns and courtyards. It also hosts events for special holidays such as the Fourth of July and New Year's Eve celebrations. At night, you can watch the fountains light up in different colors, plus catch nighttime events and concerts. You can also learn more about the area's history with different plaques and statues.
Due to its location, you can also explore notable sights nearby such as The Broad museum, Walt Disney Concert Hall, and Grand Central Market. It's also only about a mile and a half away from the Dodgers Stadium if you and your group want to catch a game.
Charter bus parking: You can find paid parking at 1501 N Spring Street and 145 N Broadway, and free street parking around the park for your charter bus rental.
Address: 200 N Grand Ave, Los Angeles, CA 90012
Enjoy Los Angeles with Los Angeles Charter Bus Company
Interested in visiting Los Angeles now? If so, let us know! We can give you a free quote and information on how renting a charter bus for your group can enhance your Los Angeles experience. You can call us 24/7 at 310-667-6197.
Need a charter bus in Los Angeles?