A Sports Fan's Guide to Los Angeles
Los Angeles is a sports fan's dream destination. Right after New York City, LA has the second-highest number of professional teams in the country. Whether you're planning a group tour of LA with fellow sports fans or you're taking your Little League team on a field trip, the City of Angels won't disappoint.
If you need a group transportation option to LA sports venues, call up Los Angeles Charter Bus Company at 310-667-6197 to book a private bus rental. Traveling around LA is already a major hassle, and adding a group to the equation will make it even more difficult. Not to mention, if you're headed to a pro sports game, gameday traffic can be a nightmare. Rent a bus with a professional driver to simplify your group's travel experience. Hop on a private charter bus rental with reclining seats, WiFi, and TVs with DVD players to explore the best of Los Angeles' sports scene in complete comfort!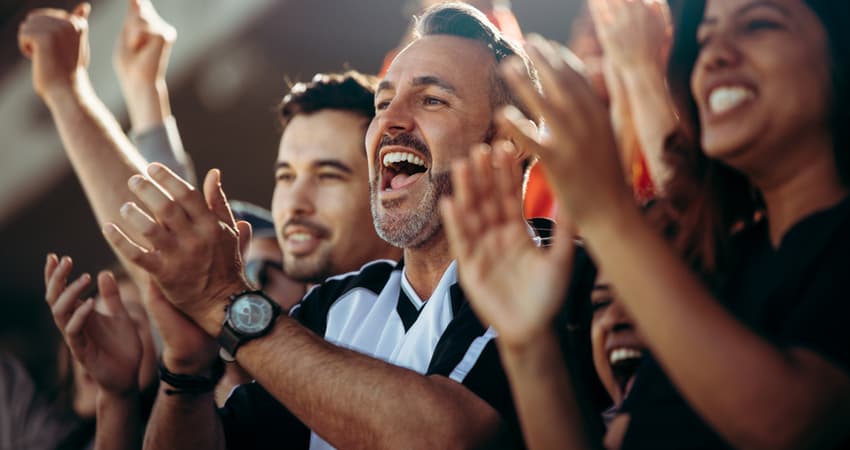 Professional League Sports
The Los Angeles metro area has numerous world-class sports venues that are well worth a visit. Book a tour or grab tickets to games at these top venues:
Staples Center
Address: 1111 S Figueroa St, Los Angeles, CA 90015
General Phone: 213-742-7100
Basketball fans should make snagging tickets to a game at the Staples Center a top priority. With 17 championships under their belts, the Los Angeles Lakers are one of the most decorated teams in NBA history. The Staples Center is also home to the top-rated LA Sparks WNBA team, the LA Clippers NBA team, and the LA Kings NHL team. Unfortunately, the Staples Center does not offer tours.
Charter bus parking tip: Oversized vehicle parking is limited and should be organized at least 10 days in advance. Call 213-765-6815 to reserve a prepaid parking pass for your charter bus rental.
SoFi Stadium
Address: 1000 S Prairie Ave, Inglewood, CA 90301
Phone: 1-877-242-7437
SoFi Stadium opened in 2020 and is the new home of Los Angeles' professional football teams, the Los Angeles Rams and Los Angeles Chargers. The stadium's grand opening was canceled due to the COVID-19 pandemic and, as of this post's publish date, the stadium is limiting public access. On top of Chargers and Rams home games, SoFi Stadium is planned to host major future sporting events like the 2026 FIFA World Cup, Super Bowl LVI, and 2028 Summer Olympics.
Group tours of SoFi Stadium will be open to the public once it is safe to do so. Tickets can be booked now and can be redeemed up to one year after purchase. Tour ticket discounts are available for groups of 10 or more visitors.
Charter bus parking tip: A Bus/RV Parking Pass will be required to park on-site. Contact lastadium@lased.com to inquire about parking options.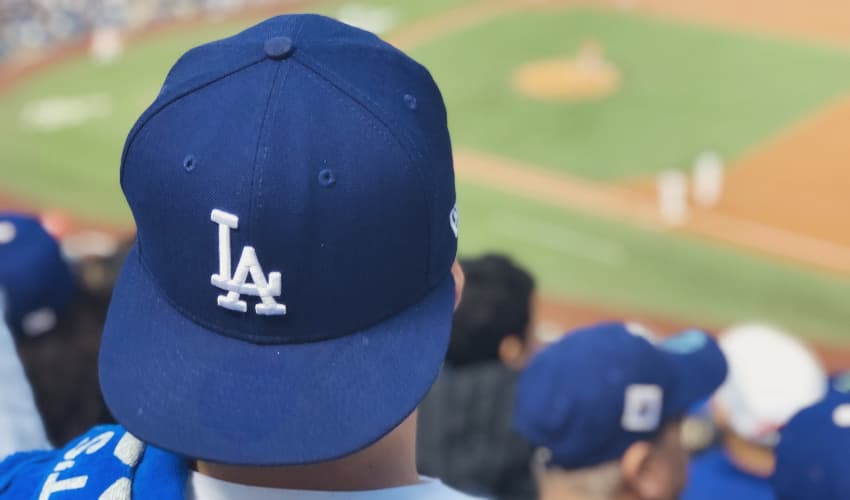 Dodger Stadium
Address: 1000 Vin Scully Ave, Los Angeles, CA 90012
Phone: 866-363-4377
The Dodgers stand as one of the oldest and most successful professional sports teams in the country. The team was originally based in New York City but moved to Los Angeles in 1958. The team has racked up 6 World Series titles since 1958, and Dodger Stadium is hailed as one of the best stadiums in the league.
Stadium tours are currently suspended but will resume when the current health crisis eases. Tours last 80 to 90 minutes and will take guests down on the field, in the Dodger Dugout, and in the exclusive Lexus Dugout Club.
Charter bus parking tip: There are 11 general parking lots at Dodger Stadium, but not all are suitable for oversized vehicles. When you call to book your tour or tickets for a game, be sure to inquire about parking options.
Angel Stadium of Anaheim
Address: 2000 E Gene Autry Way, Anaheim, CA 92806
Phone: 888-796-4256
Angel Stadium is home to Los Angeles' second MLB team, the LA Angels. Although the Angels don't have as strong of a winning record as the Dodgers, they still have a large following and a beautiful stadium to visit.
Tours of Angel Stadium are not currently available. Once tours resume, public options will be available June through September, and private tours will be available year-round with reservations.
Charter bus parking tip: Oversized vehicles will need to enter the stadium at the Orangewood Avenue entrance or the Katella Avenue entrance.
Additional sports venues that host pro games in the LA area include the following locations:
Dignity Health Sports Park
Address: 18400 S Avalon Blvd, Carson, CA 90746
Phone: 310-630-2000
Home of the LA Galaxy MLS team.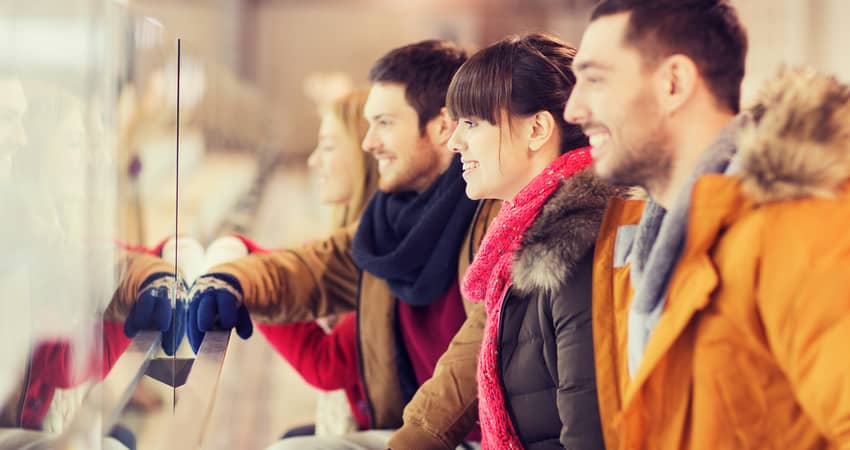 Honda Center
Address: 2695 E Katella Ave, Anaheim, CA 92806
Phone: 714-704-2400
Home of the Anaheim Ducks NHL team.
Banc of California Stadium
Address: 3939 S Figueroa St, Los Angeles, CA 90037
Phone: 213-519-9900
Home of the Los Angeles FC MLS team and future home of the Angel City FC NWSL team.
Major Annual Sporting Events in Los Angeles
Along with major league sports games throughout the year, LA also has several special annual events too. Check out a few of LA's most-attended annual sporting events:
Rose Bowl Game
January
The Rose Bowl Game is the oldest college bowl game in the country. This New Year's tradition kicked off with the first game between the University of Michigan Wolverines and the Stanford University Cardinals in 1902. The bowl game became an annual event starting in 1916 and has been the most-attended college bowl game since 1945. In 2015, the Rose Bowl joined the roster of the College Football Playoff championship semifinals games.
Long Beach Grand Prix
April
Let's not forget that LA hosts a variety of events, including sometimes-forgotten team sport events like auto racing. The Long Beach Grand Prix is an IndyCar Series race that began in 1975. Not only is it one of the most prestigious races in the IndyCar Series, but it is also the longest-running street race in North America.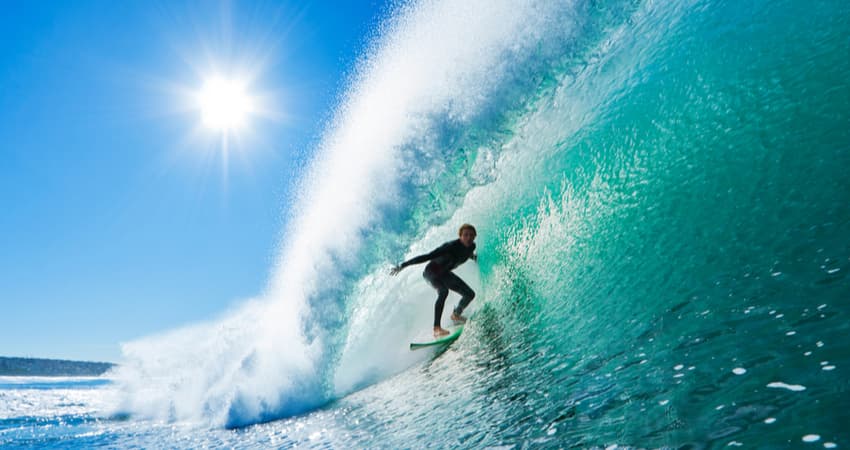 U.S. Open of Surfing
July-August
The U.S. Open of Surfing is the largest surf competition in the world, attracting nearly half a million attendees every year. The multi-day competition and festival started in 1959 and is a World Surf League Qualifying Series event. Skate and BMX competitions, concerts, and board sport film screenings are also held during the festival.
College Athletics in Los Angeles
If you're more of a college sports fan, Los Angeles-area universities have top-ranked athletics programs. The UCLA and USC rivalry is one of the biggest in college football history. Depending on when you're traveling, you may be able to snag tickets for a game or book a group tour of these collegiate sports venues:
Rose Bowl Stadium
Address: 1001 Rose Bowl Dr, Pasadena, CA 91103
Phone: 626-577-3100
The Rose Bowl is one of the largest sports stadiums in the world and is home to the UCLA Bruins football team. Along with being the Bruins' home-turf, the stadium also hosts the famed Rose Bowl Game every year.
At the time of publishing, Rose Bowl tours are currently on hiatus. During normal circumstances, tours of the Pasadena stadium are available to the public and private options can be reserved for educational organizations and group tours. On the tour, you'll see the field, locker rooms, luxury suites, the press box, and the Court of Champions.
Charter bus parking: Oversized vehicle parking can be found in Lot K. Event parking can be reserved online in advance.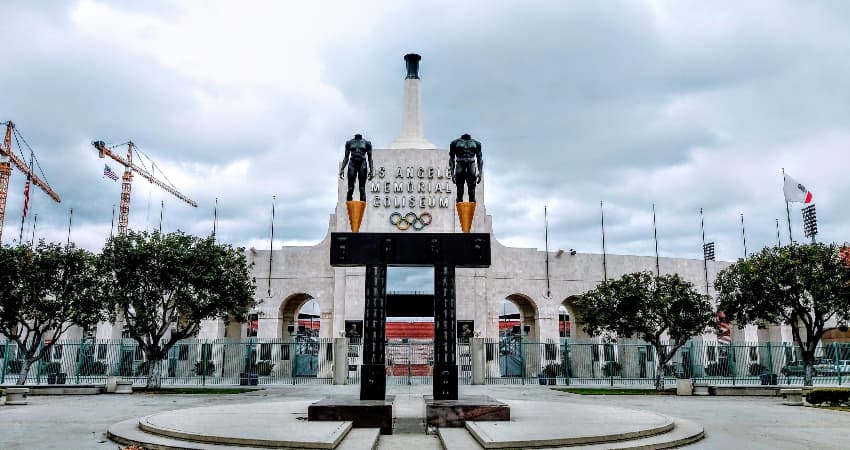 LA Memorial Coliseum
Address: 3911 Figueroa St, Los Angeles, CA 90037
Phone: 213-747-7111
The LA Memorial Coliseum is located in Exposition Park right next door to the Banc of California Stadium and several of LA's top museums. This historic multi-purpose stadium is the field of the USC Trojans football team and will be the official home of the LA Giltinis, Los Angeles' first Major League Rugby team.
Tours are occasionally available at the LA Memorial Coliseum. Call ahead of time to inquire about group tour options.
Charter bus parking: Parking for oversized vehicles like buses and RVs is limited and usually sold in advance for events.
Rent a Bus to Los Angeles Sporting Events
Whenever you're ready to cheer on your favorite Los Angeles sports team, LA Charter Bus Company will make sure you have a ride to the game. Your group can count on LA CBC for safe and easy transportation for everything from game-day shuttles to stadium tour buses. Call 310-667-6197 to reserve your private charter bus rental in LA at any time.
Need a charter bus in Los Angeles?