Why a Charter Bus is the Best Transportation for Film Crews in Los Angeles
Known as the entertainment capital of the United States, Los Angeles is home to one of the largest film industries in the world. Hundreds of movies are produced in Greater Los Angeles every year, and it's safe to say they will continue to be for years to come.
With so many films in production annually, crews are constantly being booked and working endless hours on set. Because a film production can staff hundreds of people, require the use of tons of equipment, and take place miles away from a studio, production companies may find it difficult to handle all of the moving parts involved. To address this issue, producers are advised to rely on charter buses and minibuses to transport large groups of people and equipment.
Why Book a Charter Bus?
Charter buses are a reliable form of transportation for crews because of their spaciousness, ample seating, and exclusive features.
1.   Room for Everyone in Your Crew
The average charter bus seats 56 passengers, and may come with features such as added legroom and reclining seats to accommodate larger passengers. Film crews can employ hundreds or even thousands of people at a time, so it's important that a production team's transportation matches their needs.

2.   Space for Your Production Equipment
Although your production company may have already booked several 10-ton trucks, stakebeds, trailers, and camera trucks for production, you don't need to feel like those are your only options for transporting equipment. Charter buses also come fitted with overhead storage bins and luggage bays, so any excess camera equipment, microphones, costumes, lights, and makeup kits can be stored with your team.
3.   Premium Amenities for Your Passengers
Film shoots frequently take place in remote locations, often miles away from the studio. Transporting cast and crew can be a daunting process because of this, but there are ways to make their ride a bit more enjoyable. Premium amenities such as lavatories, WiFi, flat-screen TVs, DVD players, power outlets, and surround sound speakers make the commute from the soundstage to the set much more enjoyable.
Transport Extras Easily
Extras are one of the most overlooked, yet important, components of a film. Without them, scenes look less realistic and shots can appear empty to viewers. While it's difficult enough for you to locate and manage extras during pre-production, transporting them during production is a beast of its own. We can handle the transport of your extras from start to finish, mitigating some of the stress on shoot days. All you have to do is provide a pickup location and time for your extras– we'll meet them there, and then take them wherever you need them to go.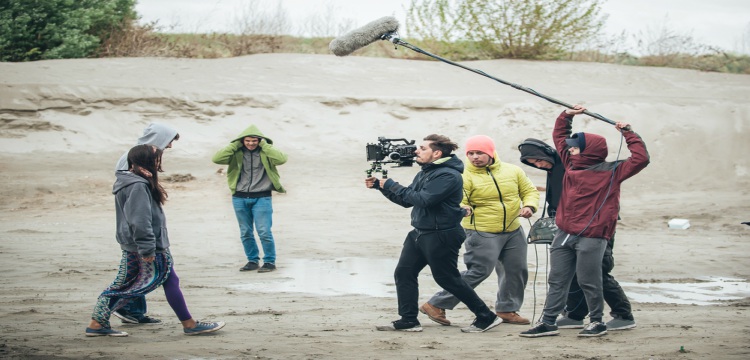 Long-Distance Trips
Although Los Angeles is home to most of the major studios in the business, many of the scenes are filmed dozens far away from the studio. It can be extremely costly to transport the cast, crew, and equipment individually, and flying everything at once isn't cheap either. To eliminate some of the costs of transportation, a charter bus is the best solution; you're able to transport large quantities of people and equipment at a time, all at one flat rate.
Film Festivals
You don't have to be on a major motion picture staff to enjoy the benefits of a private coach. Independent filmmakers may also want to book a private minibus to transport their team to and from an upcoming film festival. Because you may want to include your lead actors, supporting actors, director, executive producers, and a few crew members, a 25-passenger minibus may be the best option for bringing your team to the competition.
How Much Does a Rental Cost?
The price of a rental varies according to a number of unique factors, such as the number of passengers, distance of the trip, and the length of time the bus is booked. When you call in, a representative will give you a free quote after you specify the details of your trip. For more information about the cost of a charter bus rental, check out our pricing guide.
Book a Bus for Your Crew Today
If you've got a motion picture in production–whether it's with a major studio or an independent firm–it's important that you have a reliable, safe source of transportation for your cast, crew, and extras. Don't take a chance with something so important. Rely on trusted professionals to get the job done. Call Los Angeles Charter Bus Company at 310-667-6197 to speak to a 24/7 reservation specialist today.
Need a charter bus in Los Angeles?