Your Guide to Group College Tours in LA
If you're a guidance counselor or work at a nonprofit for college-bound students, you're all too aware that the college application process seems to get harder and more stressful every year. Between helping students prep for the ACT and SAT, hosting workshops on personal essays, and researching how many science credits each school requires, you have your plate full long before you start organizing school tours.
But you also know that visiting campuses is one of the best ways for your students to figure out which school is right for them. That's where Los Angeles Charter Bus Company comes in. If your kids go to school in Southern California or plan to move there for college, you can take them on a tour of UCLA, USC, and the 5Cs over the course of a day or two, all without having to worry about driving or parking. Give us a call at 310-667-6197 to book your bus, and keep reading to learn more about how to take a charter bus to LA's most popular universities.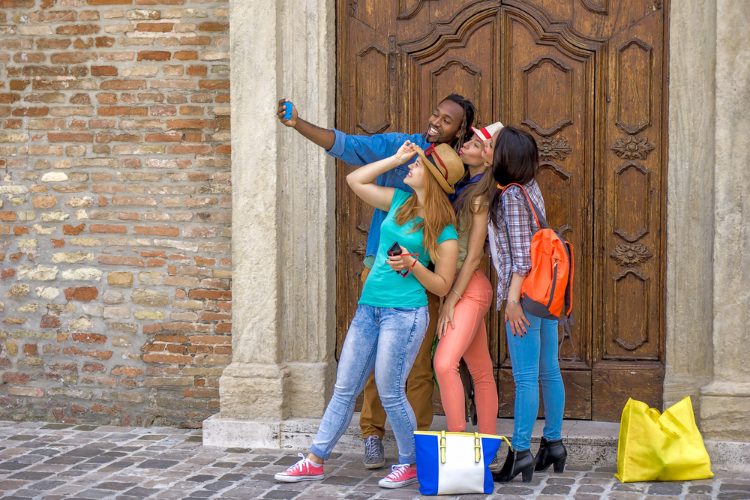 Public Colleges
If your students are California residents, you'll definitely want to introduce them to LA's public universities. School in LA is never cheap, but the University of California and California State University are far more affordable than a private school like USC or Pomona College. Here's some advice for visiting the LA campus of each of these universities:
University of California, Los Angeles
UCLA was the most applied-to college in the nation in 2018, so there's a good chance you have some students who desperately want to visit. The university provides group tours for high schools, community colleges, and nonprofits who work with students in 9th grade or above.
Group tours typically need to be requested at least 3 months in advance, since slots fill up quickly. You can sign up here for your one-hour walking tour led by a current UCLA student. The tour includes hills and stairs, so if you have a student with a mobility-related disability, make sure you let the school know when you book your tour. LA Charter Bus Company can also find you an ADA-accessible bus if you need one.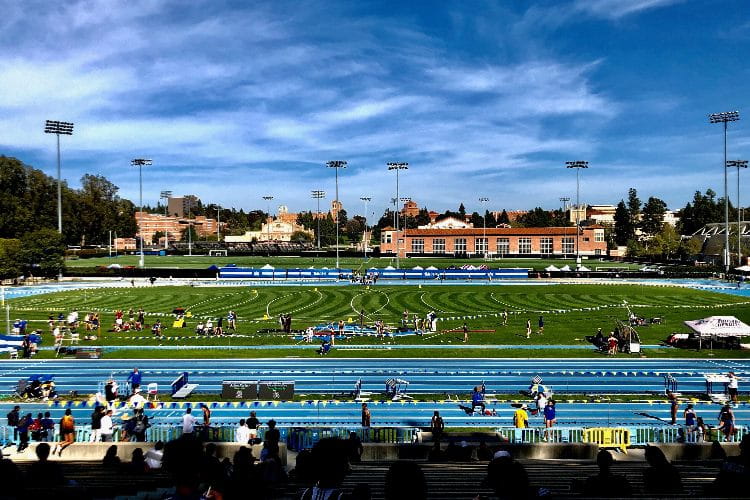 Photo by Johnathan Kaufman on Unsplash
Your group can have anywhere from 10-100 people, but you'll need 1 chaperone for every 25 students. As for getting to campus, UCLA has visitor parking for cars that your minibus may be able to use, especially if you need accessible parking. Check out this map to see paid lots and garages that are available to visitors.
However, if you're on a full-size charter bus, you probably won't be able to fit in the garages on campus. If you stop at one of the Information & Parking Booths when you arrive, they can issue you a Loading Zone Permit. They will then tell you where you can unload your charter bus, and your bus can either drive around LA or find an off-campus bus parking lot until it's time to pick you up in the same loading zone.
California State University, Los Angeles
Cal State doesn't receive as many applicants as UCLA, but don't underestimate its importance because of that. This school offers more affordable tuition and is especially dedicated to serving low-income, first-generation, and immigrant college students.
The university is happy to offer group tours for up to 50 people but requests that you call the admissions office at 323-343-3901 to schedule your tour ahead of time. Cal State provides a list of information you'll need to provide, which includes your contact details, the number of students you're bringing, the number of chaperones, what grades the students are in, and what transportation you'll be taking to campus—which, of course, is where your bus comes in.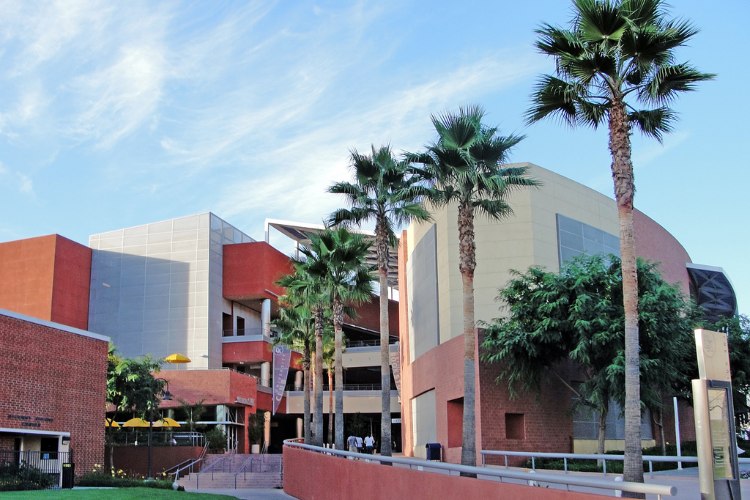 Photo courtesy of Wikimedia Commons
Make sure you get a headcount before booking your transportation. If you're bringing the maximum number of students and chaperones, you'll need a 56-person charter bus to accommodate everyone, but if you're only bringing 15 or 20 students, you can get away with a minibus.
It's important to note that groups arriving in a minibus or charter bus aren't allowed to park on campus Monday through Friday. Your bus will need to drop you off near the Student Affairs building and then drive around LA or park off campus before returning to pick you up. The good news is this means a shorter walk for your students before the tour begins, so there's less chance of them getting separated.
The 5Cs
If you're from Southern California, you've probably heard of the 5Cs already. But if you haven't, it refers to the 5 undergraduate colleges that are part of the Claremont Consortium: Pomona, Claremont McKenna, Harvey Mudd, Scripps, and Pitzer. Although the colleges have separate admission procedures and degree programs, they share a library and have adjoining campuses. They are also among the most selective liberal arts colleges in the country.
Because they're so close together, it makes sense to visit multiple members of the 5Cs in a single day (although, due to limited tour availability, you probably won't be able to visit all 5). The city of Claremont is about 35 miles from LA, so a charter bus offers an easy way to get from the city to the campuses for your tours.
Pomona College
Known for its challenging curriculum and for encouraging students to work closely with their professors, Pomona is a popular destination for campus visits. Groups of 10-30 high school students can request an hour-long private tour. These tours are offered Monday-Friday at 1 p.m. during the academic year and at 10 a.m. during the summer, and you can see which dates are still available on the calendar.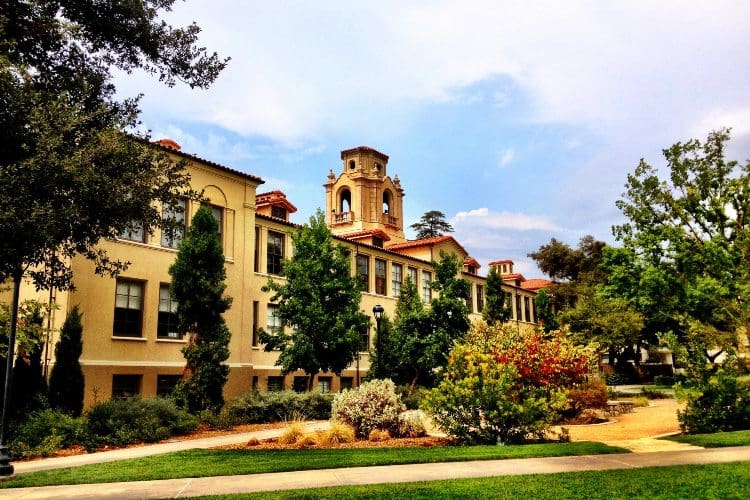 Photo courtesy of Wikimedia Commons
You'll need to request a tour at least two weeks in advance by emailing Cynthia Cuellar, Group Tour Coordinator, at cvca2017@mymail.pomona.edu or by calling 909-621-8134. The main parking garage for visitors is at 295 E. First St., but full-size charter buses may not fit there, so you might want to try the Alexander Hall lot (on N. College Ave. and Sixth St.) or the street parking along College Ave. Your bus can also drop you off at the Admissions Office before parking.
Claremont McKenna College
Claremont McKenna is widely acclaimed for its government, economics, and international relations programs. If you're in charge of a group of future politicians, you can sign up for a one-hour campus tour for 10-40 people. You will need at least 1 chaperone for every 13 students you bring, and group tour requests must be made at least 2 weeks in advance by emailing yruiz@cmc.edu.
Group tours are available Monday through Friday at 9 a.m. and 1 p.m. and on select Saturdays in the fall at 10 a.m. You can find the calendar here. All tours begin at the Admission Office inside the Kravis Center at 888 N. Columbia Ave. Claremont McKenna offers parking throughout the campus, though it may be easier to first be dropped off at the Admission Office.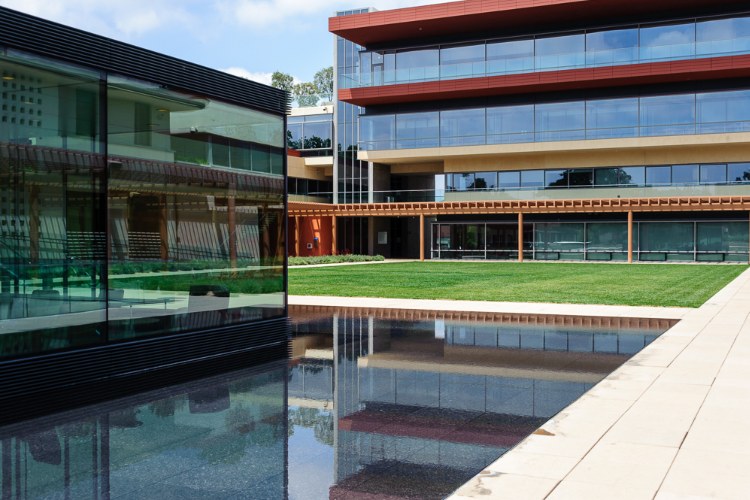 Photo courtesy of Wikimedia Commons
Harvey Mudd College
Harvey Mudd specializes in math, science, and engineering. If you're bringing a STEM-oriented group to campus, you can reserve your tour by going here or by emailing hmctours@g.hmc.edu two weeks before the date you want to visit. If your dates aren't flexible, you'll probably want to email even earlier.
Group tours are available from September to December and from February to April. Tours last 1 hour and begin at 11 a.m. or 3 p.m. Your group can also attend a 30-minute information session at 10:30 a.m. or 2:30 p.m.
Note that you can't have more than 25 people in your group, including chaperones. The good news is that means you'll only need a 25-person minibus to get everyone to campus, which can be more affordable than a full-size charter bus. Your tour will start at the Office of Admission and Financial Aid in the R. Michael Shanahan Center for Teaching and Learning.
When you make a reservation, you'll be mailed a visitors parking permit. The closest parking is usually along Foothill Blvd. or the north side of Platt Blvd., but you can park in any of the blue or orange dotted zones on this map.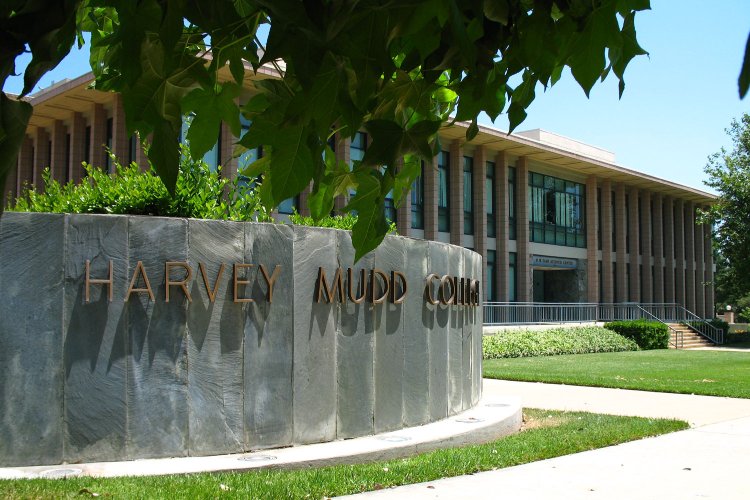 Photo courtesy of Wikimedia Commons
Scripps College
An all-women's college, Scripps is known for its challenging liberal arts curriculum. Because it only accepts women, tours here are a bit easier to reserve than at the other 5Cs. You only have to request a group tour five days in advance, and tours are available from February to March, October to November, and mid-May to August.
You can reserve your group visit for up to 20 female high school students and their chaperones here. Visits start at 10 a.m. Monday through Friday and include a 1 hour student-led tour and an optional 30-minute information session with an admissions officer.
Free parking for visitors is available on 10th and 11th Streets and on the corner of Columbia Avenue and 10th Street. Make sure you give your charter bus driver a detailed itinerary, because you'll need to arrive on campus 15 minutes before your tour begins.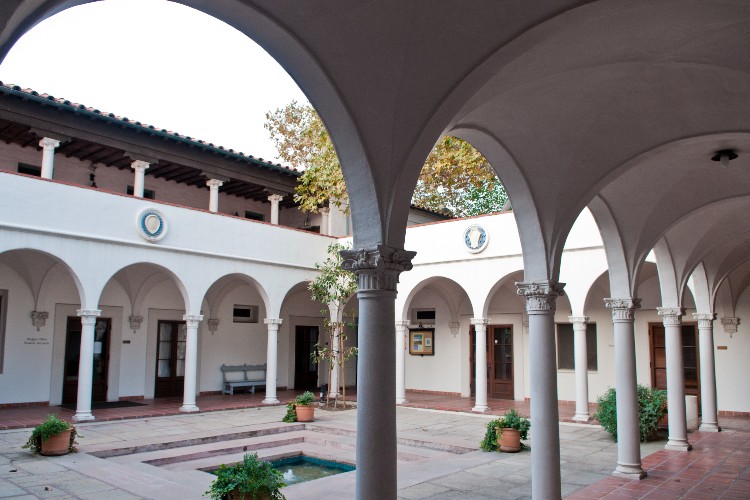 Photo courtesy of Wikimedia Commons
Pitzer College
If you have students who are looking for a small college with interdisciplinary studies and dedicated professors, Pitzer might be a good fit for them. You can book a tour here for your group of 10 to 30 high school students. You'll need 1 chaperone for 10-15 students and 2 if you have more than 15, and you can book the tour anywhere from 3 months to 2 weeks in advance.
Group tours include a 60-minute walking tour of campus and begin at the Office of Admission on the first floor of Pitzer Hall. Parking for the Office of Admission is in the East Mesa parking lot, but it's always a good idea to mention you're bringing a charter bus when you make a reservation so that you can ensure there will be room in the lot.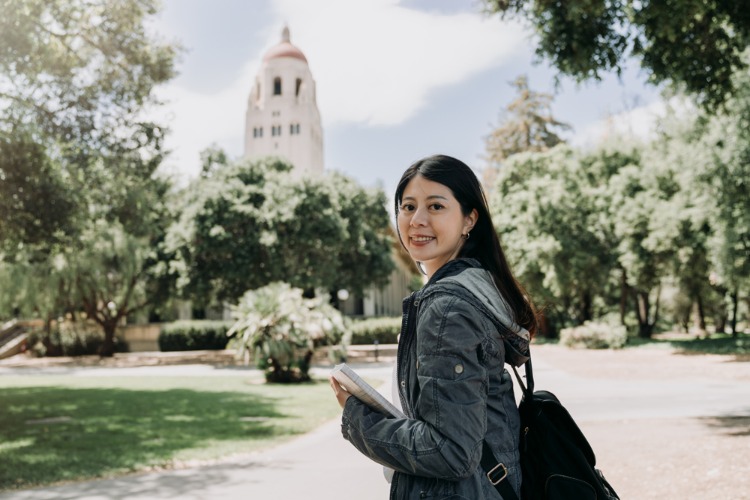 Other Private Colleges
Of course, the Claremont Colleges aren't the only excellent private schools in the LA area. It would take an entire book to list every university you could visit, but here are a few more that have a high chance of ending up on your itinerary.
University of Southern California
Easily one of the most famous schools in the LA area, USC is known for its prestigious academics, its football team, its frequent appearances in movies and TV shows, and its rivalry with UCLA. Because the school is so well-known and only offers 3 group tours per day, tour slots typically fill up 2-3 months in advance.
You can request a tour for up to 70 people by filling out this form. Tours are available Monday through Friday at 10:30 a.m., 12:15 p.m. and 3:45 p.m. If you don't hear back from the school a few days after filling out the form, call the USC Tour Guides at 213-740-6605 for more information.
When the day of your visit arrives, a current USC student will take your group on a 45-minute walking tour. If you have more than 25 people, you will be split up into several smaller groups and then reunited at the end of your tour. Groups of 11th- or 12th-graders can also request an optional 30-minute presentation about the admissions process before the tour.
Navigating the campus can be a little tricky. Tell your driver to use Exposition Boulevard and South Figueroa Street, Los Angeles, CA 90089 as the address for where to drop you off. Go here for ideas on where your driver can park after you've been dropped off, and keep in mind that you may be able to park off campus along Figueroa Street or Jefferson Boulevard.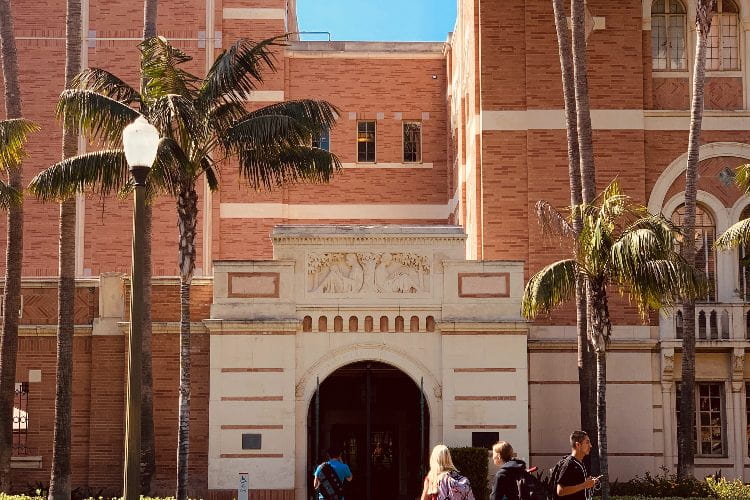 Photo by Francisco Delgado on Unsplash
Occidental College
Topping out at just over 2,000 students, Occidental offers an intimate environment for students who want all of their professors to know their name. Group tours are offered to groups of 10-50 students, and the college requests you bring along 1 chaperone for every 10 students. Group visits take place on Tuesdays, Wednesdays and Thursdays at 9:30 a.m. and 1:00 p.m., and you can book them here.
The campus tour lasts about an hour and begins at the Collins House at 1600 Campus Road, Los Angeles, CA 90041. In order to park on campus, you need to obtain a temporary parking permit from the Campus Safety Office. You can request this permit when you book your visit, and it will allow you to park in areas that are marked with the color green.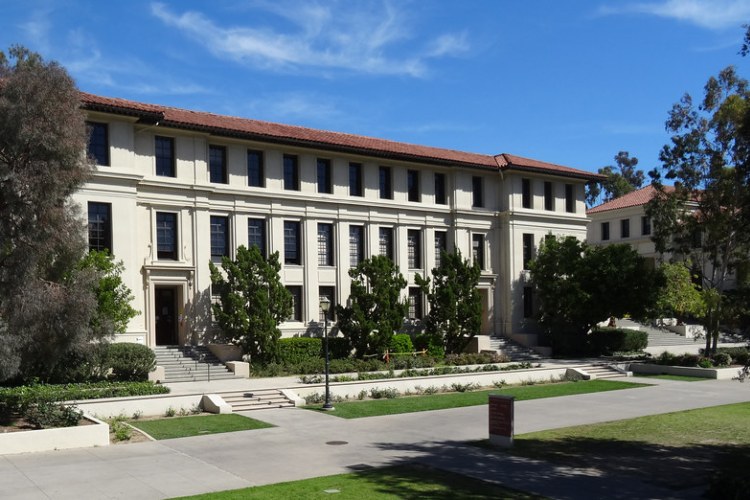 Photo by Jeffrey Beall on flickr
California Institute of Technology
CalTech comes last because it's incredibly hard to get a tour here. Because the school is so small, so rigorous and so research-focused, they only allow group tours in January, October, November, and the summer months. CalTech also requests that no one except high school students who have an intense interest in STEM and high academic qualifications come for campus visits.
If you have students who fit the school's narrow mold, you can request a tour for them here at least three weeks before you want to visit. CalTech has two parking garages for visitors on campus. Since CalTech only accepts groups of 10-30 people, there's a good chance your group will fit on a minibus, which will make it easier to park in the garages.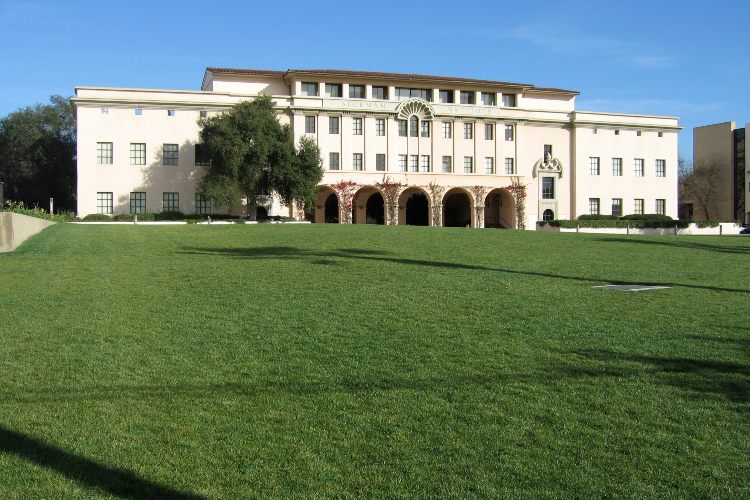 Photo courtesy of Wikimedia Commons
Start Planning Your Campus Tours in SoCal
A charter bus makes it easy to tour college campuses with your students, whether you want to take them to a large public university like UCLA or an intimate private school like Pomona. Your driver can also drop you off in front of the admissions office so you don't have to deal with the limited parking on most campuses. If it sounds like a charter bus may be helpful for your group, give Los Angeles Charter Bus Company a call at 310-667-6197. We'd love to help you explore all the amazing universities in LA.
Need a charter bus in Los Angeles?